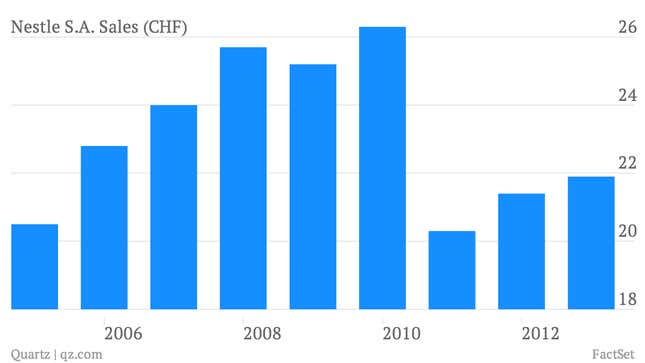 The numbers: Switzerland's Nestlé reported first-quarter revenue of 21.9 billion Swiss francs ($23.5 billion), up from 21.4 billion Swiss francs a year ago—the slowest growth in four years. Its organic sales growth was just 4.3% (that's 2.3% real growth and 2.0% due to pricing hikes), compared with the 4.7% analysts projected. The company left its full-year outlook of 5%-6% growth unchanged.
The takeaway: Nestlé struggled last quarter overall in emerging markets. The company cited weak sales in Asia, price-cutting in Russia for its Gold Blend Nescafé brand and disruption due to the destruction of its Syrian factory as reasons for the disappointing first quarter. It missed sales targets in four out of seven product categories—water, milk and ice cream, prepared dishes and beverages.
What's interesting: People aren't dieting—and they're feeding their pets more too. Nestlé indicated that "the whole diet segment is really struggling," affecting its Lean Cuisine brand; high-fat convenience food Hot Pockets actually did well. Meanwhile, pet food—Nestlé makes Purina—grew the most of all the product categories, rising 7.9% year-on-year. The company said it was doing particularly well in emerging markets due to "successful innovation and to the expansion of our presence in specialist retailers." And though its share of the North American dog food market is "under pressure," double-digit growth in cat food helped balance that out.
And the water and baby food sales growth in China that boosted Danone's earnings earlier this week? Nestlé appears to be benefiting as well, citing double-digit China growth in both segments, particularly due to its recent acquisition of Wyeth Nutrition.