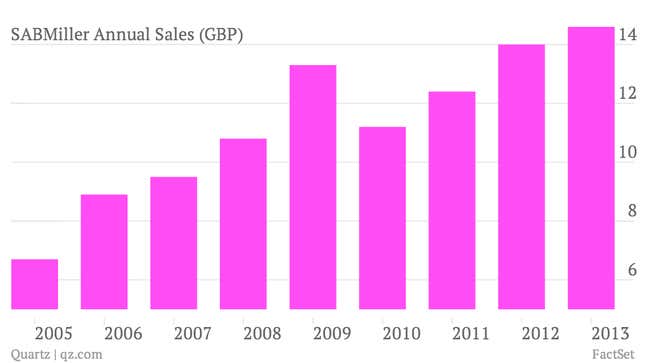 The numbers: SAB Miller reported a 4% year-on-year rise in sales for the quarter ending in March, beating analyst expectations of about 2.5%. But that's way down from the 10% growth the brewer saw during the same quarter last year. Meanwhile, revenue for the full year grew 7%. Unaudited full-year group revenue came in at $31 billion, compared with $28 billion for the same period the previous year. (The company reports full-year earnings on May 23.)
The takeaway: Sales in Latin America, its largest market and one of the big engines of SABMiller's growth, are slowing—falling 1% last quarter. That was due in part to "softer economic conditions," particularly in Ecuador, as well as a price increase. The company has been betting that the growing Latin American middle class will drive beer sales, offsetting a slowdown in Europe.
What's interesting: Cheap beer in the US is tanking (again). Sales at MillerCoors—the joint venture between SABMiller and Molson Coors—tumbled 3.3% last quarter, and were down 2% for the whole year. US beer sales ticked up last year after three consecutive years of decline, as microbrews continue to eat into the big brands' market share. Still, SABMiller is benefiting from that shift too, because it makes a number of more boutique beers. Blue Moon sales saw growth in the high single digits, while brands like Redd's Apple Ale and Third Shift Amber Lager boosted the premium segment, which rose by double-digit multiples. This may reflect the continuing economic struggles of blue-collar workers, versus the more well-heeled microbrew-swilling set.