Beijing
As major Chinese cities were submerged this summer during some of the worst floods to hit China in history, the irony of the fact that the 600-year-old Forbidden City remained free of flooding thanks to its well-designed ancient drainage system did not go unnoticed.
This year's floods have left at least 1,000 people dead (link in Chinese) or missing since June. With about 150,000 homes destroyed, 21,000 square miles of cropland wiped out, and tens of thousands of people displaced, this flood season has been the nation's second-costliest on record—and more rain is forecast in coming weeks.
Horrified citizens have turned to social media to post photos of children's bodies floating in brown floodwater in protest against officials they accuse of failing to take basic precautions and underreporting the death toll.
Though summer floods are common in some parts of China, the government blames El Niño weather patterns for bringing torrential rains that flooded more than half the country, including typically drier areas in the north. Scores of people were also injured in mudslides, building collapses, and flood-related accidents during the general chaos (see: escaped alligators). In the northern Hebei province, police reportedly suppressed street demonstrations by furious villagers.
Meanwhile, other places in Asia—including Japan, Taiwan, and Hong Kong—experienced similar weather, yet saw zero or few casualties. Urban planning experts say much of the death and destruction could have been avoided in mainland China if government funds allocated years ago to update drainage systems nationwide had actually been used to lay out new pipes. Instead, various government departments in municipalities across the country have failed to move past bureaucratic hurdles. Drainage renewal work has yet to begin in many places.
"In China, networks of drainage pipes tend to be very low quality—most meet only 1980s standards. And once pipes have been built underground, they need regular maintenance and cleaning. Because of lack of maintenance, many outdated pipes are operating at less than half their original capability," said Ma Renhai, an expert in city planning and water services at Shanghai-based Intelligence Technology, a water industry research and development firm that has worked in some of the country's biggest cities.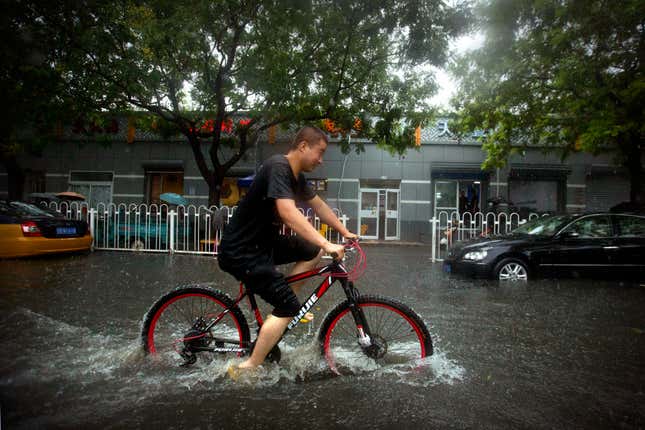 Bureaucracy is another huge obstacle. In Wuhan, for example, which suffered heavy floods last month, the municipal government said it spent less than a third (link in Chinese) of the 13 billion yuan ($2 billion) pledged in 2013 to update the city's drainage system, following rapid urbanization and the loss of natural reservoirs such as wetlands.
"It's a management problem. A lot of government departments need to work together. But the leadership did not give clear instructions when distributing funds, so all these different departments have to spend time going through [bureaucratic processes] to gain approval before they can implement projects," Ma added.
"I just want to know how that [money] was spent," said an open letter (link in Chinese, cached version) from a Wuhan university student named Wang Xinyu that went viral. "Three years have passed, but there has been no solution," Wang wrote.
The push to invest heavily to update the country's drainage pipes was first raised by president Xi Jinping in 2013, with the central government subsequently investing 20 billion yuan ($3 billion) to jumpstart pilot reforms in 16 cities.
China's premier Li Keqiang told government leaders in August last year that more infrastructure spending is needed to construct modern drainage pipes, which would have the added bonus of boosting the nation's slowing economy.
It's not unusual for infrastructure in developing countries to lag behind rapidly growing cities' needs, said Kean Fan Lim, an economic geographer at the University of Nottingham in the UK who is researching economic policy experimentation in Chinese cities.
"What is unique to China is the difficulties of implementing an integrated approach to improving these services in spite of the efforts of the central government," Lim said. "It is important to understand the highly territorialized nature of governance within and between cities." A fixation on short-term, GDP-oriented approaches in local governments is also to blame, he added.
Meanwhile, authorities have made heavy-handed attempts to put a positive spin on the floods. State media reporting has focused almost exclusively on coverage of disaster relief, with government censors removing critical social media posts.
State media attracted ridicule for sending out a tweet inviting the public to write to premier Li's office with suggestions. The tweet acknowledged that "construction of underground pipelines in China is seriously lagging" and "it is necessary to speed up the construction of urban underground infrastructure."
Chinese-speaking Twitter users were quick to point out that nothing resembling the tweet was shared on state media accounts directed at domestic audiences (Twitter is blocked in China), suggesting that the call-out was a hollow public relations exercise.
Beijing-based reporter Chris Beam said last week that he and a colleague were offered a bribe to axe their story in the New York Times after they visited one of the villages in Hebei where floods had wreaked havoc. A person claiming to be a friend of the Party leader featured in the article called them to offer "compensation for their losses" if they didn't run the story, Beam told Quartz.
Despite all the challenges in China, quick upgrades to key infrastructure shouldn't be impossible. In 2012, the mayor of Beijing resigned after the heaviest rain in over 60 years caused flash floods in the city that killed at least 77 people and stranded thousands. Citizens at the time also accused officials of underestimating the death toll and failing to update drainage systems before the deluge.
This year, Beijing mayor Wang Anshun vowed to "learn the lesson of the July 21 flood." 
To the credit of capital officials, many pipelines in Beijing have been upgraded since 2012. Flash floods from recent rainstorms caused plane and train delays, but no casualties were reported.
You can follow Joanna on Twitter at @joannachiu.