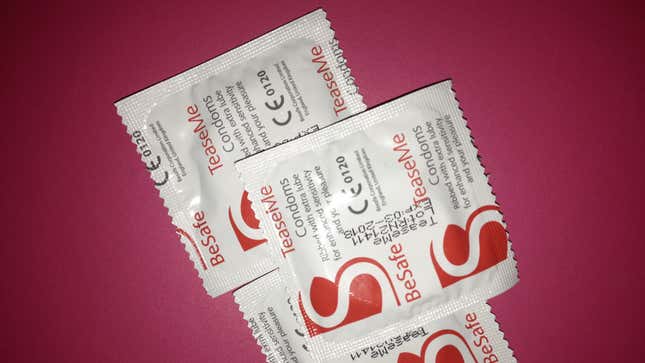 China's $250 billion knock-off trade doesn't just mean fewer handbag sales for LVMH, or a hit to the DVD sales market. It can also have potentially lethal consequences.
Take, for example, counterfeit condoms, 110 million of which the Food and Drugs Authority of Ghana has impounded over the last week due to poor quality. Testing revealed the condoms to have holes and break under pressure. It also found that they were unusually small and insufficiently lubricated.
And those hole-riddled, flimsy, undersized condoms were made in China, the FDA confirmed Tuesday, identifying Henan Xibei Latex Company Ltd. as the manufacturer. (Here's the company's Alibaba.com profile, should you be in the market for defective protection). On top of that, Yenghana reports that the leaky condoms are counterfeit, and that the purported manufacturer, BeSafe, has never sold its products in Ghana.
This isn't the first time that a Chinese company has been implicated in selling faulty or knock-off condoms. They've been bedeviling global public health officials for more than a decade (examples here, here, here and here).
The Chinese government has scrambled to keep up with shady manufacturers, as the industry has grown. Now the fourth-largest maker of condoms—after the US, the UK and Japan—China exports some 1.6 billion a year. Past crackdowns by the Chinese police have revealed shady techniques like lubricating the condoms with vegetable oil (which can rot the rubber) and recycling used condoms as hairbands.
And the cycle of counterfeiting is self-perpetuating, because China's reputation for making shoddy condoms means that bona fide Chinese manufacturers earn a minimal premium compared with the markup for European brands.
Of course, faulty condoms up the chances of transmission of HIV and other sexually transmitted diseases, as well as the likelihood of pregnancy. "This is a huge, huge problem," said Faustina Fynn-Nyame, director of Marie Stopes International in Ghana, told the Guardian. "There will be a lot of unintended pregnancies as a result of this, and that means maternal mortality and unsafe abortion. Commercial sex workers also use these products [so] the consequences could be enormous."