If it feels like a lot of table tennis players in the Rio Olympics are Chinese, that's because they are.
Out of the 56 national teams competing in table tennis this year, 21 have members who are naturalized citizens originally from China. Such members make up 38 of the 172 players in total, according to calculations done by Quartz. In other words, about one in every five players were once Chinese citizens who now play for other teams, including Sweden, Poland, and Ukraine.
This figure doesn't take into account members of teams that would naturally have ethnic Chinese players (China, Hong Kong, Taiwan) and those who are ethnic Chinese but were born overseas, such as Heming Hu, who plays for Australia. Adding those to the total, ethnic Chinese would make up about one-third of the ping pong players—57 out of 172—in this year's Olympics.
Some table tennis teams—including those from Singapore, Turkey, Qatar, and Luxembourg—consist only of naturalized citizens from China. For example, 53-year-old Ni Xialian represents Luxembourg, after moving to Europe in 1989. Li Ping, who won in the mixed doubles event during the 2009 World Table Tennis Champions in Yokohama, left the Chinese national team in 2014 and started playing for Qatar (link in Chinese) in 2015.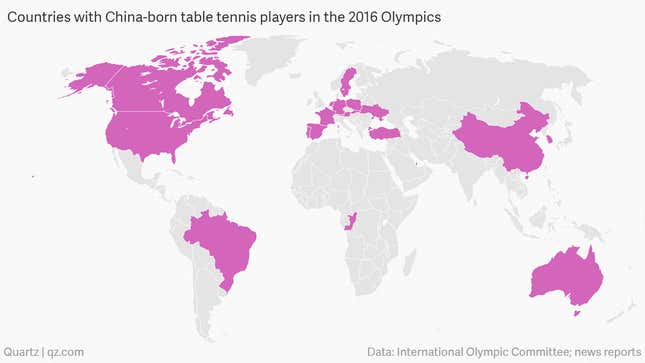 The "Chinese against Chinese" phenomenon in table tennis occurred a number of times during the Rio Olympics, with Germany's Han Ying playing against France's Li Xue in the women's singles, for example, while China-born Feng Tianwei represented Singapore against Luxembourg's Ni.
The table tennis exodus from China is a result of the country's highly competitive athletic training system.
In an interview with Germany's Die Welt (link in Chinese), 26-year-old Xing Han, who now represents the Republic of the Congo, said, "If you don't manage to have a breakthrough before the age of 15 or 16, you have no chance."
Han was born in the Chinese province of Hubei. She had played for the provincial and Shanghai teams before retiring in 2006, after which she moved to Shenzhen. There she became a table tennis teacher until 2008, when she headed to Congo as a coach, and eventually ended up (link in Chinese) as a representative for the country in the Olympic Games.
Luxembourg's table tennis coach Tommy Danielsson, however, is critical of the trend. He told German newspaper Die Welt that the inclusion of experienced players from China brings in more subsidies for the sport, but fails to facilitate cultivation of young local players. He called for the International Table Tennis Federation to take action against the dominance  of China in table tennis, because "it's not a good thing… when the first four places in a competition are already predetermined."
Meanwhile, a court in Seoul recently ruled that South Korean couples could not adopt young Chinese table tennis players, according to the Korea Times. In the case of one hopeful couple, one spouse was a well-known table tennis player in South Korea.
Despite China's dominance, Cai Zhenhua, president of China's Table Tennis Association, actually warned (link in Chinese) in 2009 that a lack of competition in the sport could eventually lead to the decline of the sport globally because it breeds complacency. As a result, Cai initiated a "wolf-rearing plan" (link in Chinese) to try to restore some balance in power in the sport, through sending Chinese coaches aboard as well as inviting foreign athletes to attend table tennis schools in China.
At Rio, all the individual gold and silver medalists in table tennis represented China.