Britain excels at the sitting-down sports, the joke goes, even if those sports require immense skill, power, mental strength, and precision.
Rio's Olympic Velodrome has offered a reminder of that. Collectively, Great Britain's track cyclists have amassed 11 medals over the past week—with every member of the team winning at least one. When you break down the team events into medals per rider, the total comes to 19 medals. (Team GB also took two reserve riders to Rio, one of whom rode in the qualifier of the women's team pursuit, but was not in the final team that won gold.)
The British cyclists left the competition far behind, with the second-place Netherlands getting two medals.
History was made many times over. The enigmatic Sir Bradley Wiggins became the first Brit to win eight Olympic medals after claiming gold with the men's team pursuit squad on Aug. 13. Laura Trott is now Britain's most successful female Olympian after she won her fourth gold by finishing first in the women's omnium yesterday (Aug. 16). Soon afterwards, her fiancé, Jason Kenny, equalled cyclist Sir Chris Hoy's record of six gold medals after winning the men's keirin.
At Rio alone, Kenny has won three golds and Trott two. Between them, the couple have earned 10 gold medals throughout their careers.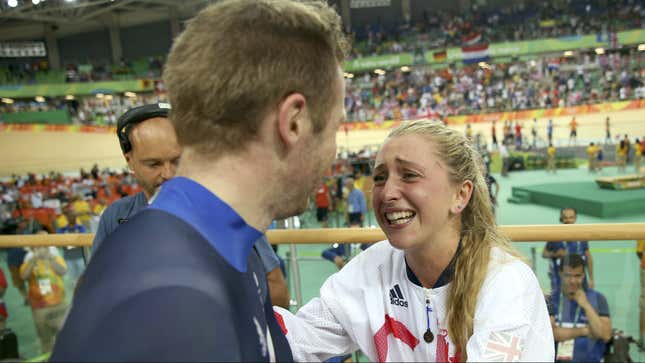 The British team's prowess in the velodrome has left heads spinning. "It seems they do nothing for three years, then they start at the Olympics and kill us," Germany's Kristina Vogel, who won gold in the women's sprint, told the BBC. 
Cycling is one of highest-funded Olympic sports in Britain. UK Sport, the body responsible for developing sport in the country, has given out £274.5 ($357 million) million in funding to Olympic sports for Rio—covering the years 2013 to 2017—£30.2 million of which has gone to cycling. Only rowing has received more money, £32.6 million over the same period.
For the 2004 Games in Athens, Olympic cycling received £8.6 million in funds; for the 2008 Games in Beijing, this figure more than doubled to £22.2 million. Britain left Beijing ranked top in the cycling medals table with 14 medals in total—12 of which came from the velodrome—and broke four Olympic cycling records in the process. 
Britain's approach to fostering Olympic success has been called "brutal… but effective": put simply, investment is directed to sports that are most likely to bring in the medals. Questions have been raised whether this focuses too much on specific sports at the expense of others, but in terms of Britain securing podium places in recent Games, it has proved a success.
British Cycling has developed a ruthless focus on excellence over the years. A secretive technical development unit headed by a Cambridge University engineering professor focuses on all aspects of improving rider performance—from fine-tuned data analysis to developing the thinnest of skin suits. A philosophy on embracing and obsessing over marginal gains is also ingrained.
"I think we've just tried really, really hard to maximize our medal effectiveness in the Olympics," British Cycling's head coach Iain Dyer told reporters in response to rivals' raised eyebrows over Team GB's remarkable success on the track. "There's no secret, no magic," Team GB sprint coach Justin Grace told L'Equipe (link in French). "Only some good training and great athletes."