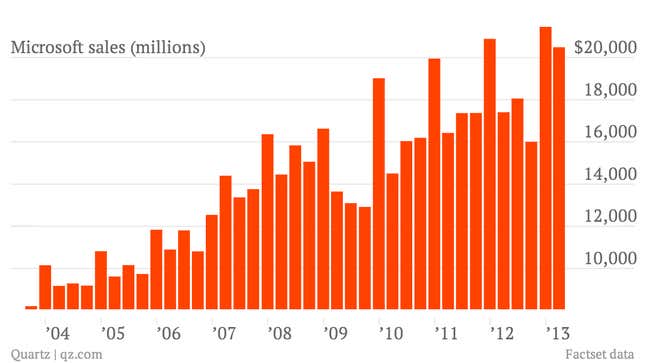 The numbers: Software company Microsoft beat analyst expectations with a profit of $6.06 billion, or $0.72 earnings per share in its fiscal third quarter. Revenues rose to $20.49 billion, representing an almost 18% jump from the same period a year ago.
The takeaway: Shareholders and investors alike were nervous about Microsoft's numbers given the fall in PC sales, which is not good news for its Windows software. Its new Windows 8 software hasn't wowed the public, while its tablet and smartphone haven't been hits either. So when the company adjusts for deferred revenues coming from a Windows upgrade offer, the Windows division revenue was actually flat. It did see an upswing in Xbox sales and its cloud computing services also helped. Given the low expectations, investors seemed happy to take what they can get—at least for now. Its shares rose by almost 2% in after hours trading.
What's interesting: Although Microsoft posted good numbers, investors are still wondering whether it's a blip given the tough environment for PCs. In addition to its earnings, Microsoft also reported that CFO Peter Klein is leaving the company. The head of Windows, Steven Sinofsky, left last year. Some activist investors have looked at Microsoft, but it's seen as too big to target, according to sources. But that doesn't mean the pressure is off CEO Steve Ballmer to produce better results.