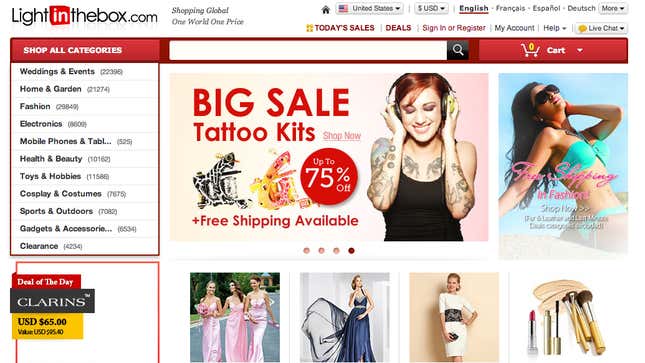 Yesterday, both Lightinthebox Holdings Ltd., an online retailer, and Sino Australia Oil and Gas Ltd., an oil and gas services company, filed to list on overseas exchanges.
Though it's hard to think of two more different companies—wedding dresses and hydrocarbon recovery—they both have a something big in common: they're not focused on be selling to Chinese customers.
The idea behind Lightinthebox, which is shooting for an $86 million IPO on the NYSE, sounds simple: to connect global consumers and some 2,000 Chinese manufacturers. But guaranteeing quality, delivery and service are hard—enough so that no one has really done it (Alibaba.com does it with businesses, though). Around 40% of its $200 million in 2012 revenue came from apparel, mainly women's fashion. A good chunk of that is wedding dresses, most of which sell in the low hundreds of dollars—a mere fraction of what similar dresses typically cost in the US. It also sells a range of other products, including electronics and sporting goods. The somewhat random product categories may reflect the dizzying array of crap made in China more so than customer demand (e.g. entire sections for tattoo kits, Lolita wigs, and "massagers"). But with a 70% increase in revenue last year, something seems to be working. And Lightinthebox's focus on customers overseas allows it gingerly to sidestep that nasty Chinese e-commerce price war that's gnawed away at margins.
As for Sino Australia, the rationale for its June listing in Australia is to fund expansion overseas, as the Wall Street Journal reports. It first needs to earn global patents in Australia and other target markets for its hydrocarbon recovery techniques (it already has patents in China). At present, Sino Australia's customers are China's big state-owned companies.
In addition to focusing on reaching customers outside of China, both of these IPOs ask investors to value intellectual property—for Lightinthebox, its unique business model, and for Sino Australia, its oil and gas recovery technique. And that's pretty new. While previous generations of Chinese tech IPOs heavily favored the "it's the Chinese _____" formula, Lightbox is its own thing. And in the oil and gas industry, very few Chinese companies are developing their own technology, let alone testing it in the international marketplace.
The Lightinthebox IPO, in particular, will probably get a lot of attention, since it's a bellwether for Chinese tech and retail overseas IPOs. Despite the massive backlog of Chinese companies planning listings—and the success of the two New York Chinese IPOs in 2012—the combination of Facebook's weak debut, the auditing scandals dogging some Chinese companies, and the poor performance of 2010 Chinese IPOs make for some strong headwinds.
Solid IPOs from both companies will probably be taken as a good sign that people are willing to invest in China again. In the past, that's usually been short for "investing in Chinese consumption of foreign ingenuity." But if these IPOs are a success, they could turn that formula on its head.