The library, as we know it, is obsolete. Now that most books are accessible online, the building once dedicated to silence and study is increasingly turning into a lively public gathering place—when it's not disappearing altogether.
There's hope for this new era in libraries, encapsulated in Denmark's vast Dokki1, a mixed-used "citizen space" with meeting rooms, art installations, classrooms, performance stages, makers' workshops, and playgrounds, in addition to the usual rows of bookshelves. On Aug. 15, the brand new library along the Aarhus River was crowned public library of the year by the Danish Agency for Culture and Palaces.
At 35,000 square meter (377,00 square feet), Dokki1 is the largest library in Scandinavia.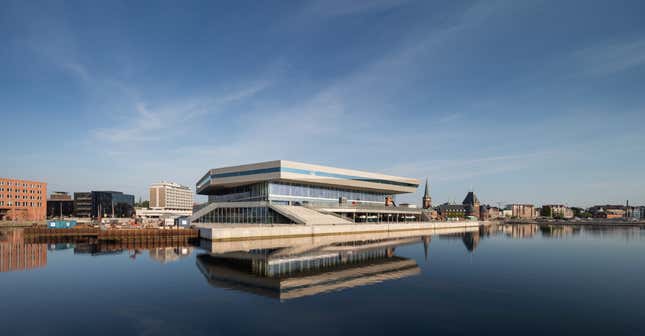 Judges commended Dokki1's interactive, community-oriented features, noting the large tubular bell, which sounds every time a child is born in the city. Parents trigger the library's sonorous 7.5 meter "Gong" by pressing a special button at the local hospital.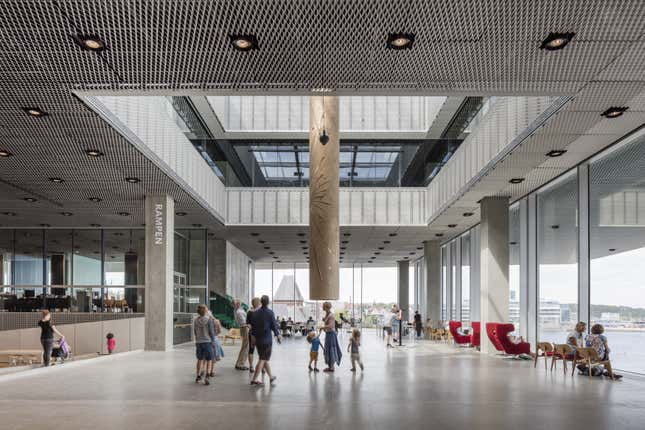 "Dokki1 is an unusually successful encounter between two beautiful Danish traditions: On one hand, our cultural ambitions to open up all branches of knowledge to every generation and social class and, on the other hand, our sense of functional and beautiful design," notes Bertel Haarder, Danish minister for culture.
The library's design metaphor is "a covered urban space" says architects Schmidt Hammer Lassen. "We aimed for—and have achieved—a cultural meeting place that will change people's perceptions, not just of the harbourfront where Dokki1 is situated, but the entire city of Aarhus," explained architect Kim Holst Jensen in a press release.
Award finalists include the Chicago public library's Chinatown branch, Victoria's tile-clad orb, Geelong Library & Heritage Centre, and the airy Success Public Library in Western Australia. Now on its third year, the competition is open to newly-built libraries anywhere in the world.