Disney's latest patent application could make a lot of Star Wars fans' dreams a reality.
The media conglomerate has designed a system that appears to shoot out a beam of light from a hilt, just as lightsabers do in Star Wars. The design, detailed in a patent application filed by Disney Enterprises on July 17, uses a complex-sounding system of drones, laser beams, and retroreflective devices to simulate a real-life lightsaber experience.
Here's how it works in layman's terms, based on the patent application: A drone will locate a device, such as a lightsaber hilt, by detecting invisible infrared light emitted from that device. The drone will then project visible light—passed through matter, like water vapor or fog, to make the beam appear stronger—to the device. And in doing so, it will appear as though the beam of light is coming from the lightsaber hilt, rather than the drone.
The patent application did not say precisely what Disney plans to do with the lightsaber, which is technically called an "audience interaction projection system." But it says it was designed as a new way for customers ("audience members") to participate in theatrical performances, theme park features, concerts, sporting events, or films. It lays out a number of scenarios in which this might work, including one that allows audience members to emit laser beams from their phones, with the help of an app.
Unfortunately, unlike the lightsabers in Star Wars lore, which are plasma blades powered by a fictional crystal, Disney's laser beam won't be a solid. So don't expect any real-life lightsaber duels.
However, park attendees could potentially deflect laser beams with Disney's lightsabers. The illustration from the patent application below depicts a park visitor using an LED-powered faux lightsaber that's interacting with a drone overhead to give the illusion that the faux lightsaber deflected a laser beam. The customer is also wearing a special vest that could make it seem as though they've been hit with a laser beam, according to the filing.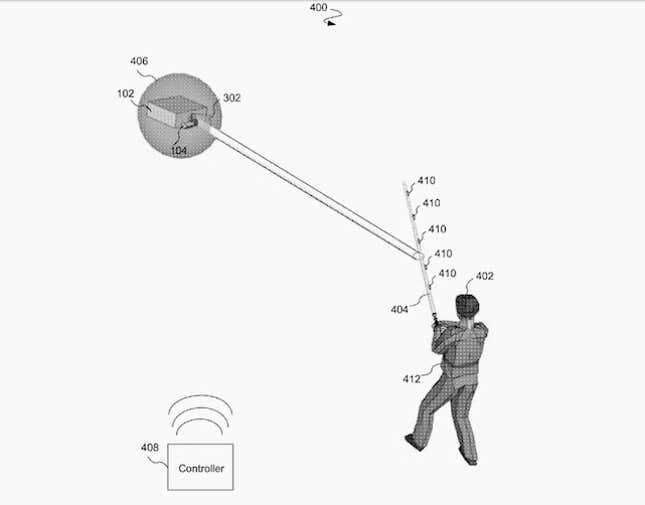 Disney is currently building Star Wars-themed lands at its Disneyland and Walt Disney World parks. The system could conceivably be integrated into those theme parks. Disney also has several Star Wars-themed experiences in its parks and resorts that could make use of the lightsaber system.
The media-and-entertainment juggernaut files a lot of patent applications, and many of those ideas never see the light of day. But Star Wars fans will no doubt be rooting for this one to come to fruition.