Updated at 1:25 pm EST.
An earthquake with a magnitude around 6.0 shook central Italy at 3:36am local time today (Aug. 24), according to Italy's emergency management department. Italy's prime minister Matteo Renzi said in a press conference that at least 120 have been confirmed dead.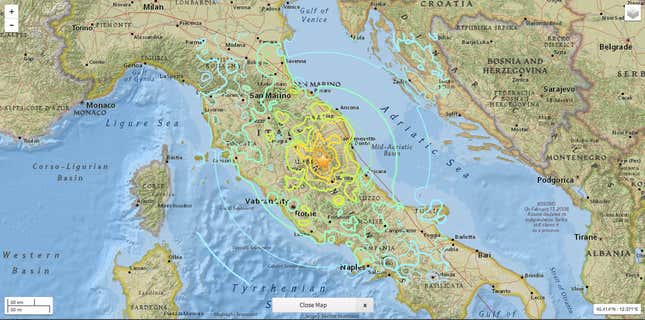 The center of the quake was near the towns of Amatrice and Accum0li, in the province of Rieti. The tremors spread over a wide area, across the regions of Marche and Umbria, causing extensive damage. There was some shaking felt in Rome, about 100 kilometers (62 miles) away from the epicenter.
According to a report by Italy's geological institute (pdf), the earthquake took place along the area of highest seismic risk along the Appenine range. (Much of Italy is considered high risk for quakes.) The area has been hit by strong earthquakes before, particularly in the 17th and early 18th centuries, with the largest hitting in 1703 (a magnitude of 6.9).
In an interview quoted by Italian media outlet Il Post (link in Italian), the mayor of Accumoli said half the town has been destroyed and that he couldn't yet confirm the extent of the damage. In Amatrice, too, the mayor Sergio Pirozzi said "the houses are no longer there and people are under them."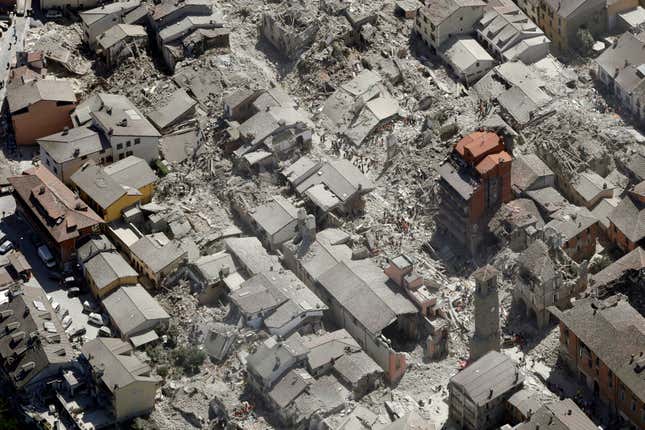 People are believed to still be trapped under the rubble in several towns in the area, and Pirozzi told Italian news agency ANSA (link in Italian) tens are feared dead. Local blood banks have asked for donations (link in Italian), foreseeing a shortage. In Rieti, people have been lining up in the hospital to donate blood.
A video below shows Amatrice shortly after the earthquake:
Here is the town, before and after:
Pescara del Tronto, too, looks severely hit:
At a press conference, the head of Italy's head of civil protection agency, Fabrizio Curcio, declined to offer an estimate of casualties and said rescue is still underway. A press release (link in Italian) from the agency said a severing of of radio and satellite connection in the area has made it hard to reach all of the affected towns. Debris is also obstructing many of the roads. The army (link in Italian) has directed some forces towards the area.
Makeshift camps are also being set up to offer shelter to the people whose homes have been damaged or destroyed in the quake.