Waseem Akhtar, a former member of parliament in Pakistan, was elected mayor of Karachi on Wednesday (Aug. 24), while still behind bars.
A politician with the Muttahida Qaumi Movement (MQM), a political party that has ruled the metropolis for decades, Akhtar was a shoo-in to win the council elections, given his party's control of the Karachi Metropolitan Corporation, which elects the mayor.
The MQM, which also operates a controversial militant wing, is led by Altaf Hussain, a firebrand leader who lives in self-exile in London. The secular party has held on to its power through its support of the mohajirs, the Urdu-speaking descendents of Muslims who moved from India after the partition in 1947.
Party members have clashed with security forces in Pakistan over violent attacks on critics and dissenters. On Monday Hussain was charged with treason by the Pakistan police for instigating terrorism and making anti-Pakistan statements, which were broadcast live at a rally in Karachi on Monday (Aug 22). Other MQM supporters were charged with attacking the studios of the private television channel ARY News after Hussain's speech.
Akhtar was arrested in July on charges of aiding alleged militants and criminals by providing them with shelter and medical treatment. Akhtar also faced previous charges of provoking riots in May 2007 that shook Karachi. If convicted, he is unlikely to be released from prison for several years.
The arrest is part of a military led crackdown on political corruption and violence in the city, as tensions have risen between the security forces and the MQM. Karachi, Pakistan's financial center and a bustling port city, is home to over 20 million people. For years, the megalopolis has been in the grip of militants, street gangs, organized crime, and bitter political rivalries. The mayoral election is part of the decades-long violent conflict for control of the city. Many officials of Akhtar's political party have been arrested by the paramilitary forces in recent months and accused of racketeering and violent crime.
Upon his victory on Wednesday, Akhtar was ostensibly in the mood to build bridges. "It's enough, we have fought enough and enough blood has been spilt, we need to stop that and we want to follow the guidelines of Jinnah" he said, according to a local newspaper. "I am not a mayor of MQM. I will work for Karachi, I am Karachi's mayor."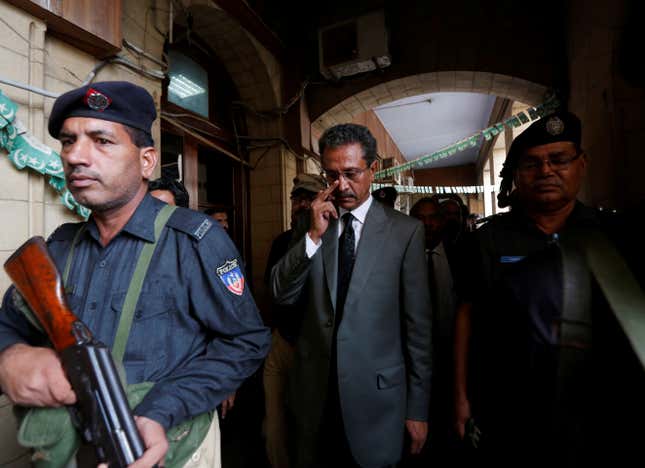 Akhtar does not expect to be released before taking oath Aug. 30. He plans to run the city from prison. Instead of a mayoral staff to coordinate meetings, serve refreshments and drive him around the city, he will have to rely on prison guards to arrange visits.
"He will open an office in jail and via video link he will conduct council sessions," Mahfooz Yar Khan said while Akhtar cast his vote inside the Karachi Metropolitan Corporation building Reuters reported. "He can run Karachi via video link for five years." Party officials have reportedly requested prison officials to provide him with a "well-furnished office" during his incarceration and are considering a police escort for meetings to be held outside.
Nasreen Jalil, a party leader, said that it would have been better for Akhtar to be able to be on the ground, but given the circumstances, they would "just have to work around it."
"There is no meeting hall in jail which is big enough for the entire municipality to meet," a Pakistani government official told the Financial Times. "The arrangements could become awkward for jail officials. I suspect the new mayor may have to authorize his deputy mayor to preside over some of the meetings."