More than two years after Facebook paid $2 billion to acquire Oculus, virtual reality remains a niche market in the West. Other than hardcore gamers and gadget nerds, few people have the chance to strap on an expensive headset and kill zombies, fly planes, or watch movies.
In China, however, VR is steadily going mainstream, thanks hundreds of dedicated arcades and cafes that are spreading across the country. Most of them charge users a fee to wear a headset and experience VR for a set amount of time, eliminating the need for consumers to shell out hundreds of dollars to buy gear themselves. They're growing increasingly popular and bringing VR to consumers who otherwise wouldn't go near it—while helping build China into a VR market that's projected to be worth $8.5 billion in just four years.
EMAX, for example, is a Shenzhen-based startup that has dabbled in making headsets, designing software, and opening retail shops for VR. But it's also building "VR experience rooms," where consumers can drop in, strap on a headset, and fall into an immersive virtual world (and friends can watch the action on a screen). It currently has 179 such kiosks across mainland China, South Korea, and Taiwan.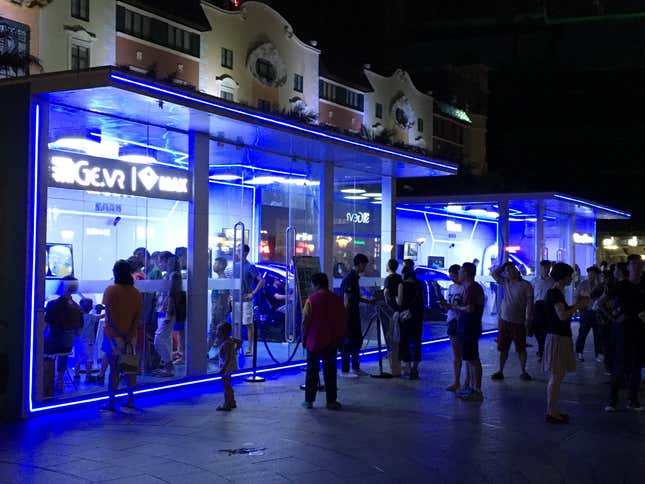 A typical kiosk is small—usually about 30 to 60 square meters—and has three to five headsets, most of which EMAX makes itself (though the company plans to switch to Oculus headsets in the future). Blue lighting emits from the periphery into the white interior, for a sci-fi feel.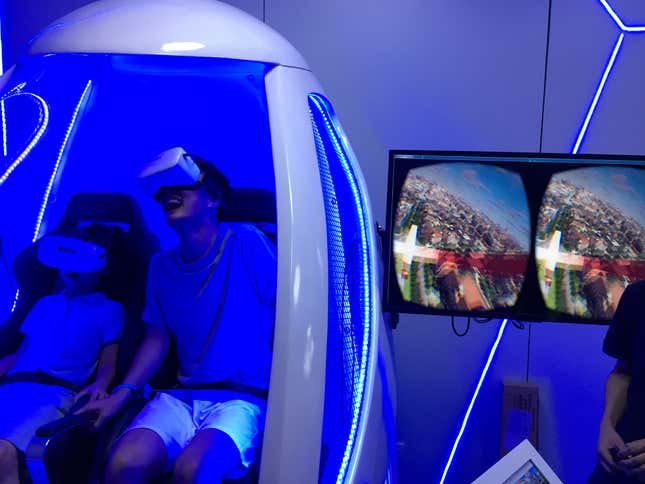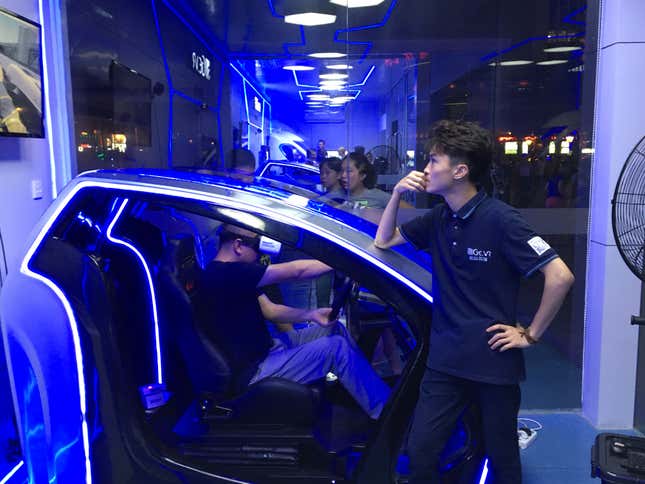 EMAX kiosks don't contain any games. Instead, viewers pay 50 yuan ($7.50) for one "experience"—usually a virtual ride of some sort. Fengkuang Niao Cheng, for example, which translates literally to "Crazy Bird City," takes viewers on a steampunk-esque train trip along a mountain.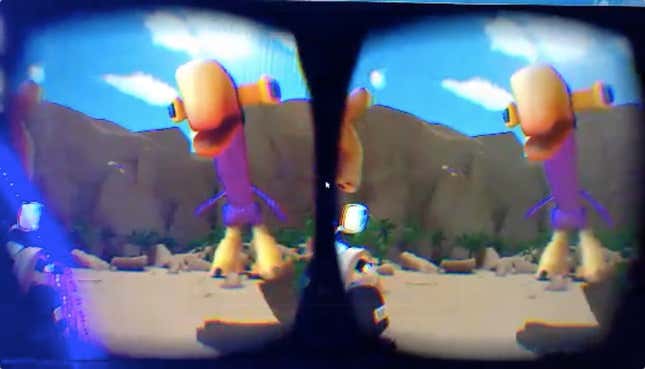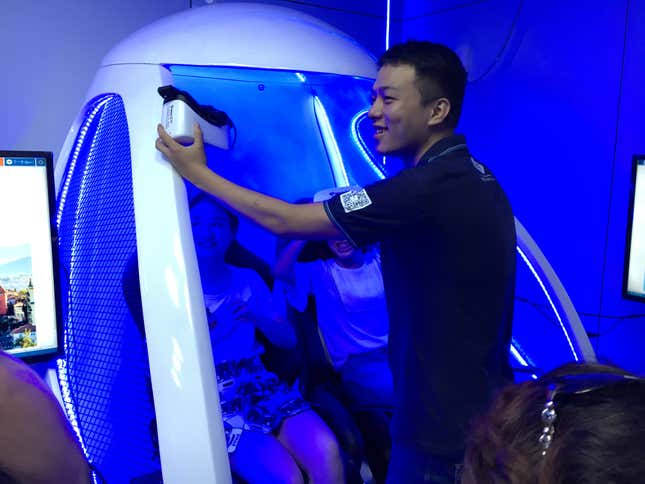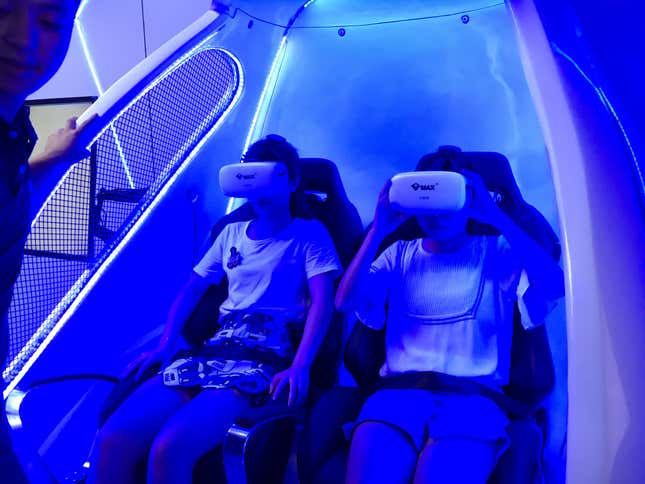 EMAX employs 75 people in China, not including kiosk service staff, and investors have given it 45 million yuan ($6.7 million) in venture-capital funding. But the kiosks, popular as they are, might take a backseat to something else: Co-founder Fu Licheng thinks the company's future lies in making VR software that will be used in new ways.
"We're very interested in education," said Fu. "Chinese people are very thrifty but they really value schooling and are willing to spend lots of money on educating their children."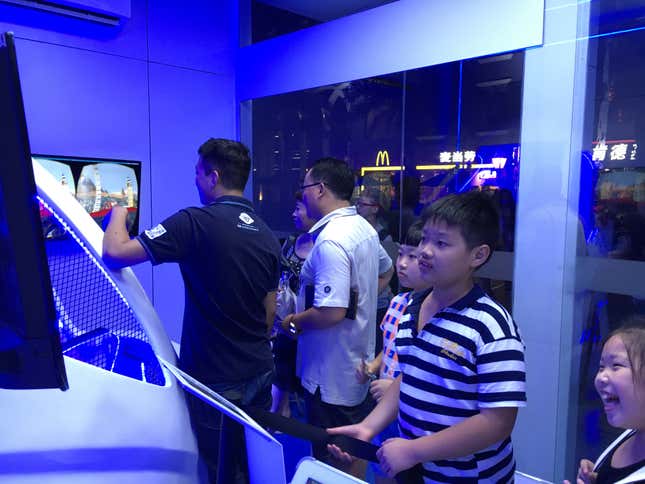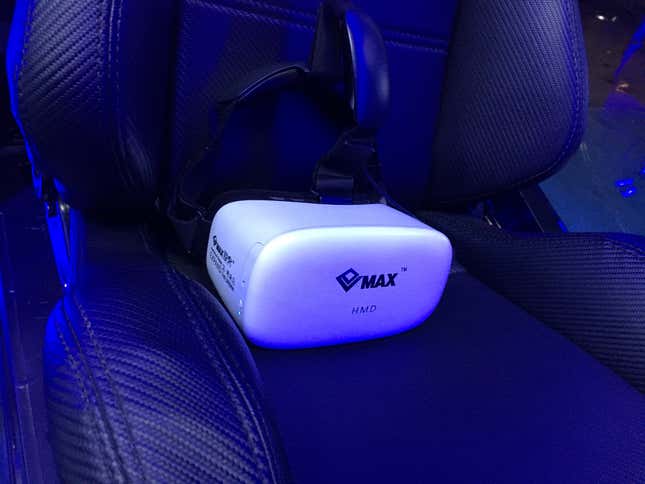 Since the kiosks are in busy public places, they tend to attract lots of foot traffic. Some customers are VR enthusiasts. Di Qi, an 18-year-old college student from Jiangsu province, paid for three rides while visiting an EMAX kiosk in Sea World, a major shopping district in Shenzhen. "Some of the details in the picture are blurry, but the technology overall is excellent," he said of the spaceship-themed experience he paid for. "I'll definitely go back."
Other customers were less enthusiastic. "It makes you feel sick," said Samuel Avram, a 29-year-old musician visiting from France with his parents. "We were going to go eat dinner, but now that's not possible."
VR, karaoke style
By placing its kiosks in public places, EMAX can pique the curiosity of ordinary pedestrians. But the spaces won't satisfy people looking to actually play virtual reality games. Other entrepreneurs are building venues for them that offer a more social environment than a white cube full of strangers.
Known as "VR cafes," some of these spots are cozy, others rather rudimentary. Former factory manager Chen Jiawei, for example, recently quit his job and rented out a 30-square-meter space in an ordinary commercial building. He equipped the space with a PC and two HTC Vives—the VR headset offered by the struggling phone maker—and opened for business. He estimates there are about 300 such VR cafes across China right now.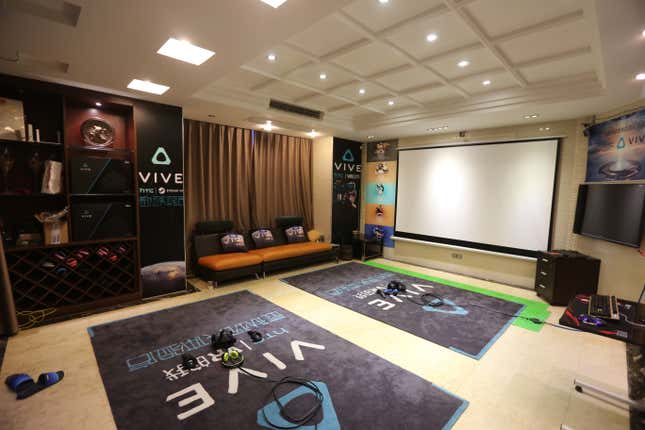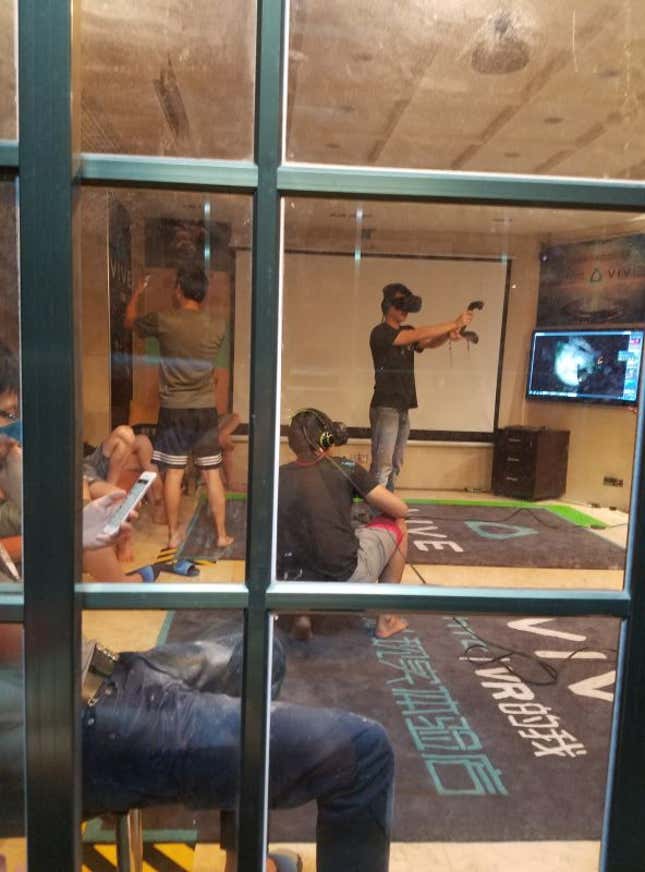 Others are more ambitious. VR Lounge, for example, aspires to build a franchise of cafes not unlike China's karaoke parlors, only with VR headsets instead of microphones. Customers sign up with a membership card and pay 100 yuan for a half-hour of play time.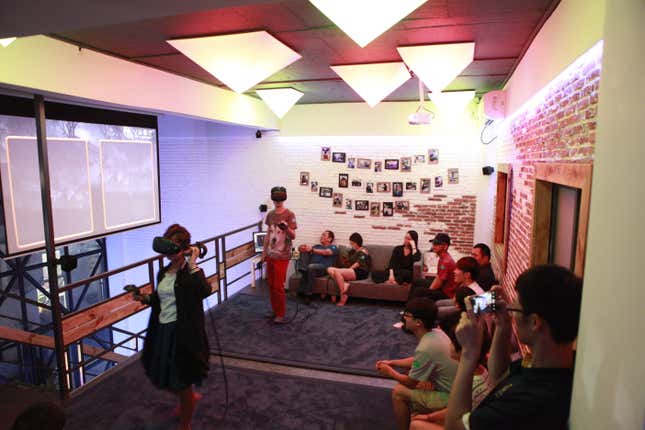 Martin Meissner and Monica Ge, VR Lounge's founders, built out their initial space (they're currently relocating) with warm lighting and a brick interior. The goal was to evoke the feeling of a living room or loft-style clubhouse. "VR should be something that's social, but when you look at it from the outside it doesn't look social at all."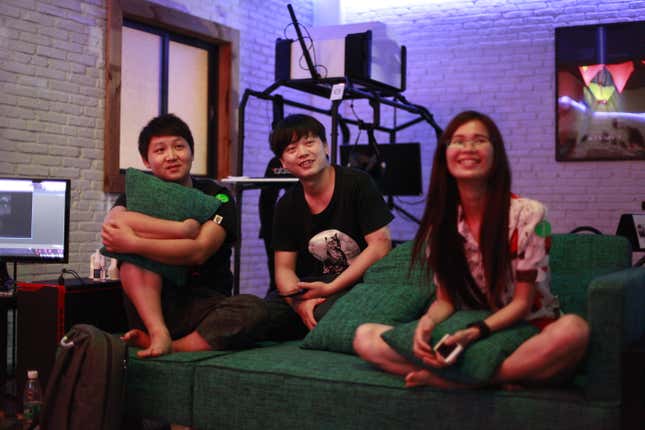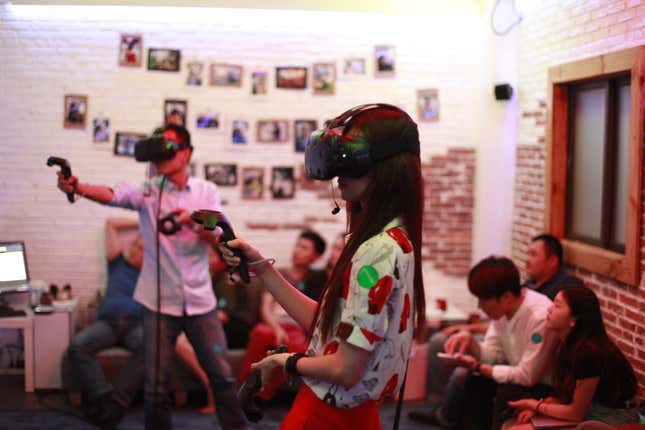 Meissner and Ge also borrow from Asia's karaoke bars when considering how customers can browse, choose, and play games.  They designed a proprietary software system so players can browse and choose games themselves, all while wearing a headset—a "self-service" model that resembles choosing songs at a karaoke bar. He and Ge also built custom furniture for specific titles, so that gameplay feels even more immersive.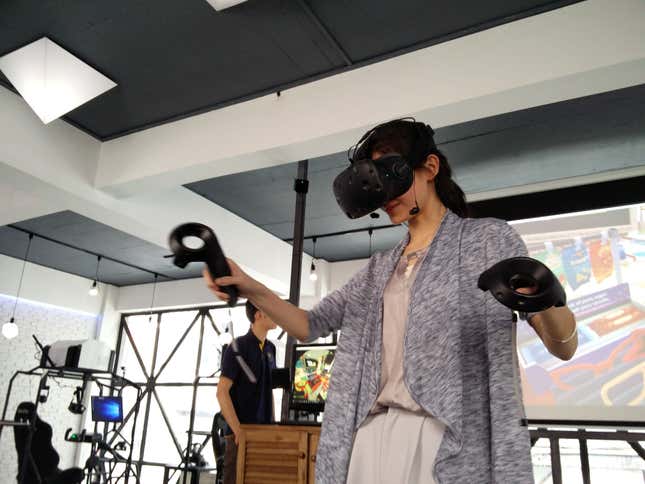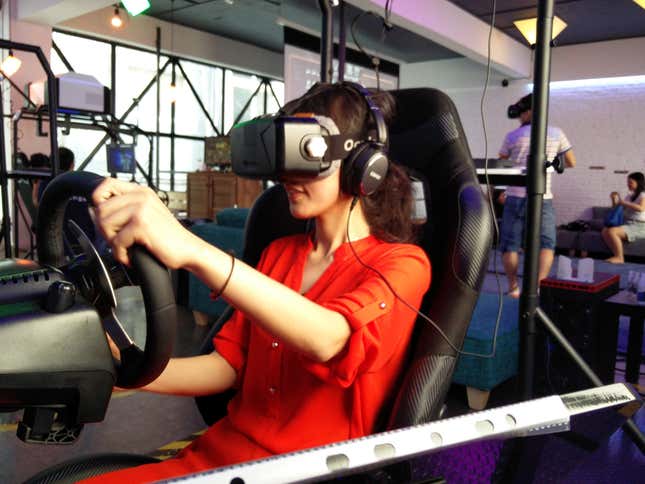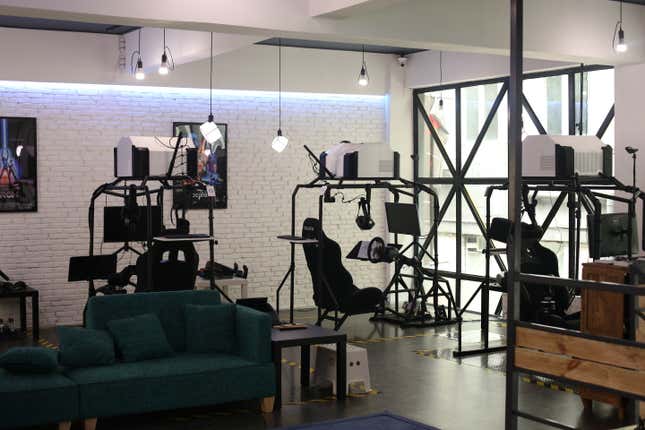 Will VR cafes last, or are they a passing fad? At the very least, they seem to be winning over some consumers that wouldn't ordinarily spend money on an HTC Vive or Oculus Rift headset.
Liang Qin, a 26-year-old assistant at a design firm, said she went to VR Lounge soon after it opened because it was near her office. Despite having never liked video games growing up, soon enough she was taking friends and family there about once a week.
In a karaoke bar, "some of the songs are hard to sing, or people have bad voices. For VR, you can enjoy watching everyone play," she says.
Yet to this non-gamer, VR still feels a bit too clunky to make for seamless fun. The bulky headset that rests on my face feels heavy and uncomfortable. Though people watch me play, I don't feel connected with them because I can't see them. And like many other first-time VR users, I get nauseous very easily.
But these are challenges will keep entrepreneurs experimenting with how to make VR more accessible to the general public. The variety of VR rooms in China is a testament to how new the technology is. Chen expects there to be six times as many VR arcades in China in one year from now. "Business in China is like this," he said. "The fire has started, and others will follow the trend."