After decades of being locked out of China, the Holy See seems to be on the path to a rapprochement with Beijing. But coming at a time when Beijing is cracking down on religious freedom at levels not seen since the Cultural Revolution, the prospect has become deeply troubling to many in the Church.
Following a number of high-profile missions by the Vatican to China, a deal is "in the works," Reuters recently reported, with Pope Francis hoping for a rapid solution to 60 years of diplomatic deadlock. "The concrete terms of the mutual agreement have not been made public," the Cardinal of the Hong Kong diocese, John Tong, wrote this month—which some interpreted to mean an unofficial accord has already been reached.
For the Catholic Church, and Pope Francis, a deal with Beijing could bring China's "underground Church" into legality—China's Communist Party expelled the Vatican's representatives in 1951, and in 1957 formed the "Chinese Patriotic Catholic Association," a parallel Catholic Church that does not recognize the Pope's supreme authority. Catholics who refuse this arrangement have gone underground, at the risk of persecution and imprisonment.
For Beijing, repairing relations with the papal state would be a diplomatic coup, as the Vatican would join the vast majority of countries in the world who recognize Beijing rather than the government in Taiwan, which China claims sovereignty over. An agreement with the Vatican would also grant Beijing a level of  international credibility when it purports to have freedom of religion.
But interviews with a dozen Catholic priests and scholars from mainland China to Italy show that even some of Pope Francis's most loyal supporters are profoundly disturbed by the prospects of an alliance with China's Communist Party government, and are second-guessing the Pope's historical push.
A Party that doesn't know love
Father Alexander Lucie-Smith, a parish priest in southwest England and contributing editor to the London-based Catholic Herald, compared the potential rapprochement to the Church's attempt to reconcile with the eastern bloc governments during the Cold War—but emphasized that China's Communist Party government is a far worse adversary.
"The Church is diametrically opposed to policies like forced abortion, the contraception policy, the one-child policy, and [China's] lavish use of the death penalty," said Lucie-Smith. "Those are pretty damn major things. We believe in freedom, democracy and human rights. It's wishful thinking that the PRC [People's Republic of China] believes in that as well."
While Pope Francis has won fans for his more progressive form of Catholicism, some clerics question whether he is being naive in his pursuit of a thaw with Beijing.
Pope Francis is "a great believer in the power of love and mercy," a priest in Milan who didn't want his name used told Quartz. "Sometimes this works. It works maybe with Cuba. Maybe with the Russian Patriarch. But with China, I do not think it works: They do not let themselves be conquered by love; rather, if you bring love to the table, they just despise you. They certainly do not open doors for you."
He compared the rapprochement with Beijing to the Church's refusal to distance itself from Nazi Germany nearly a century ago. "Now, we celebrate those priests who opposed Nazism and fascism, but let's not forget that at the time they were criticized by the Church. It was a big mistake," he said.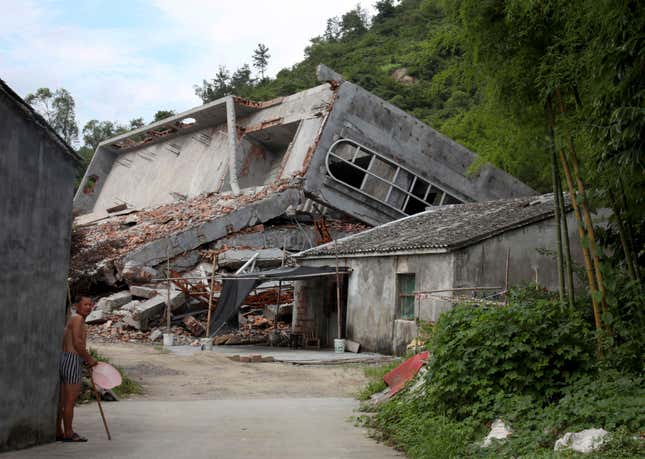 Beijing's recent crackdown on Christianity has been particularly stark in the wealthy city of Wenzhou in Zhejiang province, also known as "China's Jerusalem" for its large Christian population. There, authorities have destroyed Christian crosses and churches, including officially sanctioned ones. Zhang Kai, a Christian lawyer, was forced to make a televised confession after organizing other lawyers to defend Wenzhou's churches, a common strong-arm tactic used by Beijing to sidestep China's judicial process.
Among the most outspoken opponents of an agreement between the Holy See and China is Cardinal Joseph Zen, who headed the Hong Kong diocese as Bishop and then Cardinal from 1996 until his retirement in 2009, and is known for his support for the pro-democracy (and anti-Beijing) movement in Hong Kong.
"[T]he diplomats in the Vatican… are typical diplomats. They just want to achieve something, to succeed, have agreements with governments at all costs," Zen, 86, told Quartz. But I do not see any reason to be optimistic about the Church in China. Why are we having so many talks, and maybe making an agreement with China now that they are tearing down the crosses?"
Centuries of Catholics in China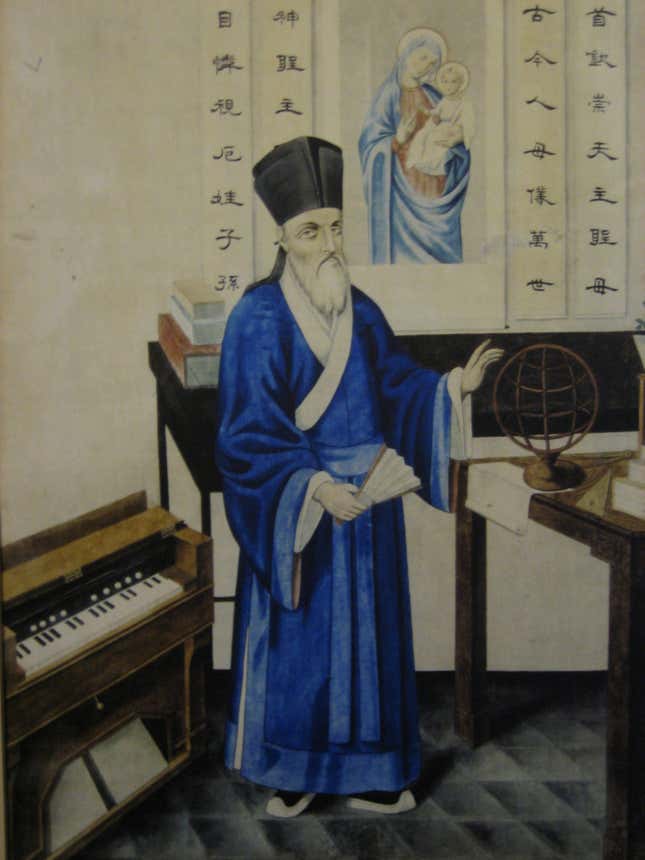 The Catholic Church has a long-held fascination with China dating back centuries, which only grew stronger during the Ming (1368-1644) and Qing (1636-1911) dynasties, when many missionaries, especially Jesuits, were allowed at Court. Pope Francis, the first Jesuit to lead the Catholic Church, expressed "admiration" for China in an interview earlier this year, citing missionary Matteo Ricci (author of a monumental Chinese dictionary) as an inspiration.
The current deadlock is not about diplomacy or the allegiance to Taiwan, however, but religious doctrine.
Starting from the first contacts between the Chinese empire and the Vatican in the Yuan Dynasty (1271-1368) all the way to modern times, the secular authorities in China have been reluctant to allow what they perceive as an earthly "foreign king" (the Pope) to be the official supreme authority over Chinese consciences. For Catholics, however, the Pope is the successor of St. Peter, Jesus' representative on earth, the indisputable head of the Church and their moral compass.
Beijing's aversion to papal authority in China does not mean Party officials are blind to the Church's attributes, however. As recently as the early 2000s, party officials were studying "the leadership and organization of the Church, seeking ideas for what they might use" to last longer than the Communist Party in the Soviet Union's 74 years, Kerry Brown wrote in The New Emperors: Power and the Princelings in China.
A schismatic church
According to the Church's doctrine, only the Vatican has the right to nominate bishops and cardinals, but the Chinese state-supervised CPCA has been nominating bishops since its inception, through its own unapproved Assembly, regardless of the Vatican's approval. This makes those Catholics who have decided to adhere to the official CPCA officially "heretics"—which is why only about half of the nine million Chinese Catholics recognize themselves as part of the CPCA.
The others follow the Pope and the Vatican only, as per doctrinal requirement. But because the Communist Party forbids this, many of them worship in underground churches, typically in secret in people's homes.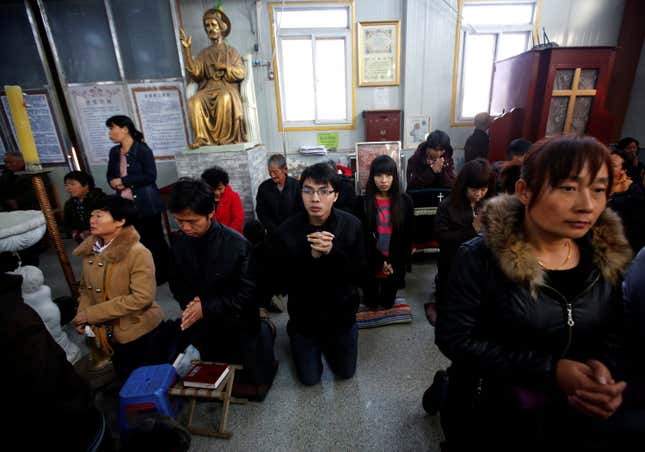 A level of exchange between the Holy See and Beijing does exist. While the CPCA nominates bishops, most of them are also approved by the Vatican—with, at present, the exception of eight bishops who are considered beyond the pale. Two of those reportedly even have children and concubines.
In order to smooth the path to a reconciliation between the Vatican and Beijing, these bishops could be forgiven by the Pope this year.
Cardinal Tong in Hong Kong has tried to assuage Catholics that any deal with Beijing would not come at the expense of the Vatican's independence in China. "[T]he Apostolic See aims not to sacrifice the principles of faith and communion of the Church, but to help the Chinese government understand the real meaning of the principles of faith and communion… so that the Chinese government will… remove its various unnecessary administrative measures imposed upon the Church in China," he wrote.
Li Jianlin, a priest at the official CPCA Catholic church in Henan province, told Quartz that a China-Vatican reconciliation would be a "win-win" situation and "bring more blessings for Chinese believers."
"I do not think that there is any crackdown going on, as long as religious activities fall within what's allowed by [government] policies. Of course the Catholic Church has been around for much longer than the Communist Party, and clashes are inevitable, but in recent years, the government's concern and support for religion has been increasing," he added.
A spokesman for the Vatican did not respond to a request for comment.
The year of mercy
The Argentinian Pope has declared the current year the Jubilee of Mercy, a year which is customarily seen by the Church as a period of universal pardon and remission of sins. This would allow him to pardon the sinning Chinese bishops, if they were to ask for forgiveness and promise to refrain from further indiscretions.
Many believe that should Beijing and the Holy See come to an agreement, it could be announced before Nov. 20, the Feast of Christ the King, and when the Jubilee of Mercy officially ends.
Ending the schism in China's Catholic church is an important goal, supporters of closer ties between the Vatican and Beijing say. Benoit Vermander, a Jesuit priest and professor of religious sciences at Fudan University in Shanghai, said, "I entirely approve of the Pope's initiative, and I think it is the best way forward. I find the critiques against an accord to have no basis, and that Chinese Catholics really need this agreement. There has to be a common mechanism for the nomination of bishops."
The Vatican's diplomatic zeal is spanning across most remaining communist states. Late last year, the Vatican sent a mission to North Korea, achieving permission for South Korean priests to visit the country "regularly." Pope Francis even visited Cuba last September, although he was reportedly snubbed by Chinese president Xi Jinping during the trip. And in order to show his good faith toward China, the Pope refused to meet with the Dalai Lama, breaking with a long-standing tradition.
A key figure behind this big diplomatic push is Vatican secretary of state Pietro Parolin, who was appointed by Pope Francis and managed to improve relations with Vietnam, another communist country with a large Catholic population that does not have diplomatic relations with the Holy See.
Some who voiced opposition to the deal have been sidelined. Cardinal Savio Hon, the only other Chinese high-prelate in the Vatican, had been advocating a more cautious line about relations with Beijing. In June he was dispatched to Guam, to oversee a scandal-plagued diocese.
"I am very afraid," said sister Beatrice Leung from the Wenzao Ursuline University of Languages in Kaohsiung, Taiwan, a scholar on the Chinese Catholic Church. "I think that nobody in the Vatican understands Chinese politics. If there is an accord on bad terms, I can only hope that the Chinese Catholics will not lose the faith."
China's Catholics in limbo
Some Chinese Catholics may welcome a deal between their government and the Pope, having been forced to either practice their religion secretly for so long, with the constant risk of imprisonment or persecution, or recognize an authority other than the Vatican. But many remain unconvinced that there will be any positive change for China's Catholics if a deal is struck.
"The carrot part of this is that if there was a rapprochement, the Chinese Catholics would be able to live their lives in peace and not be harassed by the state as much as they are right now," said Lucie-Smith. "Except I just don't see that happening."
A Catholic in Hebei province in his early 30s who works at an official Church publication (he asked to remain anonymous because he had been harassed by the government before) echoed those fears.
"China has never acted like a superpower to its people—it exploits its people, crushing them like ants… If the Vatican makes concessions over the bishop problem to China, then they will have many more to make in the future, because what China is doing now is building a Catholic Church 'with Chinese characteristics,'" he told Quartz.
Many are also critical that a potential deal with Beijing comes at the expense of the approximately 300,000 Catholics in Taiwan. Beijing has been trying to quash links between Taiwan, which it considers a rogue province, and foreign states.
"What about the Catholics in Taiwan?" asked Cardinal Zen. "The Church has never abandoned its followers like this. It would be unprecedented."
Ultimately, even those who are worried about a reconciliation concede that as Catholics, the Pope's decision cannot be challenged. The issue is particularly fraught for China's underground Catholics.
"We have to accept this indication from the Pope, even if it tears our hearts. Do we have to go and join the Patriotic Association now?" wrote one user on Weibo, China's equivalent of Twitter.
Despite his vocal opposition to a Vatican-China deal, Cardinal Zen echoes that sentiment. "I do not question the Pope's good heart. But he is receiving very bad advice," he said. "Do not criticize the Holy Father. But if a bad deal is signed, the ultimate criterion of your behavior is your conscience."
Echo Huang Yinyin contributed reporting