Designer Sonia Rykiel, known for her easy striped knits and unconstrained designs, has died at 86 after a long battle with Parkinson's disease.
Rykiel, with her distinctive shock of orange hair, was an icon of French fashion, so much so that French president Francois Hollande issued a statement calling her "a pioneer" who "offered women freedom of movement."
Her signature knitwear—she was dubbed the "queen of knits"—was chic and yet easy to move in, a departure from the more restrictive shirts and jackets that dominated when she began her fashion career in the early 1960s. Rykiel emphasized giving women the freedom to wear anything they chose, and created unpretentious, innovative designs that often broke fashion rules.
She made jackets and dresses that were reversible to eliminate the need (paywall) for clothing changes during the day, and constructed clothes with exposed seams and raw, unfinished hems that presaged the deconstructive design of figures such as Martin Margiela. She created culottes with the shape of a skirt that allowed for more movement, and made long, slim dresses from flexible jersey.
Her designs took fashion out of its formal rut and made it daring. "I wanted to dress women who wanted to look at themselves," she said in a 2008 interview (paywall) with WWD. "To stand out. To be women who were not part of the crowd. A woman who fights and advances."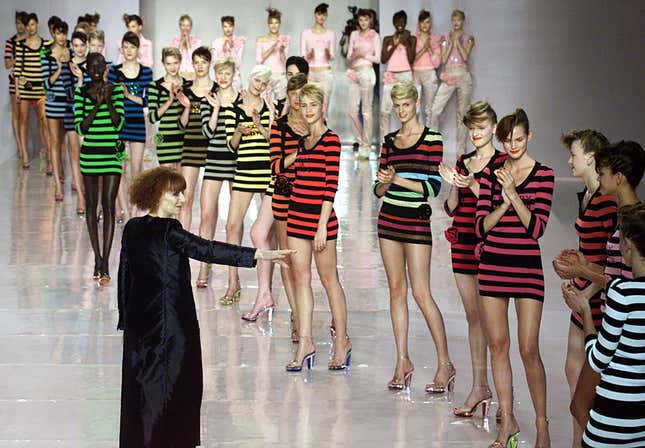 Rykiel entered the world of fashion by accident, initially creating clothes to wear during her own pregnancy. Her husband at the time, Sam Rykiel, owned a boutique called Laura, and she had the Laura knitters make a sweater for her. The so-called "poor boy" sweater, with its shrunken proportions, was her first big success in 1962.
"I was supposed to be a mother, like my mother, who didn't work," she told WWD. "I wanted a maternity dress and I couldn't find anything I liked. Everything was abominable. So I made one. Then I made a pullover. Elle put it on the cover. Then WWD elected me the queen of knitwear." In the late 1960s she became associated with Paris's Left Bank, and her business steadily grew, both in Europe and overseas.
The company today is a global enterprise, encompassing multiple lines including shoes, accessories, home goods, and fragrances. Rykiel's daughter, Nathalie, who began as a model for the company in the 1970s, became its managing director in 1995. Rykiel herself continued to design, eventually hiring a creative team in the early 2000s. She was diagnosed with Parkinson's at the age of 66, but didn't reveal her condition for 15 years. She wrote about it in her book, Don't Forget that I'm Acting.
Rykiel had no formal design training, and worked by instinct. She never learned the "rules," and never paid them much regard. Her message to women was similarly nonconformist: She told them not to look to any authority for dictates on how to dress—even herself.