Actresses Lena Dunham and Jemima Kirke from HBO's Girls are showing a different, more realistic side of women in a new lingerie campaign for Lonely, a New Zealand-based lingerie brand.
The campaign features unedited portraits of Dunham, the creator and star of Girls, and her co-star posing in their underwear in a Brooklyn apartment. Unlike traditional lingerie ads, the photos weren't retouched and portray Dunham and Kirke as they naturally are.
The photos are part of an ongoing series called Lonely Girls, which kicked off in 2009 when Lonely launched. It features portraits of inspiring women from around the world in their natural environments. Past photos in the series—shot by Zara Mirkin and Harry Were—featured artists, academics, mothers, musicians, and makers, often in their own homes.
What's refreshing about the Lonely Girls series is that the models in the photos aren't sexualized, as women often are in underwear ads. They're not posing provocatively in beds or parading around in places where real women are unlikely to go in lingerie. They're doing what women might actually do in their underwear. The lighting is natural. Their makeup is simple. In Dunham and Kirke's case, they're sitting in a bathroom in one image and, in another, they're helping each other put on makeup in a living room.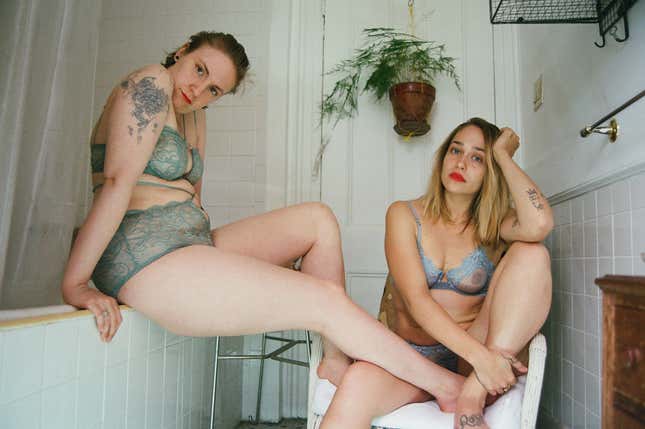 The body-positive campaign reflects a recent trend in lingerie advertising to show women as they are in real life, without photoshopping and portraying unattainable body shapes as Victoria Secret ads do. American Eagle's Aerie lingerie line stopped retouching the models in its ads in 2014. And last April, Lane Bryant, a US-based clothing line for women sizes 14 to 28, showed curvy women are sexy too, in an ad campaign called "I'm no angel," which played on Victoria Secret's ads that refer to models as "angels."
Period-panty startup Dear Kate has tapped tech entrepreneurs and feminists for ad campaigns as well, although the concept didn't go down easily with everyone. The executive director of Women in Media & News, Jennifer Pozner, who was asked to participate, wrote in the New York Times that the campaign was "selling out" women, because it wasn't "challenging sexist, racist policies, organizing to elect women's rights-supporting leaders, or donating proceeds to gender justice causes."
"They didn't even want to pay me to use my cred (or my cleavage) as if modeling isn't a job, and professional endorsements aren't richly compensated," Pozner said in the article.
However, as another feminist who modeled in the ads pointed out, the body-positive campaign "was an example of pushing the narrative forward and broadening the definition of a woman undressed might mean," Cristen Conger wrote in an August 2015 post in XO Jane.
Lonely's photo series similarly broadens the perception of what an undressed women looks and acts like.
Last year, Dunham also posted a photo of herself feeling free and fabulous in her Lonely brand lingerie on Instagram.
"Each of the women who participate in this project…are part of a conversation that disrupts paradigms around the way lingerie is typically presented," the company said in a statement. "Giving a glimpse into their worlds, we hope, amplifies this conversation and makes us all feel a little more liberated and comfortable in our own underwear."
A representative for Lonely declined to say whether the images featuring Dunham and Kirke would be promoted or used outside of the blog.
Update (Aug. 29 at 8am ET): This post was updated with a quote clarifying Pozner's perspective on the Dear Kate campaign.