Netflix can't help itself from taking a dig at its North Korean doppelgänger.
North Korea is notorious for keeping tabs on television and film content as well as controlling internet access. But on Aug. 18, the reclusive nation's state-run Korean Central television (KCTV) promised citizens some leisurely entertainment: Its own online video-on-demand service, which has reportedly drawn comparisons to US streaming company Netflix.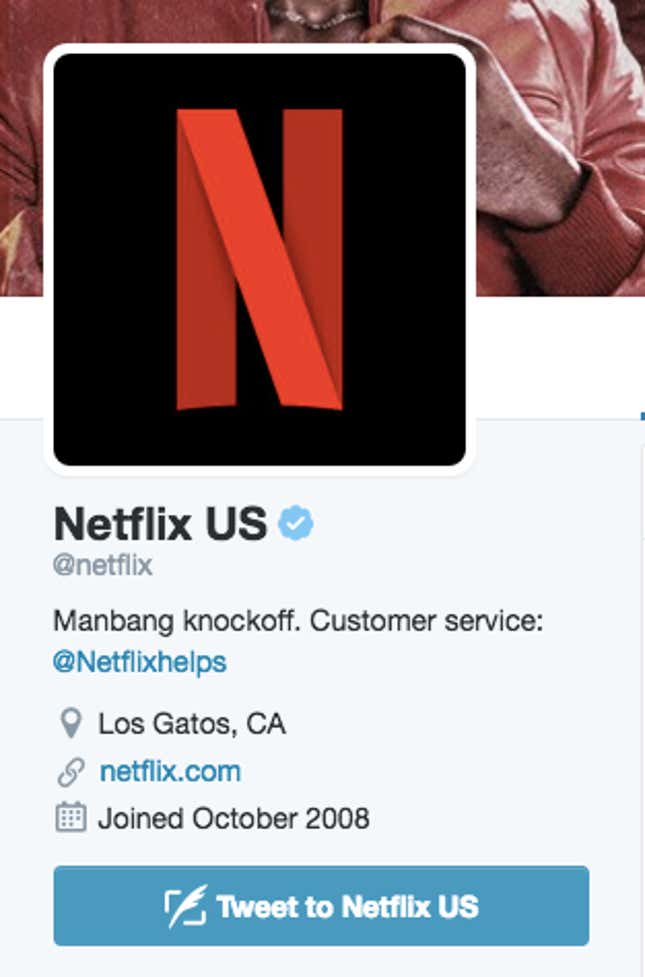 In response, Netflix made a tongue-in-check update to its Twitter description, dubbing itself the "Manbang knockoff." "We are bummed we didn't think of that name first," a spokesperson for the California-based company told Business Insider.
Netflix is the world's biggest streaming service, but it remains unavailable in North Korea, Syria, Crimea, and China.
Manbang is currently limited to its home country, and doesn't really copy Netflix beyond its on-demand video format. It offers only limited nationalistic documentaries and other programs vetted by the state. According to NKNews, the catalog of services includes five TV channels in real-time, and articles from the local newspaper Rodong Sinmun and the Korean Central News Agency.
Most North Koreans are unable to access the global internet. Since 2000, residents of the Hermit Kingdom have been limited to a walled-off national network called Kwangmyong.