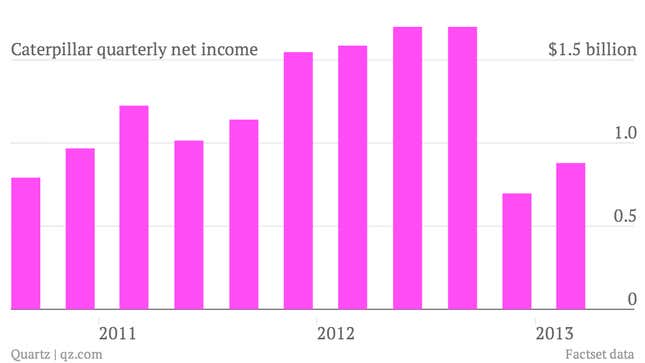 The numbers: The world's largest manufacturer of mining and construction equipment reported net income of $880 million (pdf), a 45% drop from the same period a year earlier. Sales, at $13.2 billion, were 17% lower year-on-year. With these lower-than-expected sales and profit figures, the company lowered its outlook for the year to sales of between $57 billion and $61 billion and profit of $7.00 per share.
The takeaway: Mining has been hit by falling metal prices and lower demand on the back of slower economic growth, especially in China. "We said the first quarter of 2013 would be challenging, and it certainly was," CEO Doug Oberhelman said in the company's statement today. Oberhelman credited the disappointing earnings to the fact that Caterpillar and its dealers had cut instead of added inventory ahead of demand in spring and summer. Global mining expenditure is expected to drop 20% this year, according to JP Morgan.
What's interesting:  Caterpillar isn't so worried about a slowdown in China or elsewhere. Sales in China were higher-year-on year and inventory for machinery had fallen, Oberhelman said. The company predicts the Chinese economy will grow 8% this year, despite the fact that first quarter growth came in at an underwhelming 7.7%. The company offered an optimistic forecast (pdf, p. 11) for the global economy: further interest rate cuts from central banks in the coming months, moderate inflation in developed economies, improved demand for commodities copper and iron ore (the latter from increased production in China), a fall in appeal for natural gas, and increased global coal production. The company also forecasts global GDP growth of 2.5% this year and 1% growth in Japan.