Many celebrities showed up. Several sang. But MTV's Video Music Awards belonged to Beyoncé and Rihanna last night (Aug. 28).
The two women dominated with the biggest performances of the evening, while Beyoncé took home seven awards to leapfrog Madonna as the person with the most VMAs of all time. They also ruled the night's fashion with two showstopping looks, and while they could have opted for the known names, such as Versace or Givenchy, that have dressed them before, their major looks came from designers who are as yet mostly unknown beyond the fashion industry.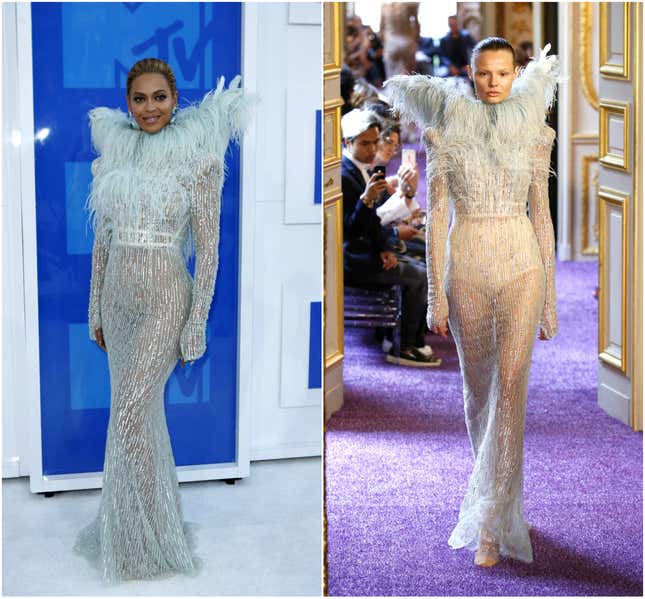 Beyoncé wore several looks during the night, but it was the sheer, glittering, form-fitting dress, complete with a sweeping feathered collar, she wore when she stepped onto MTV's white carpet with daughter Blue Ivy that was the highlight. Certainly unusual—it elicited comparisons to birds and royalty on Twitter. A stunning piece on the singer, the dress was the creation of Italian Francesco Scognamiglio, and debuted just last month in the designer's fall couture collection, presented on special invitation from France's governing body of couture.
"I knew it was my dream since the beginning," the designer, who began working as a tailor at 19 in his hometown of Naples, told Vogue about presenting at France's couture shows. It was a terrific collection that Vogue described as a "career high." Beyoncé may have taken his career to new heights.
Rihanna similarly went through multiple outfits, including one look featuring hip-high boots from buzzy Paris label Vetements made in collaboration with Manolo Blahnik, a name with which the singer has also collaborated. But it was a look from the recent couture collection of French designer Alexandre Vauthier that she chose for her finale performance with a full orchestra.
Vauthier has gained some buzz recently, dressing model Bella Hadid for a red-carpet appearance at the Cannes Film Festival in May. His recent couture collection played off military motifs, which were evident in the shimmering champagne-colored gown Rihanna wore that cleverly reimagined a pilot's flight suit.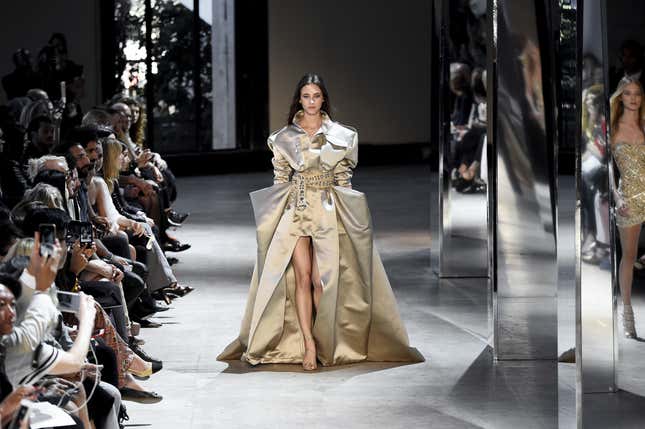 For designers such as Scognamiglio and Vauthier, having Beyoncé and Rihanna wear your clothes is more than just a point of pride. Their star power can dramatically raise a designer's profile—and sales. Rihanna, for instance, has given Puma a huge boost through her line with the brand, and she was named the "most marketable of all big-name celebrities" by research firm NPD Group in January.
The evening was a win for the two singers, and for the designers they chose to wear.