US president Barack Obama issued a statement Aug. 29 paying homage to Mexican singer and songwriter Juan Gabriel after his death Sunday.
"Juan Gabriel brought his beloved Mexican music to millions, transcending borders and generations," it read.
It was only one of hundreds of thousands of tributes—from both world figures and regular folks–honoring the Mexican composer's ability draw all manner of people in Latin America and beyond. His spirited songs embodied both the sorrow and the joy it is to be a Mexican, and more broadly, human.
Earlier in the day, Mexican president Enrique Peña Nieto tweeted his own condolences.
And so did Venezuelan president Nicolás Maduro.
Famous musicians from Latin pop star Ricky Martin to John Fogerty, lead of guitarist of 1960s rock band Creedence, saluted the Mexican composer, who over his lifetime wrote some 1,500 songs (link in Spanish) and sold more 100 million albums, according to the AP.
Salsa singer Marc Anthony broke down into tears as he sang a Juan Gabriel song during a concert on Sunday.
Born Alberto Aguilera Valadez, Juan Gabriel started out small in the border town of Ciudad Juárez, across from El Paso, Texas. He was improbable star material, growing up poor in the boondocks of Mexican cultural life. But he went on to become a musical idol in Mexico and became know as "the divo of Juárez."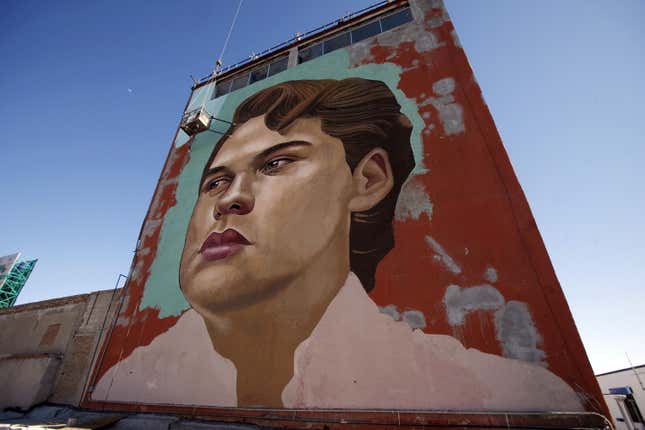 He died at 66 in his home in California from a heart attack.
His catchy tunes (you can get a taste here) and flamboyant style have universal appeal in Mexico. His fans (Spanish) include staid establishment politicians, teenage girls and mariachi bands. Many Mexican men suspended their machismo when it came to Juan Gabriel and his sparkly, over-the-top outfits and pouffy coif. On Sunday many gathered at Garibaldi square in Mexico City, a mariachi hub and the site of a Juan Gabriel statue clad in a mariachi suit, to tearfully bid him goodbye.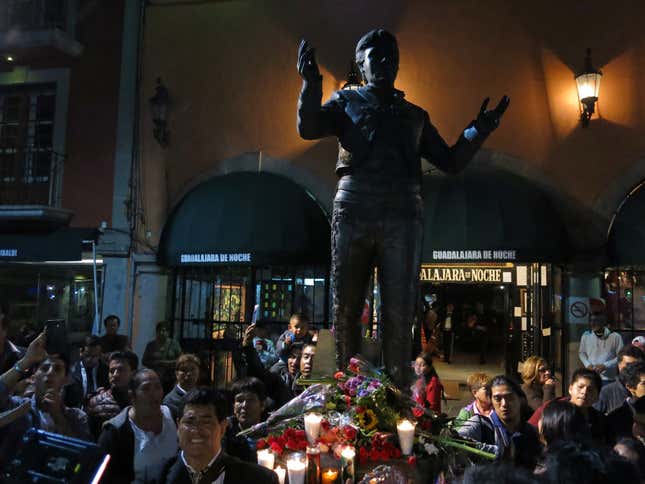 "It's as if Juan Gabriel would have been, at the same time, our Elvis Presley, our John Lennon and our David Bowie," this professor explained in a tweet. (He later added Elton John and Madonna to the list.)
The love for Juanga, as he was affectionately called, crossed over into the US, where many Mexican Americans grew up with his music. He got his star on Hollywood's Walk of Fame in 2002. Two days before his death, he summoned 17,500 people to the Inglewood Forum in California for a two-hour spectacular concert, his last.
R.I.P. Juanga.