Singapore—with a population of five million—has almost double the number of locally transmitted Zika cases as the US, with a total of 82 as of Aug. 29, according to the country's health ministry.
That compares to the US state of Florida where 43 people have contracted the disease locally as of the same date. Florida remains the only state in the US to have recorded locally transmitted Zika cases, according to the US Center for Disease Control and Prevention.
The Southeast Asian city-state expects more cases to surface as more people are tested in the coming days.
"Given that the Zika virus is spread by the Aedes mosquito vector, MOH cannot rule out further community transmission in Singapore, since some of those tested positive also live or work in other parts of Singapore," Singapore's health ministry said in a Aug. 29 statement, with the majority of cases clustered in the island's east.
At least 36 foreign construction workers and one Singaporean are among the confirmed cases. All were working at the Sims Urban Oasis apartments construction site at 60 Sims Drive, in the island's east, which has since been shut down.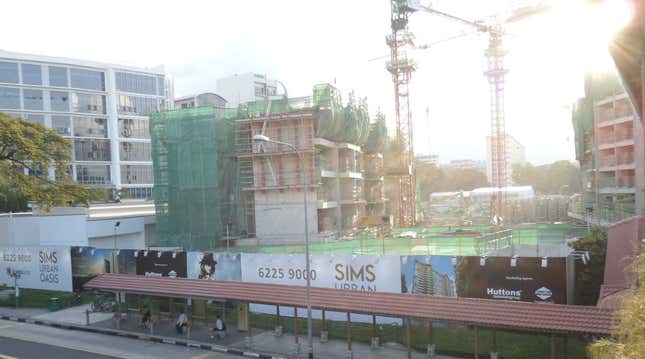 Singapore, which relies heavily on foreign labor, has not said which countries those infected workers come from.
The Zika virus, which can lead to microcephaly in the unborn foetus of pregnant women, has spread virulently in Latin America and the Caribbean. Singapore reported its first Zika case in May when a 48-year-old man who was in São Paulo, Brazil on a business trip contracted the virus. It is not immediately clear how patient zero came to pass in this latest outbreak.
Singapore confirmed its first locally transmitted case on Aug. 27, followed by 41 others the next day, prompting concerns that the government has not been prompt with public notification. The Workers' Party, Singapore's only opposition party with elected parliamentary presence, called on the government to clarify its timeline and its practice of public notice.
"Part of the reason that we have discovered more cases is because we have now gone back to the cases that were seen before by doctors. They were not suspected to have Zika, because they have no travel history and so on," health minister Gan Kim Yong told the local TODAY newspaper.
As of Aug. 29, officials from Singapore's National Environment Agency said they have sprayed insecticide at and inspected about 5,000 premises out of 6,000 in just one affected cluster alone, in the Sims Drive and Aljunied Crescent areas. They have also destroyed 39 potential mosquito breeding spots and have served notice to 400 inaccessible buildings to arrange for inspection, failing which the agency will proceed with forced entry.