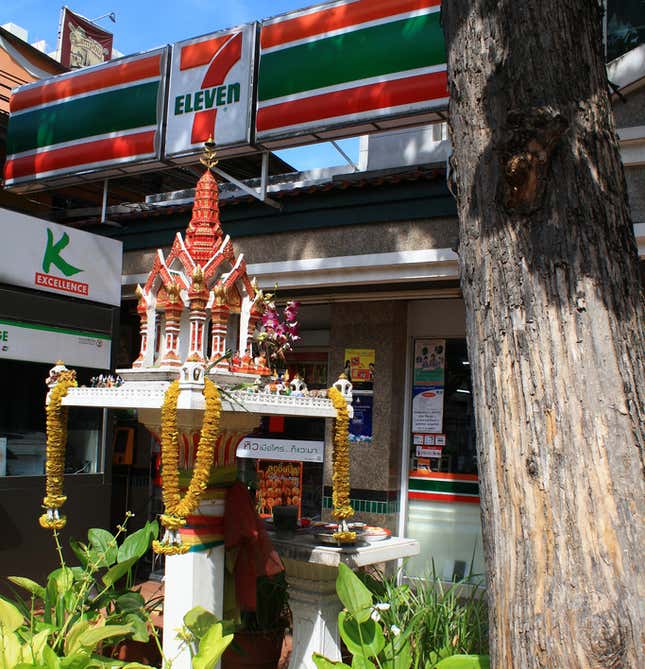 It seems there's no stopping Dhanin Chearavanont, Thailand's richest man, in his hunger for acquisitions. His company CP All, the world's third-biggest operator of 7-Eleven convenience stores, said on Tuesday it has agreed to acquire cash-and-carry wholesaler Siam Makro for $6.6 billion.
Dhanin, the 74-year-old boss of CP All's privately-owned parent company Charoen Pokphand Group, is worth around $14.3bn, according to Forbes, and he's on a spending spree. Dhanin's acquisition of Siam Makro is the biggest global retail M&A deal of the year, and the richest Thai M&A deal ever. It comes just four months after he bought HSBC's 15.6% stake in China's Ping An Insurance for $9.4 billion.
CP All has agreed to buy SHV Holdings NV's 64 percent stake in Siam Makro for 787 baht ($27.30) per share, a 15% premium on the company's closing price of 682 baht. The same offer will be made to all remaining shareholders. Members-only Siam Makro had 57 cash-and-carry wholesale stores at the end of 2012, and posted a yearly net profit of 3.6 billion baht ($123.5 million), up 36.5% on 2011.
The offer marks a new emphasis on retail expansion for CP Group, which has other interests in agribusiness, telecommunications and finance. But it is also a homecoming. Dhanin founded Siam Makro along with SHV in 1988, according to Bloomberg, but sold his share in the company after the 1997 Asian economic crisis. It's also not the only recent example of Thai companies going shopping on a big scale.
Foreign investment, a strong currency, and high levels of domestic demand spurred by government programs have armed Thai companies with fistfuls of cash. Recent notable Thai deals include PTT Energy's purchase of Britain's Cove Energy for $1.9 billion, billionaire Charoen Sirivadhanabhakdi's acquisition of Singapore's drinks and property conglomerate Fraser & Neave for $11.2 billion, and Dhanin's acquisition of Ping An—the second-biggest deal in Asia in 2012.
His winning streak may have some room to run.