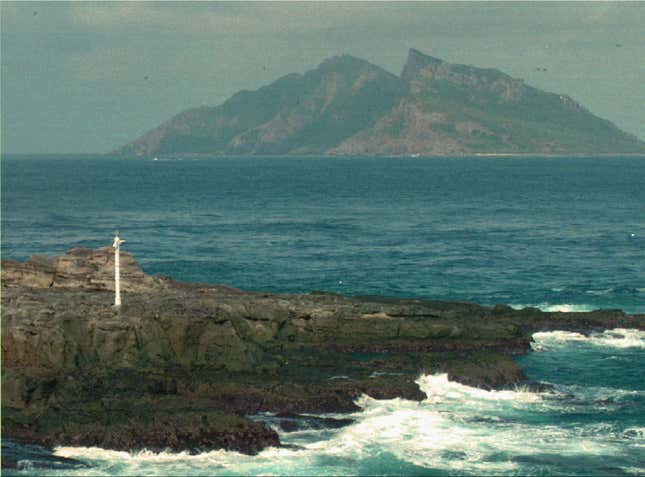 No sooner does one threat to peace in Asia recede than another rears its head. We thankfully haven't heard much bellicose posturing from Kim Jong-un recently, but the nerve-wracking diplomacy over North Korea's nuclear belligerence has given way to another round of muscle-flexing between Japan and China over the disputed Senkaku/Diaoyu islands
On Tuesday morning captains from the two nations' fleets faced off in the waters around the disputed islands (called Senkaku in Japan and Diaoyu in China). As a group of Chinese patrol boats entered the waters around the islands, a flotilla of boats carrying Japanese activists—the same group that helped to trigger a diplomatic  crisis and Chinese street riots last year when they landed on one of the islets—was escorted out of the disputed area by the Japanese Coast Guard.
Japanese Prime Minister Shinzo Abe warned that Japan would respond with force to any attempt by China to land on the islands. The incident took place just days after the Beijing was angered by more than a hundred senior Japanese politicians visiting a controversial WWII memorial.
Last time this dispute erupted in September, angry Chinese protesters smashed Japanese shops and boycotted its products. Japanese auto makers' market share in China dropped from around 20% in July 2012 to 15% by the end of the year, according to industry experts, and the investment bank JPMorgan estimates that Japan's growth may have been cut by 1% in the last quarter as a result of the tension.
Trade between Japan and China was $333 billion in 2012. They both have much to lose.