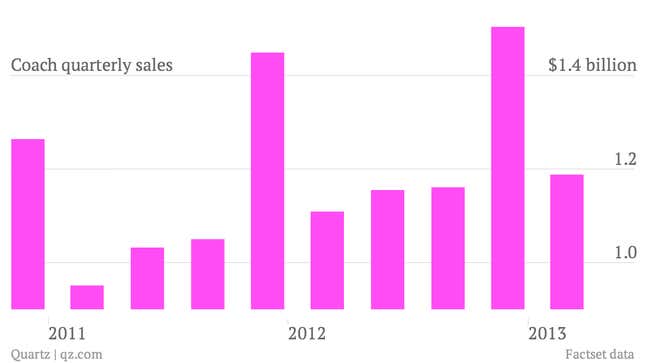 The numbers: American luxury accessory maker Coach reported net income of $239 million for the first three months of the year, up from $225 million in the same quarter last year, the company reported today. Revenues at $1.19 billion were 7% higher than the same period a year earlier. Both sales and profits beat analyst expectations.
The takeaway: A slower-growing Chinese economy and crackdown on ostentatious spending by government officials hasn't dented appetites in China for Coach's leather handbags, wallets and other accessories. Coach's same-store sales in China rose 40% in the quarter. There were less impressive, but still encouraging signs of consumer spending in North America, where sales increased 1% in the period.
What's interesting: Part of Coach's success in China is that it is considered an "accessible luxury" for the country's newly affluent. It has also been targeting men, who make up 55% of China's luxury market, compared with a global average of 40%. Coach's better-than-expected sales suggest overall luxury consumption may be healthier than expected. Other luxury makers like Ralph Lauren, Fossil, and PVH report over the next month.