US president Barack Obama, former NBA star Kareem Abdul Jabbar, and several others have already publicly come to the defense of Colin Kaepernick. You can add a growing number of fans to the list of those supporting the San Francisco 49ers quarterback, who has roused controversy by repeatedly refusing to stand for the US national anthem before games to protest racial injustice and police brutality toward black Americans.
As of the afternoon of Sep. 6, Kaepernick's jersey has become the top seller on the NFL's online shop, according to NFL.com, jumping ahead of the jerseys of Philadelphia Eagles quarterback Carson Wentz and Dallas Cowboys running back Ezekiel Elliott.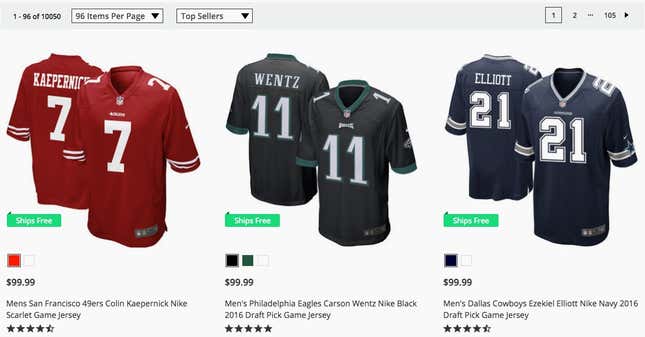 Sales of Kaepernick's jersey have steadily grown over the past several days, suggesting support for the stand he's taken at recent games. It's likely the most popularity his jersey has seen in some time; after the terrific 2012 season that made his name in the NFL, Kaepernick has struggled through years of injuries and ineffective play since.
Some commentators online have suggested that people may be buying the jerseys to burn them, but as ESPN's Darren Rovell has pointed out, that's unlikely as they cost $100 each. It's more probable those buyers are backing Kaepernick's stance.
Since Kaepernick first decided to remain seated during the national anthem before a preseason game on Aug. 26, a heated debate has grown around whether his protest is patriotic or disrespectful. A number of people, such as former 49er Jerry Rice as well as several other athletes, have accused Kaepernick of dishonoring the US flag and the military service members they believe it represents.
At the same time, shows of support for Kaepernick have continued, including just yesterday (Sep. 5) when US soccer star Megan Rapinoe kneeled during the anthem before a game between the Seattle Reign and Chicago Red Stars in a nod to Kaepernick.
It's a safe bet that Kaepernick will see more of that sentiment during the 49ers home opener against the Los Angeles Rams on Sep. 12. He'll be on the bench, recovering from three surgeries, but plenty of San Francisco fans will have his back, and his jersey on theirs.