The transportation industry is witnessing a swell of cross-industry collaborations. Whether it's ride-sharing services teaming up with auto manufacturers to prepare for autonomous driving, or mass transit collaborating with cultural institutions to enhance the morning commute, organizations are using cross-industry partnerships as a means to provide solutions to the problems they're looking to solve.
When it comes to unique partnerships within the aviation industry, Singapore Airlines often stands out as one of the most illuminating case studies. Throughout its 69-year history, the company has fostered a spirit of collaboration with outside talent.
In 1968, the airline famously employed revered fashion designer Pierre Balmain to create its flight stewardess uniforms, leading to the debut of the iconic sarong kebaya. From early on, Singapore Airlines leveraged the opportunity to tap into a wider knowledge base and that tradition of partnership has been carried on into the present day.
When the company needed to create a first-class cabin for its fleet of Boeing 777-300ERs, it enlisted the help of a firm well-acquainted with lush interior spaces of moving vehicles. The design consultancy arm of German automobile producer BMW, DesignWorks has helped craft everything from cars to private planes to trains. As such, they understood the needs of customers looking for a premier traveling experience.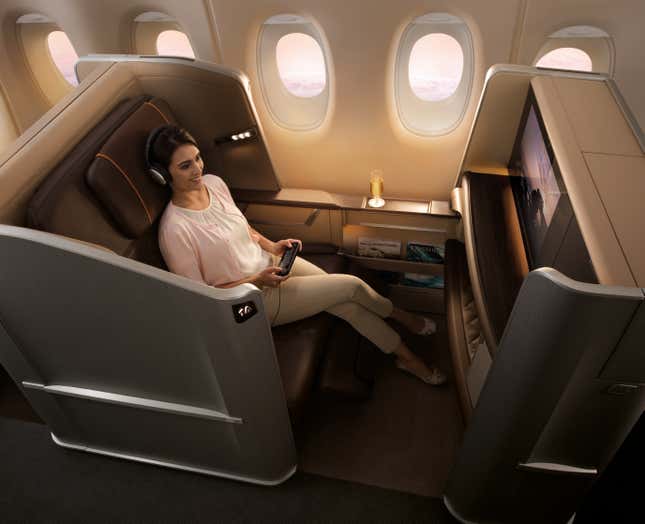 Working closely with Singapore Airlines over the course of two years, Johannes Lampela, a design director at DesignWorks' California studio, led the process of creating a first-class cabin unlike others on the market. From the very beginning he wanted to create a space that boasts the same level of comfort and hospitality as a four-star hotel room. "You can make the argument that airlines aren't providing service from A to Z anymore but are actually working in hospitality," said Lampela.
His team started with a passenger's first touchpoint: the boarding process. Rather than reproduce the utilitarian experience of boarding an aircraft, they used varying shades of materials and lighting to create pleasing focal points and make passengers feel like they were entering a luxurious space.
As Lampela explains, "luxury doesn't reveal itself all at once—it grows through the whole holistic experience." Every detail must work together. For example, in the new cabin, passengers sit down to discover a bespoke, illuminated, leather-lined compartment right at a hand's reach to store glasses or personal valuables.
Overcoming limited space is a common challenge airlines have to navigate. To create the impression of spaciousness, the team designed individual islands for each passenger. Enclosed by panels, the islands were engineered to widen the spatial area of the aisles and create long, continuous sightlines.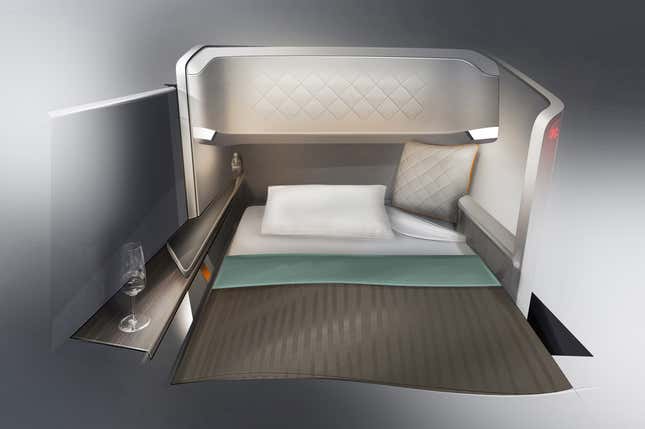 Drawing on extensive data provided by Singapore Airlines, DesignWorks accounted not only for the contentment of the passenger but also for how the flight attendants would use and move through the space, as well as how engineering would undergird all of these aspects. Considering even the smallest details, such as how and where to deploy tray tables, resulted in more personal space for each passenger and minimized the number of intrusive interactions from flight attendants. It was the thoughtful design of each and every element that ultimately produced the unique flying experience passengers encounter.
Outside of the extensive collaboration with the BMW Group subsidiary, Singapore Airlines also partners with technology, fashion, and culinary experts. Panasonic for example, powers the broadband-enabled in-flight entertainment system and the industry's first companion mobile app, which allows passengers to choose the movies they want to watch before they even board. A diverse international culinary panel that includes James Beard Award-winning chef Suzanne Goin helps to orchestrate the menu. And iconic fashion label Ferragamo supplies amenity kits.
Partnerships like these are becoming increasingly common. Not only are they symbiotic, allowing each organization to tap into another company's extensive knowledge base, they also allow companies to offer a higher level of customer service than they otherwise would be able to provide. It's this melding of expertise and perspective that so often produces the chemistry that spurs innovation. "It's the key of design today," says Lampela. "You cannot afford to be singular."
This article was produced on behalf of Singapore Airlines by Quartz creative services and not by the Quartz editorial staff.