At its big event in San Francisco on Sept. 7, Apple unveiled a new product in collaboration with the world's biggest sporting brand, Nike.
Trevor Edwards, Nike brand president, introduced the Apple Watch Nike+, a device geared toward runners that ties into the existing Nike+ running community. The sporty looking watch, which has a big neon display, will be available in late October and will come in two sizes: a 38mm watch face for $369, and a 42mm face for $399. It will also have four different band colors available.
According to a press release from Nike, the watch is essentially the same as the newly announced Apple Watch Series 2, which features GPS, a brighter display, water resistance up to 50 meters, as well as a new processor and OS. The Nike version, however, will offer "deep integration with the new Nike+ Run Club app." The app, which is currently available on iPhone and Android, connects runners, lets users set goals and track their progress, and get personalized coaching.
"With the Apple Watch Nike +, the world's best running club comes to life with everyone and everything you need to be better," Edwards said at the Apple event.
The move targets the growing number of athletes using wearables, including smartwatches such as the Apple Watch, to monitor their activity. Unlike some casual users who remain to be convinced, runners may find the fitness-tracking features of the Apple Watch especially useful. "Today, sports and fitness are a bigger part of people's lives," Edwards said, and he would know: Nike has seen its sales rise substantially over the past years on a rising tide of casual athletes.
Nike sales topped $30 billion last year, and it intends to grow sales to $50 billion by 2020. Part of its plan to get there is through an increased emphasis on digital, meaning e-commerce but also community engagement, such as the Nike+ run club. Nike+ has grown its user base to at least 28 million people since launching in 2006.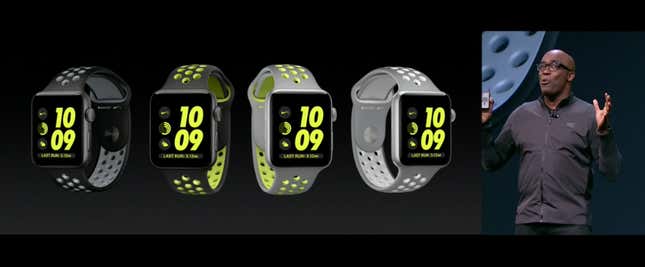 For Apple, it's another effort to target people outside core Apple fans, much as its partnership with luxury label Hermès did. Apple also announced that it's extending that offering, and will introduce two new Hermès bands, a move that makes sense since the ability to swap out bands may be one of the more exciting things about the Apple Watch.
In introducing updates to the Apple Watch franchise, CEO Tim Cook said Apple is now the second biggest selling watch brand, behind Rolex. Sales of the watch, however, are plummeting. It could use some new customers, and athletes appear to be an ideal market.