This article was updated at 1pm in Hong Kong.
North Korea's state television station confirmed it had carried out a "successful" nuclear warhead explosion test Friday (Sept. 9) morning, after a 5.3 magnitude earthquake at zero kilometer depth was recorded in the north of the country. The test was in response to international sanctions against the dictatorship, the state channel said, which were put in place after earlier tests.
According to the US Geological Survey, the location of the quake from the nuclear test was near where North Korea has detonated nuclear explosions in the past.
The ground shook in nearby Jilin province in China, where kids were evacuated from a school: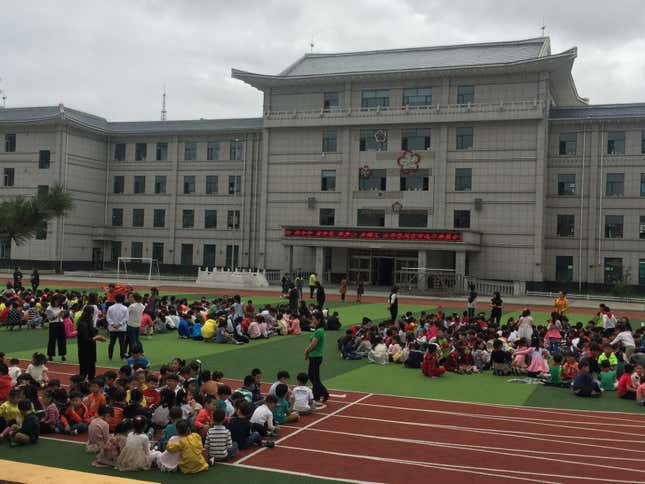 China has activated its "radiation emergency response," the country's Ministry of Environmental Protection said. North Korea's nuclear test site is close to the China border, and an earlier test this year was felt in Chinese border towns.
The earthquake's epicenter was just 19 kilometers from the location where North Korea has detonated nuclear tests in the past, the USGS said.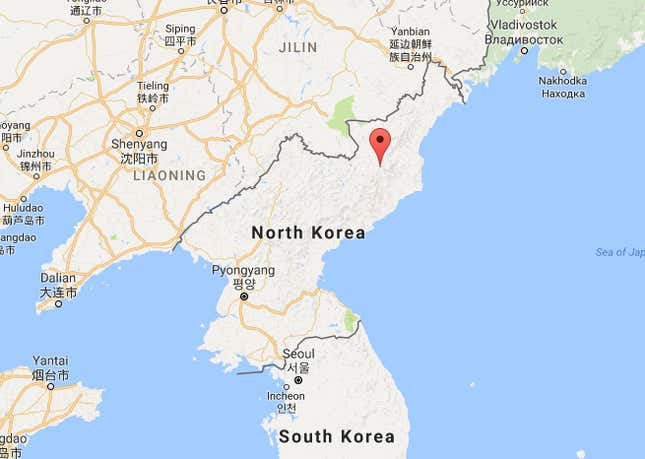 The test comes on the 68th anniversary of the founding of the Democratic People's Republic of Korea, as the country is officially known. It is Kim Jong-un's third nuclear test, following claims by Pyongyang that it tested a hydrogen bomb in January—a claim that has been challenged by experts.
A seismograph by the Incorporated Research Institutions for Seismology, however, suggests that Friday's quake was much more powerful than the one recorded in January:
South Korean military officials said the test was North Korea's "most powerful to date."
North Korea signed an agreement with the US in 1994 to freeze its ongoing plutonium weapons program in exchange for aid, but the agreement collapsed in 2002. Pyongyang tested nuclear weapons in 2006, 2009 and 2013.
Friday's test is the latest in a trend of increasingly alarming and erratic behavior by the North Korean dictator, who has ratcheted up missile tests this year while escalating an internal purge among the higher echelons of society at home. North Korea tested three mid-range ballistic missiles on Monday (Sept. 5).
In response, the international community has slapped further sanctions against the Pyongyang regime. That's led to a growing number of defections from North Korea to South Korea in 2016—particularly among the more monied classes—reversing the falling trend in defections of recent years. 
North Korea's latest provocations took place as world leaders gathered in Laos for an ASEAN summit, and shortly after the G20 met in Hangzhou in China. A report in The Diplomat noted that while Monday's tests were a "typically dramatic show of force," they are particularly worrying as they indicate further technological advances in Pyongyang's weaponry, by launching three missiles within one minute of each other. The actions are likely a show of force to Seoul, which in July decided to construct a US anti-missile defense system, or THAAD, in the southeast of the country.
John Delury, a professor at Yonsei University in South Korea, questioned the efficacy of the international community's response in the past to North Korea:
On Wednesday, Ben Rhodes, the deputy national security adviser to Barack Obama, said that an indication by North Korea that it is willing to abandon its nuclear and missile programs could reverse Washington's decision to install an anti-ballistic missile defense system in South Korea—which now seems unlikely.