I often wonder why I bother to dress thoughtfully for work at all, when I cover every outfit with the same shapeless sweater from my desk drawer.
As Quartz has reported, women are scientifically proven to be comfortable at warmer temperatures than men. The typical office climate, unfortunately, dates back to a sexist standard that keeps men happy while women freeze. To solve this issue, many of us have resorted to keeping "office sweaters"—or even "desk blankets"—at work.
At New York Fashion Week on Sept. 10, Mona Kowalska, founder and designer of the fashion label A Détacher, offered a more stylish solution with her spring/summer 2017 collection: layering under one's summery clothes at the office, as opposed to over.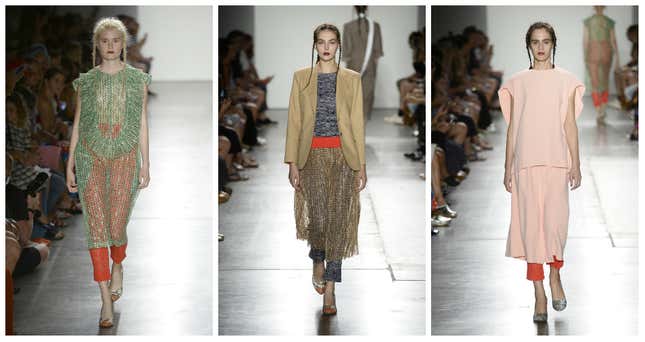 Model after model marched out wearing the sort of filmy dresses and skirts that are lovely for summer temperatures, but unthinkable in freezing offices. Unless. Unless one wore pants under them! Beneath their dresses and skirts, the models wore pegged pants in pale peach, cherry red, and grass green, as well as cuffed blue denim.
Backstage after her show, Kowalska said she loves layering for autumn, but until now has found it trickier for her spring collections. This time, she designed the collection specifically for that purpose.
"It's the first time we got it right for summer," she said. "It's a nice way to layer, and a credible way to layer."
A Détacher's spring/summer collection won't be in stores for several months, but the way Kowalska styled it might apply to your existing wardrobe while the temperatures are still warm. Pay attention to proportions—cropped pants made these looks feel fresh—as well as fabric choices. Mixing sheer layers with more opaque fabrics works well, and think of belts as an extra piece to anchor a look. If you're still cold, you can always add a sweater.
As for me, I'm going to add a pair of cropped office pants to my desk drawer ASAP. I can't wait to pull them on under a dress.