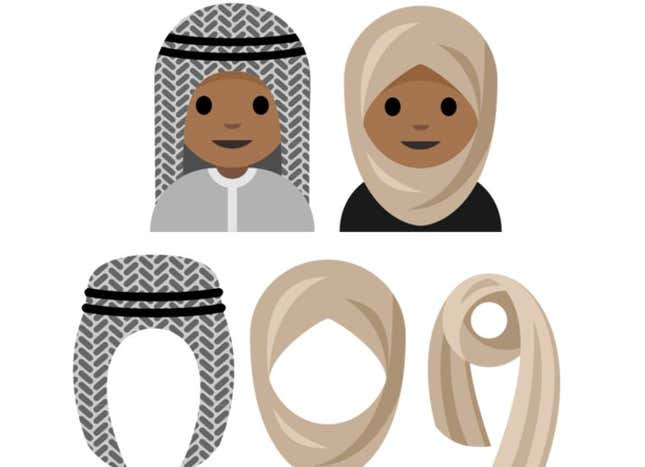 The emoji keyboard has a diversity problem.
The fast-growing language has for a long time only catered to a few. Apple eventually bowed to increasing pressure last year and introduced over 150 new emoji, which included emoji with different skin tones, as well as different places of worship and even more food. A year later, Apple announced new emoji that show women playing more sports and in a wide variety of occupations.
Now, a 15-year-old girl wants Silicon Valley to better represent Muslim women across the globe. Rayouf Alhumedhi, a Saudi girl living in Germany, has sent a proposal to the Unicode Consortium, the non-profit organization that develops and promotes new emoji, to create a series of headscarf emoji.
"Roughly 550 million Muslim women on this earth pride themselves on wearing the hijab," Alhumedhi notes in her proposal. "With this enormous number of people not a single space on the keyboard is reserved for them." She points out that while there is no image of a woman with a headscarf, there is an emoji of a man wearing a turban. Her proposal is backed by Alexis Ohanian, co-founder of Reddit. 
Alhumedhi's proposal for a headscarf emoji follows weeks of fractured debate on secularism, women's rights, and Islamophobia in Europe. Muslim women in France, which has one the largest Muslim populations in the European Union, were briefly banned from wearing a burkini—a swimming garment that covers the wearer's hair and whole body—on the beach in a number of French towns.
The ban, which sparked controversy worldwide, was eventually overturned by a higher court. French prime minister Manuel Valls drew even more criticism for claiming that naked breasts are more representative of France than a headscarf.
In a Reddit "Ask Me Anything," Alhumedhi answered questions on the need for her emoji, why she wears a headscarf, and the possible backlash if the emoji is introduced. Here is an edited and condensed version the Q&A:
Why is it important to you, personally, that the headscarf be included as an emoji?

Well, for one, I would like to be represented and acknowledged. With the massive amount of women wearing the headscarf today, there should be at least one place on our keyboards reserved for them.

How did you get in touch with the people who made your vision a reality? What tips would you give to people who have similar dreams?
I actually learnt how to submit an emoji from Mashable's Snapchat story. After I saw it, I began typing up the proposal. Jennifer 8. Lee, an organizer of Emojicon, reached out to me and we then began further changes and improvements.

For tips, I just have to say this: all the resources exist, you just need to find them. This is not 1990; you are capable of doing anything with the power of your computer. You just need to find the right platform for you and see if it suits your ideas. If it does, all you have to do is send an email to the right people.

Can you explain how headscarves and hijabs are not part of patriarchal constructs that oppress women?

It might seem baffling, but when I wear the headscarf I actually feel liberated because I'm in control of what I want to cover. The headscarf allows for people to see past a women's beauty and see her for her knowledge. I know some women are forced to wear it, but that is micro in comparison to those who see the beauty in it.
Can you tell me about how wearing a headscarf is important to you personally?

I enjoy having the power to control what I choose to show to the world. People, undoubtedly, look at me differently. And they usually are curious. I enjoy answering their questions and teaching them about it. The headscarf gives me power.

Are you opposed to people wearing scarf-like head coverings for non-religious reasons?

Well, it depends on what they choose to wear it for. If someone wears the headscarf, which is wrapped similarly to the [Muslim] headscarf, for fashion, then I do oppose that. I know of so many people who wear the headscarf who have faced social backlash (eggs were thrown at them). To parade it around as a fashion statement without bearing the consequences or religious affiliations is wrong.
Do you think there will be any negatives to having the headscarf available on the emoji keyboard?

Definitely, you can't go on with anything in life without facing a negative reaction. There will be people opposed to it because they believe that it will represent "oppression" or some other crap. But that is nothing to worry about, as this emoji will serve as a representation for millions across the globe.