This article has been corrected. 
With an average winter temperature of 26℉, Berlin is not lauded for its weather. But nestled among the city's surrounding pine forests and frozen lakes, there's a lush jungle where the temperature is always a balmy 79℉, even in the dead of winter. Welcome to Tropical Islands Resort, the world's largest indoor tropical park, where the humidity feels like a wall of densely packed marshmallows, and flamingos roam free.
Built in the early 2000s and housed on a former Nazi airfield in Brandenburg, Tropical Islands' gigantic gray dome hosts thousands of visitors a day, all looking to escape Germany's frigid climate. If we live in a globalized world, than Tropical Islands is its zenith—an easily digestible mish-mash of cultural appropriation, just an hour's drive from Berlin.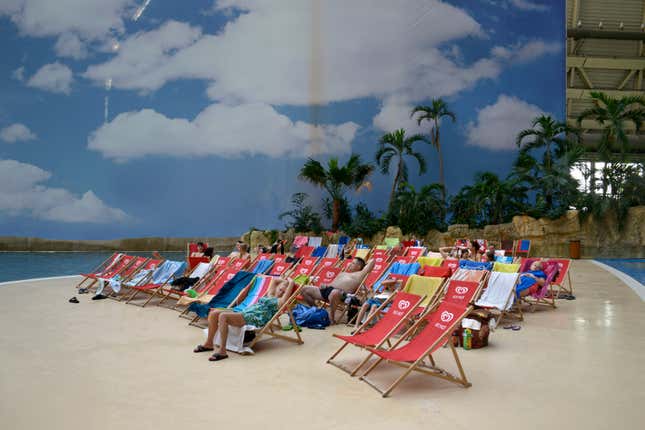 "You don't find something like this anywhere else," Sandra Nolte, a park representative told Quartz during an early April visit. The weather was brisk and cloudy outside. Inside, a sweating woman in shorts sipped a mai-tai in front of a Buddha statue. "It's very special."
She explained that customers are drawn to the park because of price and convenience. At 42 euro for a day pass, it's certainly cheaper than a ticket to Bangkok, and easier to reach, too. Most of their clients are German or Polish (they're only a few kilometers from the Polish border), and winter, unsurprisingly, is the park's busiest time. Business is good year-round, though, and Tropical Islands has expanded. They recently completed a new, outdoor section, and are now organizing weddings.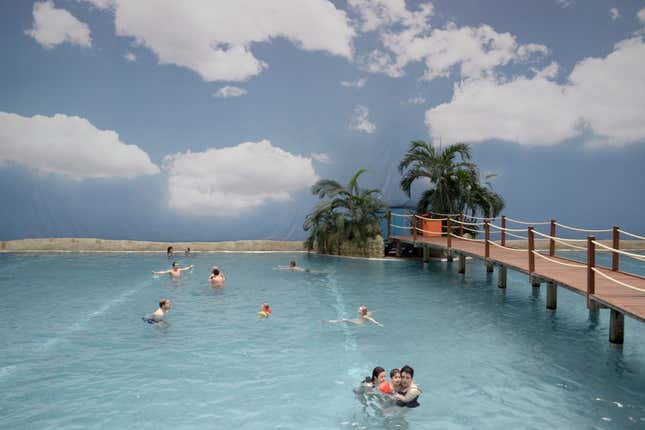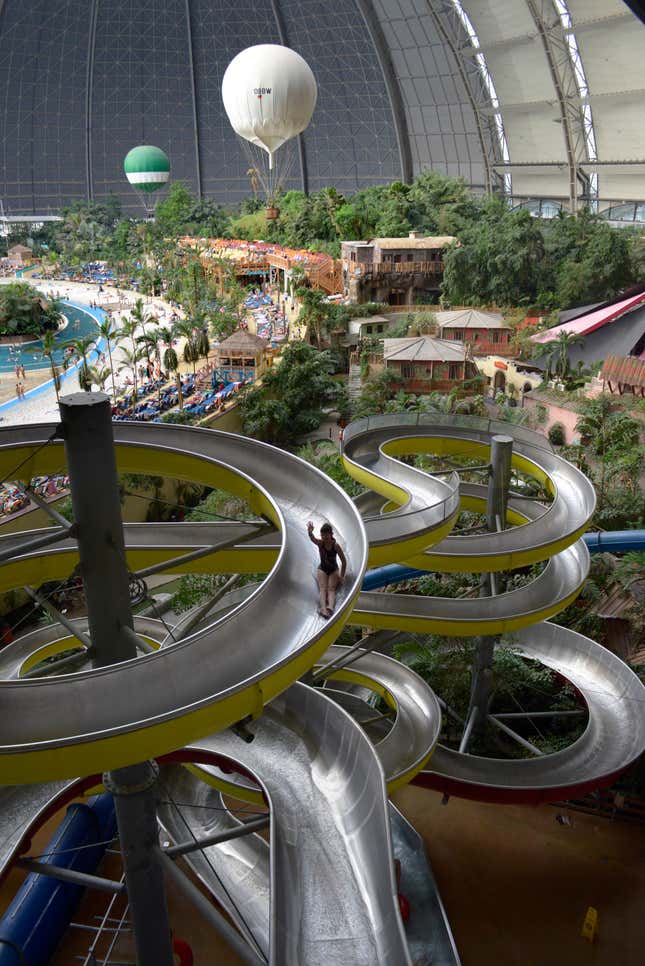 Faking paradise
In the early 2000s, the Malaysian investment holding PLC, Tanjong had the idea to build different "tropical islands" in cold, European countries. It was a business decision—Tanjong's portfolio includes property investments—but according to architect Jürgen Grothe, it was also an idea born of benevolence.
"People or families who can't afford to travel to the tropics should have the chance to spend some time in a tropical atmosphere," he told Quartz.
Tanjong eventually found the perfect spot: the Brand-Briesen airplane hangar, one hour south of Berlin. Complete with a 3,300 foot runway, it was originally built in 1938. In 1996, German company CargoLifter bought the space and added a geometric dome. Tanjong bought the space from the bankrupt company in 2003. A year later, Tropical Islands opened.
Approximately one million pallid tourists visit the park each year, arriving with bags stuffed with bikinis, beach towels, and sunscreen. They camp in tents and sleep in beachside bungalows, bathe in the largest tropical "sea" in the world, and recline on white sand beaches. For adventure, there are hot air balloon rides, mini-golf, and twisting paths through a 10,000m² rainforest. Six hundred employees work round the clock keep up the illusion, though the steel support beams and laminated edge of the billboard sky are impossible to miss.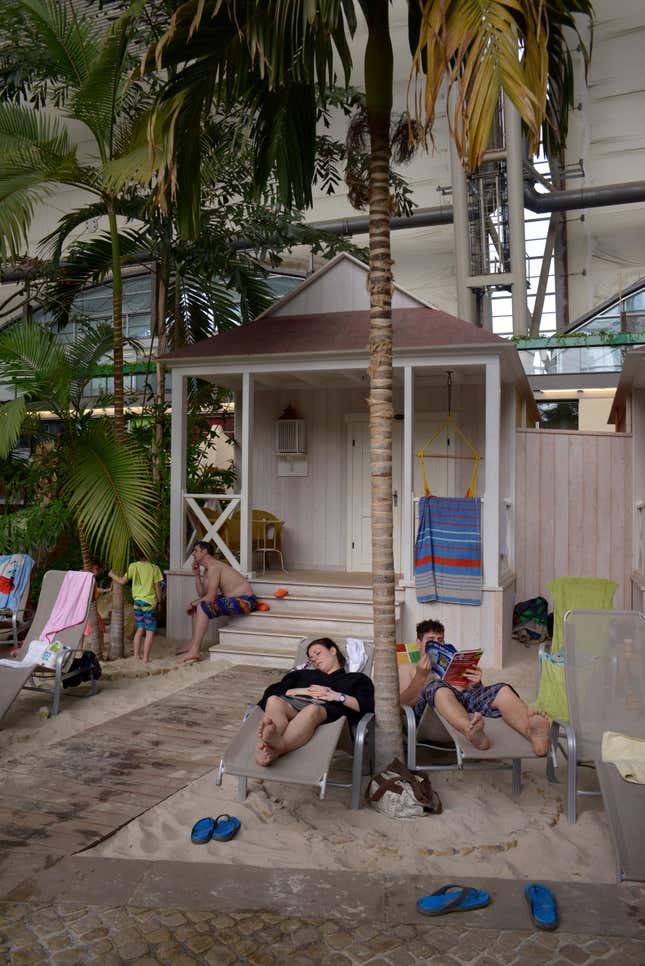 Simulacra and "staycations"
Walking around Tropical Islands is vaguely reminiscent of Disney's Epcot Center, with its cherry-picked cultural offerings. The park's 'tropical' theme seems to have no geographical boundaries. "For indigenous people in tropical rainforests, a life without dance and songs is unimaginable," a park sign notes rather randomly. Guests can play pool in an open-air, thatched-roof Samoan house, replete with intricately engraved tiki poles, or pump frozen yogurt out of machines housed in a Burmese-style building. Stilt houses in the style of the Orang Ulu tribes dot the area.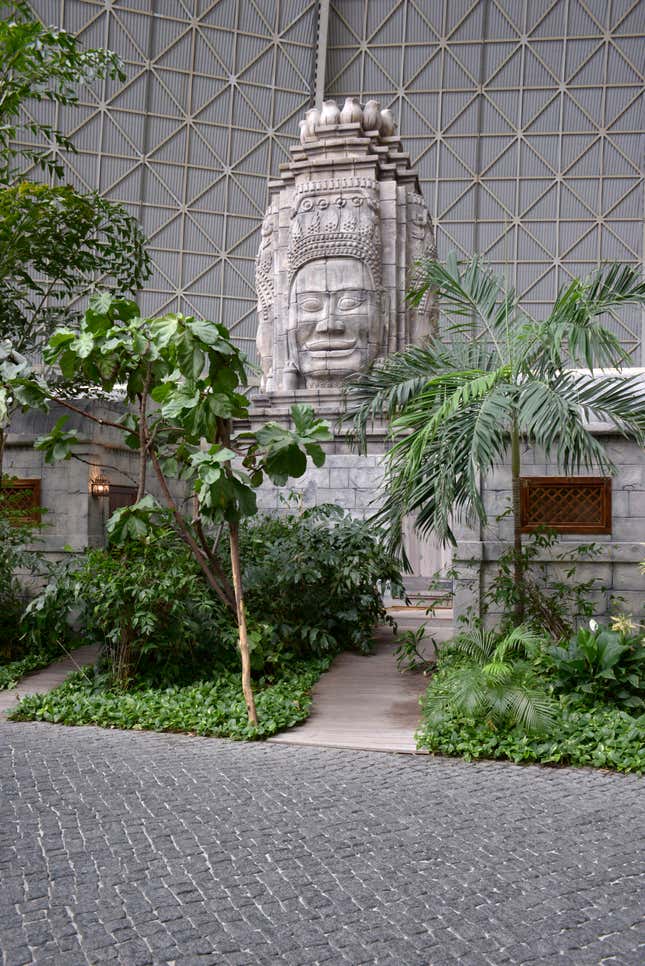 Thailand's royal architect was brought to construct a traditional Thai building that now houses a barbeque restaurant. Upon completion, the restaurant was blessed by Buddhist monks. There's an exact replica of a Balinese temple gate, built in Indonesia and reassembled in Brand-Briesen; it's the largest outside of Bali.
It's a new form of a very old idea. "For centuries, architecture was defined precisely for its ability to construct a set of conditions radically different from the rest of the world," Spanish architects Urtzi Grau and Cristina Goberna, who run Fake Industries Architectural Anagorism, told Quartz.
Botanical gardens, for example, have long simulated foreign environments to maintain plants from around the world (the first, built in Padua, Italy in 1545, is a UNESCO World Heritage site.) And according to David Neustein, architect and founder of Other Architects, the Roman bath house, "with its gradients of temperature, atmosphere and intimacy," is likely the original indoor fun park. Today there are are indoor ski slopes in Spain and the United Arab Emirates, and a beach inside Canada's West Edmonton Mall.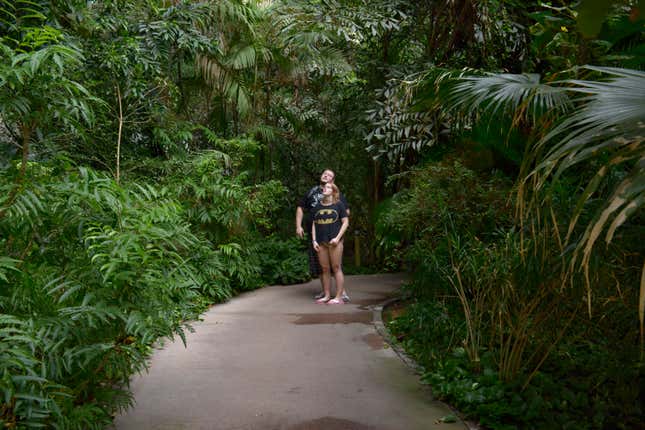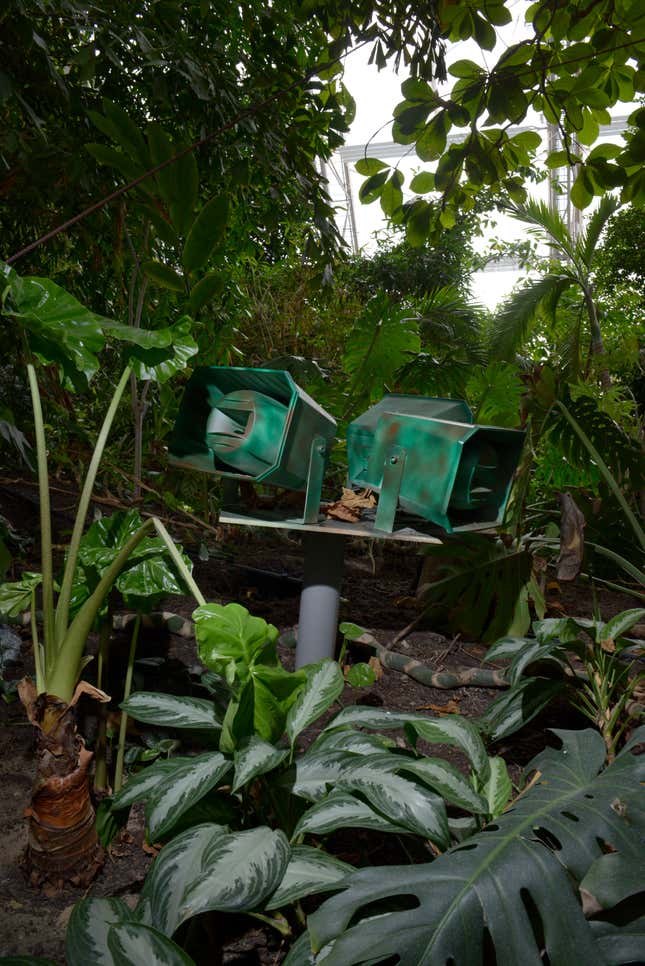 Just exotic enough
Germany is no exception to Europe's increasing rejection of foreign cultures and peoples. In 2015 alone, 13, 846 right-wing extremist crimes were committed across the country; an 11-year old-refugee's bedroom was bombed with a Molotov cocktail; and the group "Patriotic Europeans Against the Islamisation of the Occident" took to the streets in Dresden. But if being German today requires commitment to a staunchly Germanic culture, then where does Tropical Islands fit in?
"The idea of the Malaysian investors was to get a mix of exotic aspects," says Grothe. "The concept was more and more adapted­­ to the expectations of the visitors."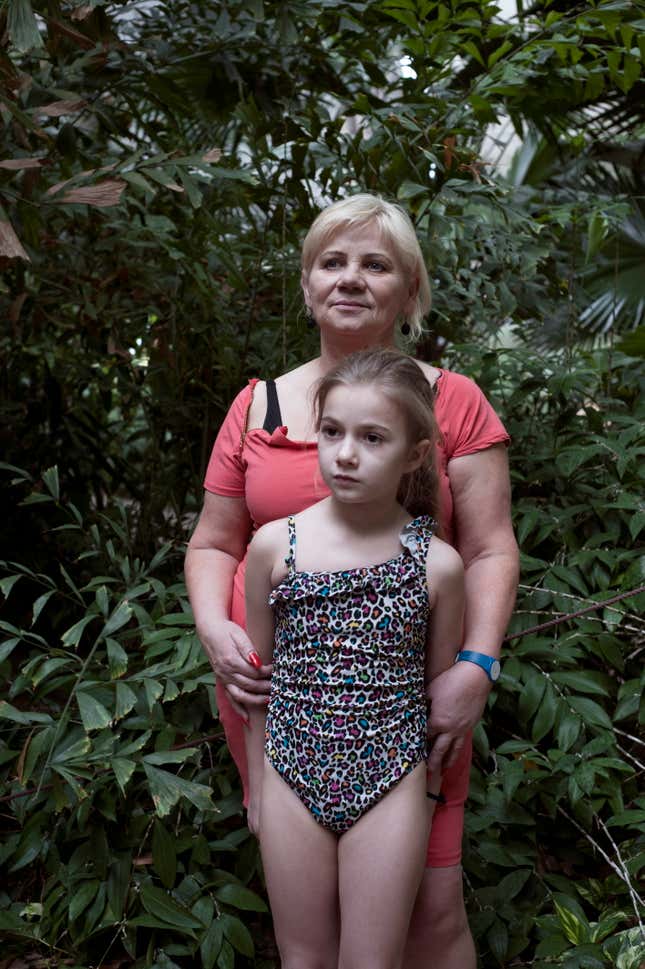 What is viewed as 'tropical' in central Europe is not necessarily nuanced—visitors seemed delighted with the vague exoticism on offer. Conveniently, Tropical Islands doesn't bill itself as an exact replica of the South Pacific, with all the political and historical specifics that would entail. It's more like a persuasively South Pacific-themed waterpark.
Tropical Islands is purely hedonistic, a place to have fun, not to reflect on politics or culture, no matter what's happening outside the park's gates. As landscaper and horticulturalist Made Wijaya, who worked on the park's rainforest, puts it, "Poor old Germans need a bit of fantasy since Mad [King] Ludwig died."
Correction Sept. 28: An earlier version of this article stated that Tropical Islands is housed inside a former Nazi airplane hangar. The dome was built in 1996 on a former Nazi airfield.