Since 2011, Republican presidential candidate Donald Trump has been publicly questioning US president Barack Obama's birthplace. More than five years after the White House made Obama's "long form" birth certificate from a hospital in Hawaii public, Trump now "believes that President Obama was born in the United States," his campaign said late Thursday (Sept. 15).
Here's spokesman Jason Miller's full statement, which was circulated on Twitter but is not yet on the Trump campaign website:
The statement says that Hillary Clinton first raised this issue in her 2008 presidential campaign, and states "Donald J. Trump is a closer. Having successfully obtained President Obama's birth certificate when others could not, Mr. Trump believes that president Obama was born in the United States."
There is no evidence that Clinton herself or anyone in her campaign "ever advanced the charge that Obama was not born in the United States," Politfact reported last year.
Obama first released his birth certificate to the public in 2008, during the presidential campaign. But starting in 2011, Trump publicly questioned the veracity of that certificate, and said he had doubts that Obama was born in the United States, as in this Today Show interview from April 7, 2011 (starting at the 3:50 mark).
"Three weeks ago when I started, I thought he was probably born in this country," he told the Today Show, "and now I have a much bigger doubt… He doesn't have a birth certificate or he hasn't shown it. He has what's called certificate of live birth. That's something that's easy to get."

CNN has an excellent rundown of incidents in which Trump alleged, or implied, that president Obama was either not born in the United States or was a Muslim.
A more detailed version of Obama's birth certificate, often called the "long-form" version, has been available on the White House website since 2011, after the White House publicly released it, saying America was being distracted by a "fake issue":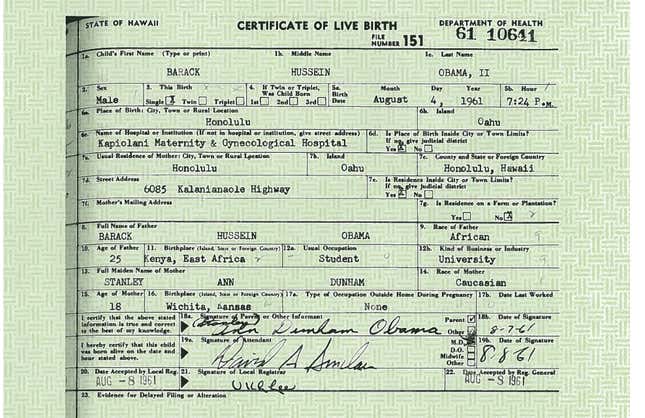 The turnaround in Trump's position could surprise his supporters. According to a Public Policy Polling survey released in May, 59% of Trump supporters believe Obama was not born in the United States.