On Sept. 19, many New Yorkers awoke to an emergency alert on their mobile phones with details about a bombing suspect, who has since been arrested in New Jersey. The man, Ahmad Khan Rahami, was wanted in connection to explosive devices found in both states over the weekend, including one that detonated in the Chelsea neighborhood of Manhattan and injured more than two dozen people.
"WANTED: Ahmad Khan Rahami, 28-yr-old male. See media for pic. Call 9-1-1 if seen," the notification read.
It was reportedly the first time an emergency mobile alert was issued to aid in the search for a wanted suspect. But not everyone in New York received it. Why were some residents notified about the bombing suspect, while their neighbors weren't?
In the US, authorized government agencies can send free, text-like "push" notifications to certain wireless phones based on the devices' locations. The text-only message, which is limited to 90 characters, usually has details on what is happening, who is affected, what action is needed, and who is sending the message, according to the Federal Emergency Management Agency (FEMA).
Wireless carriers volunteer to participate in the Wireless Emergency Alerts program, which is a partnership between FEMA, the Federal Communications Commission, and the US wireless industry. Most major carriers, including AT&T, Verizon, T-Mobile, and Sprint, participate, but New York-based customers with smaller carriers that don't yet participate may not have received the message. (Check to see if your carrier is enrolled here.)
Federal, state, and local public safety agencies that have been authorized by FEMA can issue the warnings. The alerts are sent to FEMA, which forwards them to the participating wireless carriers, that then broadcast the messages via cell towers in a specified geographic area, such as Midtown Manhattan. The geo-targeting means that a wireless customer who lives in the threat area of New York but was traveling outside the region when the alert was sent would not have received it, while visitors to New York who had capable devices would have gotten the alert.
According to FEMA, the Sept. 19 alert was issued by New York City's Office of Emergency Management. The Atlantic reported that the alert was issued in the city's five boroughs at the request of the New York Police Department.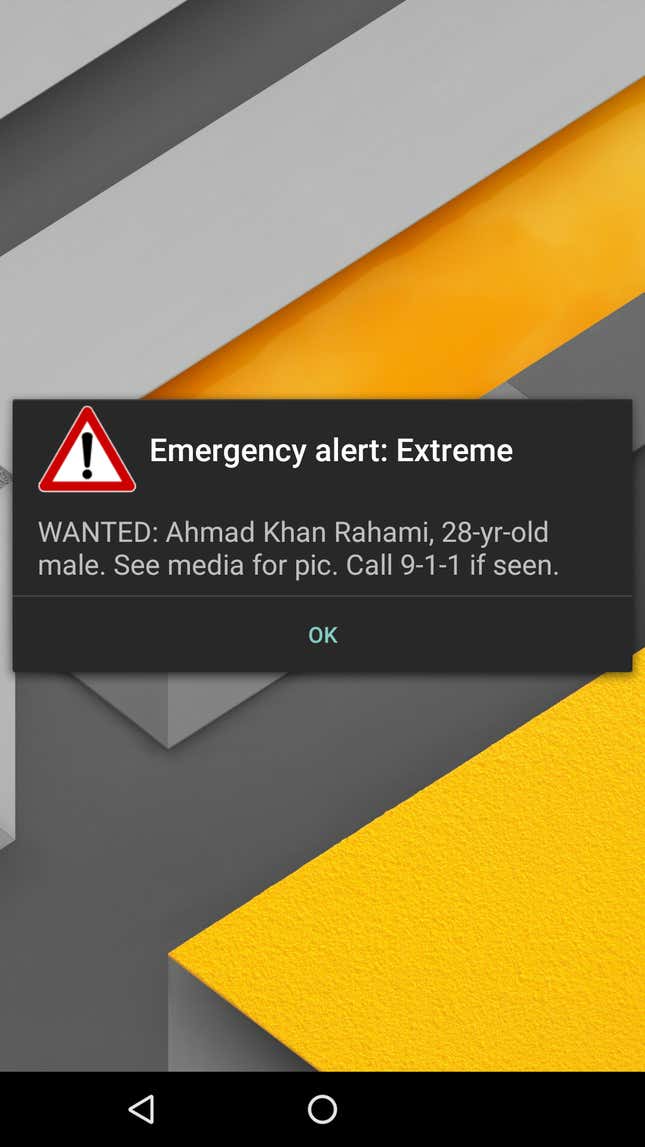 On Android phones, the emergency alert was classified as "extreme," while iOS devices didn't appear to indicate a threat level.
Most mobile devices made before 2012, when wireless emergency alert capabilities first became available, don't have the software requirements to receive such notifications. So folks with older phone models may not have received the alert that was delivered in New York this morning, even if they were in the alert zone.
If a phone was capable of receiving emergency alerts and located in the threat area, but still didn't receive an alert, it's likely that the phone's emergency alert settings were manually disabled. If a phone was on silent or vibrate only, it would have received the alert without sound.
The emergency alerts are usually sent to separate channels and using different technology than typical text messages and voice calls, so that they don't get delayed by clogged wireless networks. The alerts have a unique audible signal and vibration cadence, according to the Cellular Telephone Industries Association trade group.
There are three types of alerts: presidential alerts, which come directly from the president or a designee; imminent threat alerts, which are typically used for natural disasters such as hurricanes; and AMBER alerts, which notify the public about abducted children. Wireless customers can opt out of receiving imminent threat and AMBER alerts in their phone settings.  They will, however, still receive any alerts from the president or the president's designee.