Only Los Angeles, Paris, and Budapest are left as bidders to host the 2024 Olympics. Boston was the first to falter, followed swiftly by Hamburg—and now Rome's new mayor has axed its bid for what would've been its first games since 1960.
Rome withdrew from holding the games in particularly colorful fashion. Mayor Virginia Raggi, of the anti-establishment 5-Star Movement, declared, "we won't be forced to pay for more cathedrals in the desert for years to come. Romans don't want that," she said, according to Reuters. "We don't want sport to be an excuse for more rivers of cement in the city." Prime minister Matteo Renzi had been a vocal backer of Rome's bid.
More and more cities are cowed by the costs of the games, says Amy Bass, a historian at the College of New Rochelle who won an Emmy as a senior researcher for NBC at the 2012 London Olympics.
"Rome 2024 has actually been making some very serious arguments about how this could actually be an economic boom for Rome but it's really hard to make that argument any more. We just see city after city after city after city being devastated," she said.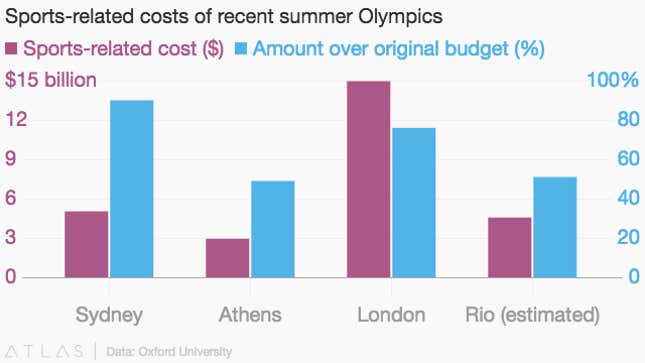 Hamburg and Boston killed their bids due to lack of public support, with Hamburg residents voting against the games in a shock referendum result and Boston mayor Martin Walsh failing to persuade residents that the games made fiscal sense. But Rome's withdrawal may be a case of opportunism from a populist political neophyte, whose first three months in office have been chaotic. The IOC's waning reputation makes it a soft target. "It's pretty easy for a populist candidate like Raggi to say, 'you know what, I will fight these guys for you, my people,'" says Bass.
One solution could be letting cities that have hosted the games once to do so again not long after, given they already have the infrastructure. Bass argues that having held the games in 1984, LA is in the driver's seat for 2024. "They have a model based off of the '84 model, in which voters restricted the amount of public funds that could be used for the game. They had a $200 million-plus surplus and it's Hollywood, right, they know how to throw a party and they know how to clean up the day after," she said.