Amazon is famously reticent about sales figures, dribbling out clues without revealing actual numbers. But it appears the company has left enough hints to, finally, discern how much revenue it makes on its cloud computing business, known as Amazon Web Services, which provides the backbone for a growing portion of the internet: about $2.4 billion a year.
In the slides accompanying Amazon's latest  earnings report, one chart indicates that revenue from "Amazon Web Services, Advertising Services, and Co-branded Credit Cards" totaled $750 million in the first three months of 2013. Let's unpack that.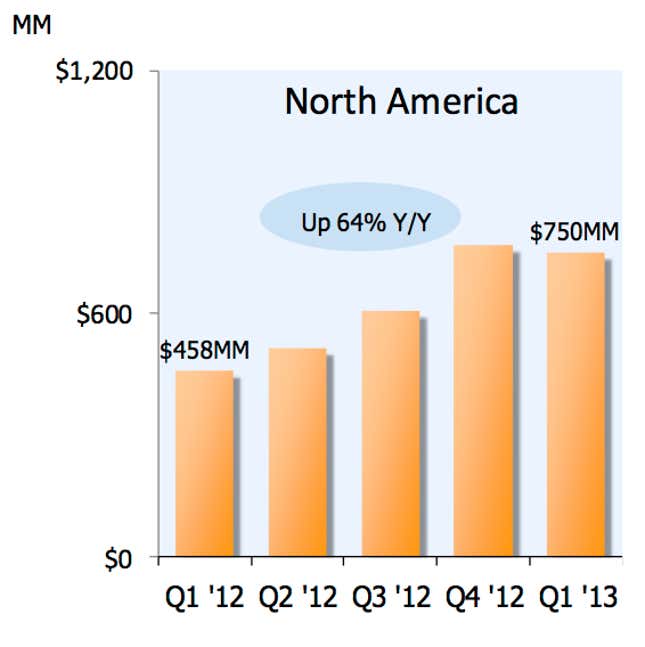 First, there are the credit cards. Amazon appears to make a negligible sum lending its brand name and logo to credit cards, and doesn't highlight these deals in its press materials, but let's give the business a generous $25 million per quarter.
Next, there's Amazon advertising. Thanks to some digging by Reuters, which cites former Amazon executive David Selinger, it appears Amazon is already raking in at least $500 million a year in revenue from selling ads, and that could go to $1 billion by the end of the year.
That leaves Amazon Web Services (AWS), which is used by web companies ranging from Netflix to Ticketmaster to Scribd to serve much of the data that makes those services work. The remainder of revenue from that chart is $600 million in revenue for AWS last quarter, on track for $2.4 billion this year. I've reached out to Amazon for comment on this figure, and will update if they get back to me.
How does that compare to Amazon's competitors in this space? Surprisingly, it's within spitting distance. Cloud services provider VMWare, for example, threw off $1.19 billion in total revenue in its most recent quarter, a dip of 9.3% from a year ago. That's twice what Amazon's cloud is apparently generating, but Amazon is charging much lower rates for its wares, so by some other measures, this division of Amazon might be comparable in size to the whole of VMWare.
Is Amazon taking business away from VMWare and other cloud service providers? If the public statements of VMWare CEO Pat Gelsinger are any measure ("if Amazon wins, we all lose") the answer is: It's likely.