Another multi-millionaire Silicon Valley startup founder is officially a Trump supporter—and he plans to flood the internet and the real world with lowbrow anti-Hillary Clinton memes.
Palmer Luckey, the 24-year old founder of VR company Oculus, is helping fund a group called "Nimble America," dedicated to spreading online and offline memes in support of Donald Trump. Luckey confirmed to The Daily Beast that he is working as the group's "moneyman," matching donations raised by supporters who give to the group either through its website or crowdfunding site Boost.com.
According to a Reddit post dated Sept. 17 announcing the group's launch (cached version) that has since been erased, Nimble America wants supporters to create pro-Trump memes and submit them to r/nimble_america. The group will turn memes that receive the most upvotes on a pro-Trump subreddit into images that are "shitposted across america."
"Shitposting" is pretty much what it sounds like. Urban Dictionary defines it as "To make utterly worthless and inane posts on an internet messageboard." Nimble America seems to be expanding the term to include online and offline paid advertisements, and memes with a political message. See, for example, this submission headlined "The only way she has ever gotten a man off."
Taking them from online meme to paid ads is where Luckey's money will come in.
"Nationwide ShitPosting is not free, neither is shitpost material approval. We'll need lots to help Make America Great Again! Our donor will help us, but the more we raise the more we shitpost," writes the one of the group's representatives.
The group has already taken credit for a digital billboard that allegedly appeared along a highway near Pittsburgh, Pennsylvania. It shows a doctored image of Hillary Clinton's face accompanied by the words "TOO BIG TO JAIL."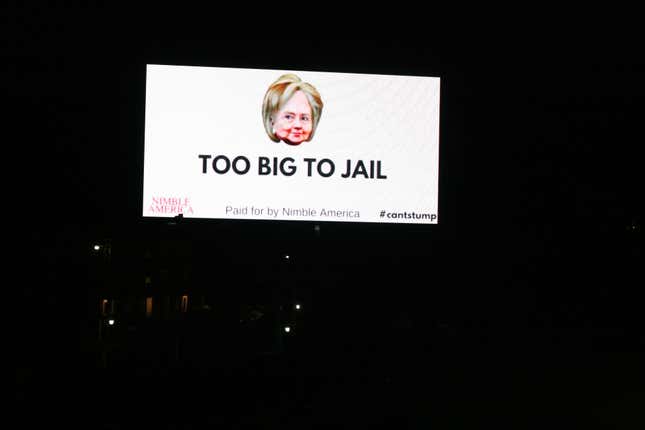 Donations will help fund more advertisements like these, it said. "Our first Billboard outside Pittsburg (sic) only cost 75$ for a 7 day run every 4 minutes, imagine what we can do with a 24/7 BB up in every major battleground city," writes a Nimble America representative on Reddit.
Nimble America claims to be applying for registration as 501(c)(4) non-profit, meaning it will be tax exempt (paywall) provided it gives less than 50% of its funds to non-political causes.
Luckey's admission of affiliation with Nimble America marks his coming-out moment as a Trump supporter. The entrepreneur, who sold Oculus to Facebook for $2 billion in 2014, made his hate for Clinton known in an a earlier Reddit post that appears to have been removed, calling her "corrupt, a warmonger, a freedom-stripper."
He seldom discussed politics on his Facebook and Twitter feeds in the past, although he praised the recently-deceased conservative Supreme Court justice Antonin Scalia in February.
Luckey isn't the only Silicon Valley titan to pledge support for Donald Trump. Peter Thiel, co-founder of Paypal and venture capital investor, signed up as a delegate for Trump in California, and later spoke at the Republican National Convention. Thiel is also an investor in Oculus.
Throughout the campaign, Trump supporters have flooded the internet with obnoxious, sometimes misogynistic anti-Hillary memes: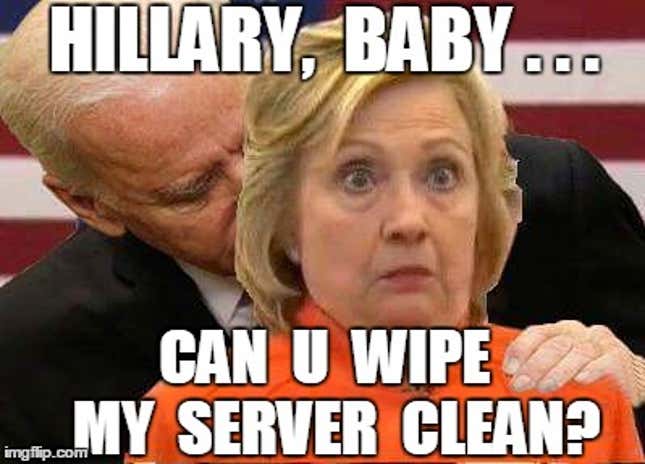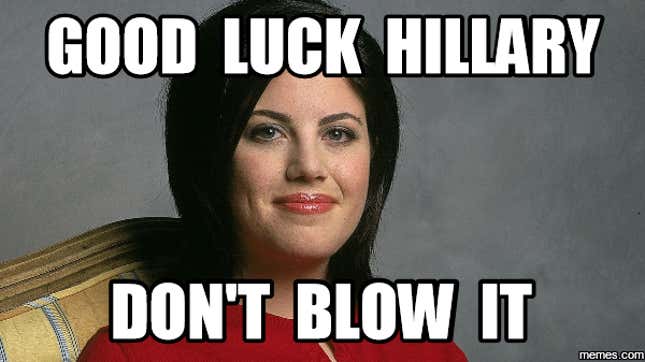 Now they might be coming to a billboard near you.