Venice, Italy
A dozen small pirate boats bobbed in Venice's Giudecca Canal last night (Sept. 25), waiting to confront the next big cruise ship to pass by.
"Get big boats out of the lagoon!" shouted sailors, dressed in tri-corner hats, ripped vests, and eye-patches. A crowd of about 1,000 (link in Italian) at the water's edge chanted, "No to big boats!" Local musicians, also dressed like pirates, played and shouted anti-cruise-ship slogans from a floating stage.
Venice, famed for its serene canals, is a major destination for Mediterranean cruises. Every year, some 600 "big ships" pass through Giudecca Canal, treating passengers to views of the 15th century Doges Palace and St. Mark's square.
But critics say that the floating behemoths are aesthetically noxious, and worry that a disaster like the sinking of the Costa Concordia could irreparably damage the city's ancient architecture. They also worry that larger ship motors are damaging Venice's fragile, salt-corroded foundations, which already require constant attention to keep from sinking.
This summer, the UNESCO World Heritage Committee threatened to list the entire city as an "endangered" site if authorities continued to allow cruise ships to pass through it. Municipal governments of years past have already tried to ban the big boats, but always failed in the absence of another way to get those 1 million annual tourists into the city. The current, conservative mayor, Luigi Brugnaro, encourages cruise ship traffic as an economic benefit to the city.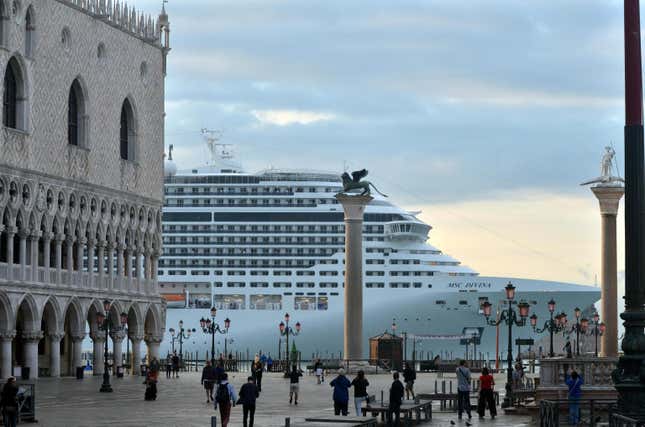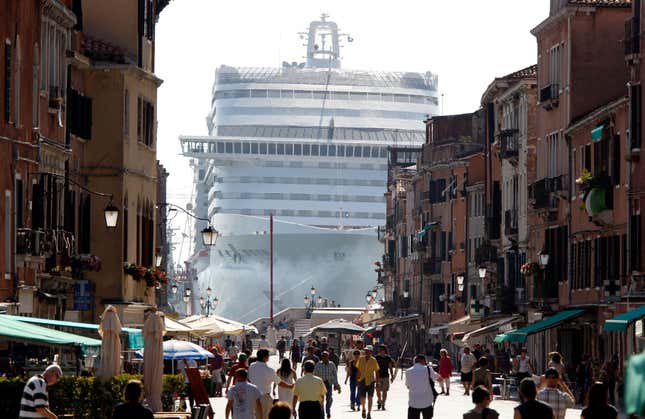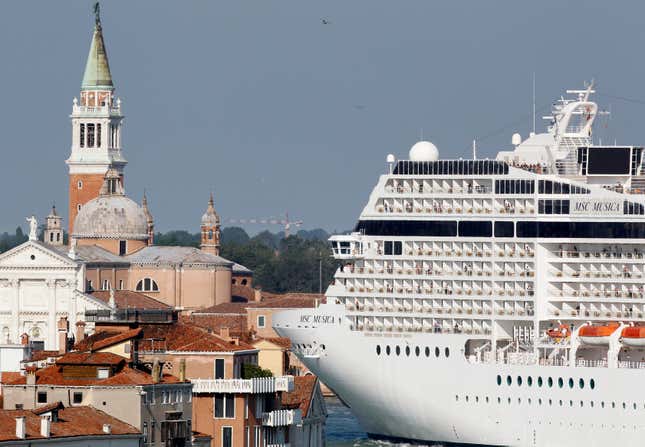 "Venezia per i Veneziani!" (Venice for the Venetians!) was one slogan at the festival. The reality is that tourists now outnumber the dwindling Venetian population by about 550 to 1. Tourism makes the city's world-famous contemporary art, architecture, and film biennales possible, but it's also created a vast market of cheap souvenirs, overpriced restaurants and hotels, and cloying period performances. Every year, some 30 million people visit the city, clogging narrow bridges and alleys and idling in front of shops windows, as locals rage on their way to work or school.
For some, the destructive passage of big ships is just another symptom of Venice's over-eager embrace of tourist dollars, euros and yuan. "You can take the ships off the lagoon, but if you keep the same model of tourism, in which all the tourists from the cruises keep flooding Venice, you don't resolve the terrible situation we're in," said local graphic designer Lorenzo Mason, whose family has lived in Venice for generations.
"We should also talk about the massive quantity of [undeclared] bed and breakfasts, of useless Carnevale mask shops, of the lack of quality in what we offer," he said. "Venice should change this paradigm, replacing mass tourism with sustainable, high-quality tourism that adds to the city's cultural life, instead of exploiting its past."
Of course in Venice, even an anti-tourism protest is irresistible to tourists. Although some ships waited for the gathering to end, at least one many-storied cruise liner did pass by last night's protest. Venice's protestor-pirates set off after them, brandishing cardboard swords and smoke bombs, their flags waving the golden lion of Venice against a pink sunset and blue-green lagoon.
From decks stacked high into the sky, hundreds of tourists waved enthusiastically back.