When the Facebook post first appeared online in late August, it seemed like a hoax. A small business in Canada was offering free land as a signing bonus for new employees. Even the sweetest of Silicon Valley perks—free meals, climbing walls, laundry pick-up services, egg-freezing benefits—seem less enticing than a piece of earth to call one's own.
But it was real, and the business is still hiring.
The ad was created by the Farmer's Daughter Market, a grocery store in the village of Whycocomagh on Cape Breton Island, Nova Scotia. The two sisters who own it, Sandee MacLean and Heather Coulombe—the farmer's daughters—had recently taken over from their parents. They arrived with fresh ideas for expansion, but they needed to first fill in holes in the existing staff, Coulombe tells Quartz. They posted help wanted ads in all the usual places, but "no one applied, no matter what we tried," she says. The locals already had jobs, she explains, and hiring students had never been a sustainable solution.
That's when the pair decided to devote part of their 100-plus acres of family land to a recruitment campaign. Why not offer people a couple of acres each in exchange for relocating to work in the store? They put together a description of the business and the town, which has a population of about 800, and sent the word out in a post that eventually went global. Here's the key passage from the post:
We cannot offer you big money (wages in local small Cape Breton businesses are not high) but we can offer you a great incentive to come and try us out. One thing our business does have is LOTS of LAND. If you decide this opportunity might fit your dreams and goals for a close to nature and community focused life, then we are willing to offer you 2 acres of woodland where you can immediately set up your tiny house or quaint cabin.
"We thought we'd get maybe 100 applications from Facebook, and that we'd find one or no one to choose from," says Coulombe. Instead, they're now looking at 40,000 to 50,000 resumes.
The photos of the town and the nearby Bras D'Or Lakes probably helped their case.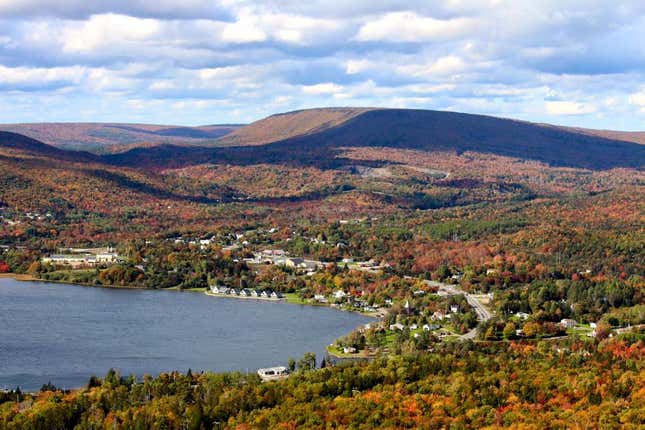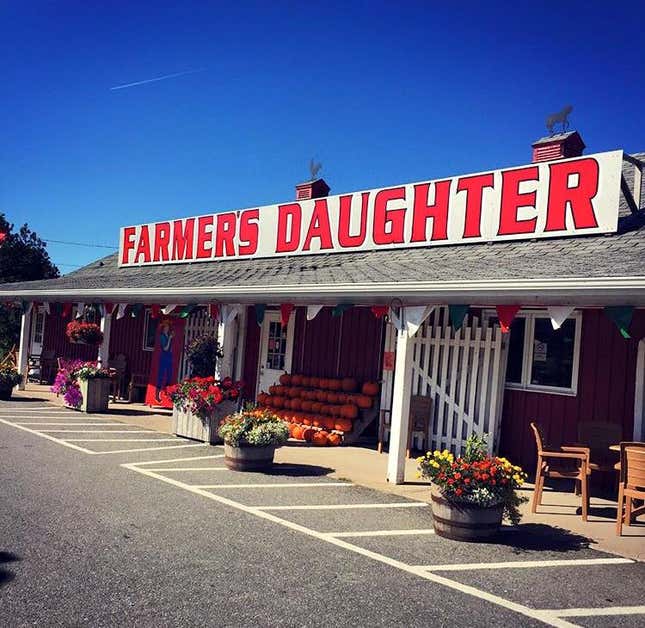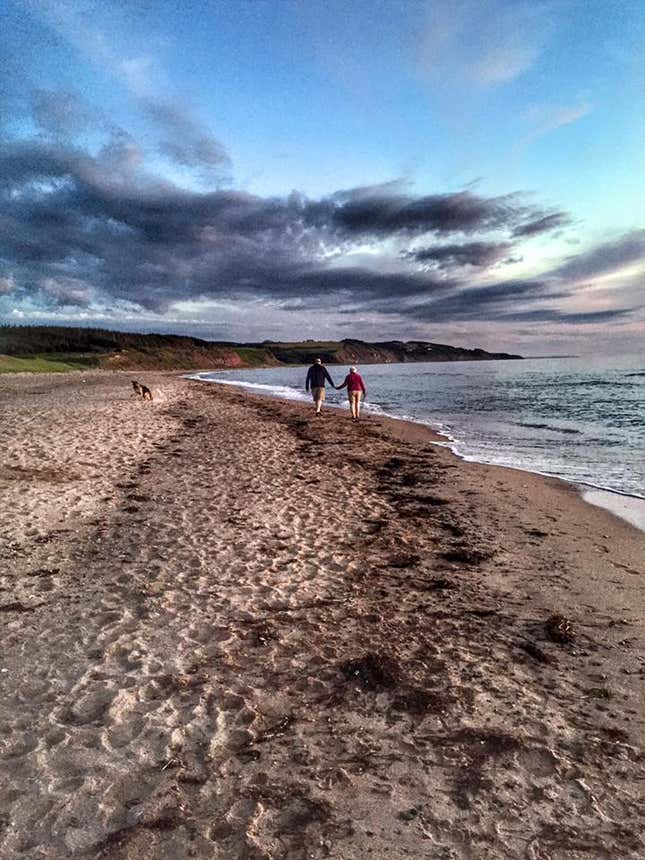 There was one catch. The ad also stipulated that new hires would have to stick around for five years before the land could be legally transferred.
"If you are still working with us after five years and we all still like each other after that time, then the land is yours for the cost of migrating it out and putting it in your name," the sisters wrote. At that point, employees could quit the store if they preferred.
Cape Breton is a fairly isolated, rugged island. Although a few grand summer homes dot its Atlantic ocean coasts, a small plot of land in the center of the island—a wooded plot that's off-grid and still needs to be cleared—would not inspire a bidding war. When Quartz asked an employee who answered the phone what two acres in Whycocomagh would be worth, she replied, "Oh, I don't know. It has some value."
However, Coloumbe argues that the economic value of the land is almost beside the point. Most people who are buying parcels of land in the area would purchase 10 acres for $20,000, she says, "but for others, for the woman we just hired, a single mom with an 11-year-old, two acres is everything in the world. She keeps saying that she never thought it'd be possible in her lifetime." That fresh recruit had been interviewed by Skype from her home in Vancouver, British Columbia, before she moved to Whycocomagh sight unseen.
Apparently, thousands of people would be willing to take the same leap of faith. "At one point I had 199 unread messages in my inbox and I was kind of stressed about that. I kept thinking, 'Oh, those poor people are waiting for me to respond,'" says Coulombe. "Now I have 18,000 unread messages in my email and more than that on Facebook." The store is receiving constant calls from the press, and a foreign film crew is considering a documentary project.
Several of the breathless Facebook inquiries have come from overseas. For example:
Can an Indian Adult male currently in UAE(GCC country) apply for job in your respectable establishment??? If yes, what are the procedures necessary? Or have you stopped taking employees?
Coulombe says one does have to be legally able to work in Canada to be considered for a position. In future they may look to hire foreign workers under a government program. In all, they predict a need for 10-15 more employees over the next few years.
None of three recruits they've hired so far has had any retail or food service experience. Rather they stood out because of their obvious enthusiasm and interest in community-building, says Coulombe. Are they going to show up at the Saturday night spaghetti dinners? Support the store's running group? These are the questions the interviewers asked themselves.
That same emphasis on community could apply to a city-dwelling new hire. But Coulombe warns that the drawback to moving to a village is that everyone knows everyone else's business. Knowing your neighbor can either be refreshing—or highly annoying.