It didn't take long for US Republican candidate Donald Trump to start saying things that were factually incorrect during his debate with Democrat Hillary Clinton. Some of the most obvious, and easy to check, were about one of the candidate's favorite punching bags, China:
Clinton: Some country is going to be the clean energy superpower of the 21st century. Donald thinks that climate change is a hoax perpetrated by the Chinese. I think it's real.
Trump: I did not. I do not say that.
The veracity of Clinton's statement isn't a matter of debate. She's referring to a tweet Trump made in 2012, that quickly became the most retweeted item during the debate:
Trump's denial of his own comments isn't the only puzzling China-related attack he made at the start of the debate. During his opening statements he repeated previous attacks he has made on China that economists, historians, and fact-checkers have found untrue or misleading:
Our jobs are fleeing the country. They are going to Mexico, they are going to many other countries. You look at what China is doing to our country in terms of making our product. They are devaluing their currency and there's nobody in our government to fight them and we have a very good fight and we have a winning fight because they are using our country as a piggy bank to rebuild China and many other countries are doing the same thing. So we're losing our good jobs, so many of them.
Throughout his campaign, Trump has referred to China's currency devaluation, but most of what he's referring to happened a decade in the past. Through the 1990s and most of the 2000s, China was suspected of heavily devaluing its currency, but since about 2007 that value has appreciated sharply, and in 2015 the International Monetary Fund declared the currency no longer "undervalued."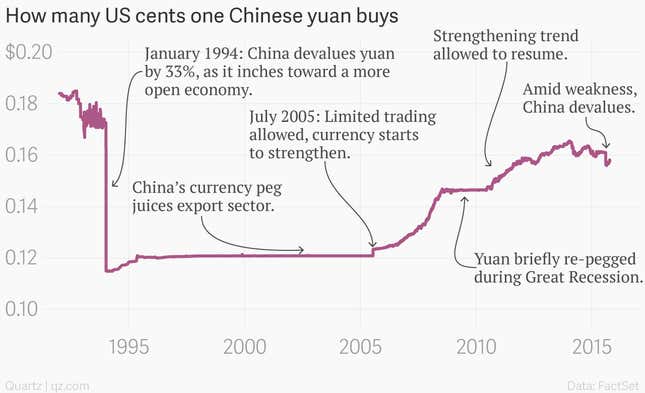 In recent years, the reality has been much more complicated that either simple devaluation or strengthening. In both August and September of last year, the People's Bank of China did carry out unexpected devaluations, part of an attempt to qualify for IMF reserve currency status. But for most of the first half of this year, the currency was allowed to strengthen sharply, an attempt to crush short-sellers betting it would weaken.
But these recent moves remain small, compared with the currency's historical moves, as the first chart shows. Chinese officials have signaled that they don't plan long-term devaluation.
Trump's claim that China is using the United States as its own piggy bank rings of irony—for China has served as an excellent piggy bank for Trump. The government-owned Bank of China is one of the lenders (paywall) to a $950 million office building on Avenue of the America's in New York City that Trump partially owns.
Meanwhile, real estate developer Kushner Companies has aggressively courted wealthy Chinese to fund a Trump-branded luxury apartment tower in exchange for two year visas, as part of a government-backed scheme intended to court job-creating foreign investment. Kushner Companies' CEO Jared Kushner married Trump's daughter in 2009 and now serves as one of Trump's right hand men (paywall) on his campaign.