For the best polling on the US presidential election, watch the Mexican peso. The currency has become a proxy to gauge who the financial markets think is winning the race.
The peso suffers in particular when Trump's chances of becoming president appear to increase because of the damage his policies would inflict on the Mexican economy and sever ties between the two nations. It had dropped to its lowest level on record before the debate started as opinion polls showed Donald Trump tied with Hillary Clinton.
But it surged 2% overnight against the US dollar as traders joined others in deeming Clinton the winner of the first presidential debate.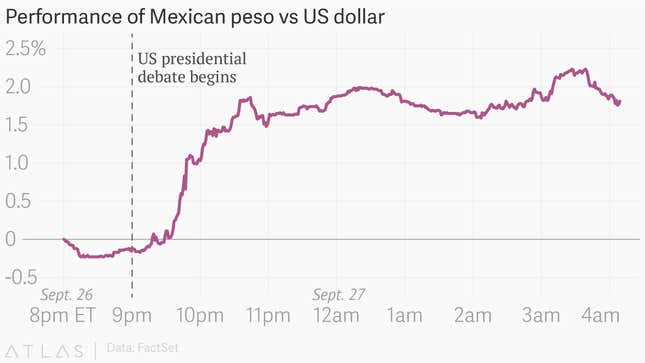 Currency analysts at Commerzbank warn that the peso will still be volatile until the election on Nov. 8 and any positive news for Trump could see it weaken again. "For Mexico in particular the election of the unpredictable property tycoon (who inherited the company from his father) would entail considerable risks," they wrote.
Trump has pledged to build a wall along the border with Mexico, which he says Mexico would pay for, and force deportation of all illegal immigrants. He's also said he'd be willing to scrap the North American Free Trade Agreement with Mexico and Canada, calling it the "single worst trade deal ever" last night.
The Canadian dollar also gained overnight as a Clinton victory increases the chances of NAFTA staying intact.