This post has been corrected.
While Uber failed in South Korea, one ride-sharing startup is succeeding—by providing buses to take late-night revelers home.
Seoul-based Callbus officially launched two months ago, after a bumpy process fighting government red tape and powerful taxi unions. Since then, the app-linked bus service has taken about 10,000 passengers home after hours, founder Steve Park told Quartz, and attracted several investors including the government and an angel investor.
Getting a taxi home at night is an ordeal in Seoul. The subway doesn't run overnight and many taxi drivers are picky about which passengers they take, often refusing to go short distances. Tales abound of drivers who set artificially high prices at night. It's a particularly pertinent problem where drinking is a huge part of the culture.
Park, a former journalist, founded Callbus after covering Uber's thwarted attempts in South Korea for the Korea Economic Daily. Because he often worked into the wee hours of the morning, he was also personally frustrated by the difficulty of getting home at night in Seoul.
"I supported Uber because I thought it was a very original idea," said Park. "But Uber was provocative… and that pissed the government off. I thought that if we could take advantage of any gray areas in the regulations, we could break into the market."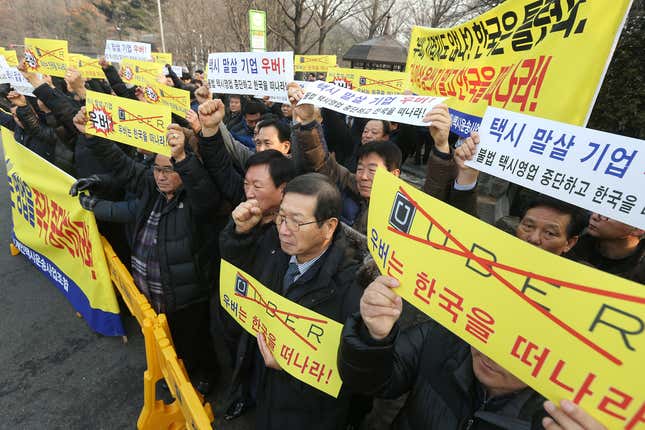 Though Uber has faced regulatory scrutiny around the world, South Korea has been particularly tough (paywall). The company was banned from the country last year, after it met with strong opposition from local authorities and taxi drivers. Chief executive Travis Kalanick was indicted by Korean authorities in 2014 for operating an illegal taxi-hailing service, but has repeatedly refused to appear in court in South Korea. In late 2015, Uber struck a deal to operate only its high-end UberBLACK service in the country. Its entry-level service, UberX, remains banned.
"In Korea, there are so many regulations," said Park. "The government made a bad decision [with Uber]. That deterred innovation in Korea."
After multiple setbacks while trying to set up his ridesharing business, Park found a gray area amid the red tape that also placated the politically powerful taxi drivers' union. An initial plan to use private buses rented by Callbus was rebuffed by the union, which mobilized drivers to stage demonstrations ahead of parliamentary elections. But taxi drivers agreed to let the company rent their own vehicles.
After negotiations with the union and the government, Callbus was allowed to operate only between 11pm and 4am, and only if it used vehicles and drivers that belonged to the taxi companies. The government is also an early-stage investor in the company.
Callbus operates similarly to services like UberPool. Customers enter their current location in an app and their destination, then head to a designated pick-up point, joining other passengers headed in a similar direction. Like Uber or Lyft, the app is linked to a credit card, and Callbus receives a fee for each transaction. Park said that prices are about 30% cheaper than a taxi ride, and that about 10,000 people have used the service in the past two months.
"These also aren't taxis, so it was another way of differentiating ourselves from Uber," said Park.
Callbus currently has 20 vehicles in its fleet, including Mercedes-Benz and Hyundai 12-seater vans, and operates every day except Sunday. Because of Seoul's vast size, it only picks up in the glitzy district of Gangnam right now, and drops off in nine districts of Seoul.
UberTaxi, which uses normal taxis, still works in South Korea, but it has been eclipsed by messaging app Kakao's taxi-hailing service, KakaoTaxi, which was launched in March 2015, shortly after UberX was banned in Korea. 
Correction, Sep. 28, 10:25am: In an earlier version of this story, the founder of Callbus's name and the company were misspelt.