You can't blame everything on smartphones. Even more than 100 years ago, people worried that wireless technology would make us anti-social, as one cartoon from the archives of the UK's Punch Magazine shows.
This illustration, unearthed by the Public Domain Review, was originally published on December 26, 1906, and made a grim forecast of what the next year would look like: A man and a woman sitting next to each other by a tree in Hyde Park, but instead of talking to each other, they have their heads down, too focused on radio devices to notice the other's presence or to enjoy the park's scenery.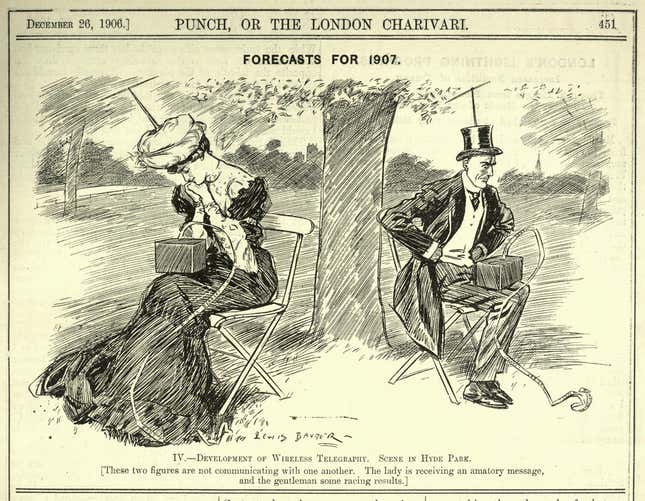 The caption reads:
IV. — DEVELOPMENT OF WIRELESS TELEGRAPHY. SCENE IN HYDE PARK.
[These two figures are not communicating with one another. The lady is receiving an amatory message and the gentleman some racing results.]
Turns out the artist's prediction of a breakdown in face-to-face interaction remains pretty accurate today, when old and young alike complain about their peers staring into cellphones instead of speaking to each other in real life.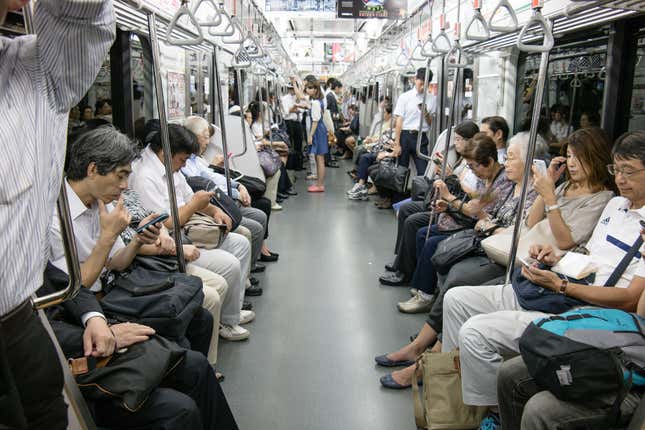 Even more prescient, an even earlier cartoon accurately predicted the advent of video conference calls like Skype and FaceTime, with a slightly less dystopian flavor.
The illustration below by George du Maurier was first published in the Punch Almanack for 1879. Titled "Edison's Telephonoscope (Transmits light as well as sound)," it tried to imagine famed US inventor Thomas Edison's next contraption. The cartoon shows two parents speaking to their child through an imaginary device that allows both a telephone conversation and a video projection.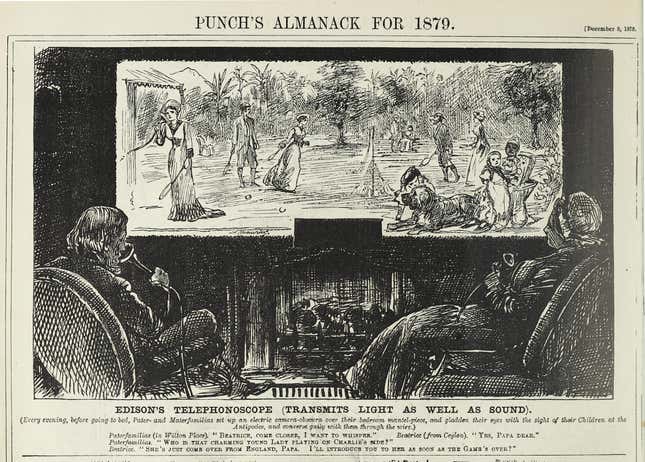 The caption explains with astonishing accuracy what happens regularly with families who are separated today:
(Every evening, before going to bed, Pater and Materfamilias set up an electric camera obscura over their bedroom mantel-piece, and gladden their eyes with the sight of their Children at the Antipodes, and converse gaily with them through the wire.)
Paterfamilias (in Willow Place): "Beatrice, come closer, I want to whisper."
Beatrice (from Ceylon): "Yes, Papa dear."
Paterfamilias: Who is that charming young lady playing on Charlie's side!
Beatrice: "She's just come over from England, Papa. I'll introduce you as soon as the game's over!"
The anxieties of technology taking over human connections in flesh and blood might still be a concern today, but as the ever increasing number of long-haul flights show, technology also enables people to travel further and more frequently than they ever could have imagined. While the 1.71 billion Facebook users across the globe use their social network to remain connected despite physical barriers, they're also clearly still meeting up in person.