"No cameras allowed" used to be standard practice in museums. Many art institutions tightly policed their collections to contain the so-called "aura of the original" within their walls and have exclusive image rights for books, posters, cards and various bric-a-brac sold at their gift shops.
But the Netherland's Rijksmuseum believes that art belongs to everyone. "The museum is ultimately the custodian of the works of art, [but] the collections really belong to the public," explains Femke Diercks, the museum's curator of European ceramics. Diercks spoke at the Museum of Modern Art in New York City to introduce the Rijksstudio Award, a three-year-old program that gives cash prizes to artists and designers who create new work based on the Rijksmuseum's art collection. "Reproduction of art has been part of the production of art since antiquity," says Diercks. "Copying old masters was believed to be the perfect way for young artists to develop their own style."
To illustrate her point, Diercks showed a spirited video montage of 211 works of art created by the Amsterdam-based design studio Part of a Bigger Plan.
The competition, with a top prize of €10,000, is open to anyone—even to those who have never visited the Rijksmuseum in Amsterdam. The museum points to its growing database of 250,000 copyright-free images as a starting point. Like several libraries and museums around the world, the Rijksmuseum has opened its digital archive to the public. Works showcased in its online gallery are rendered in high resolution to reveal fine details such as a painter's brushstroke technique or a precious chair's material and construction. These kind of revelatory details were previously unavailable even to museumgoers who were not allowed to inspect works too closely. "The images are out there anyway, we might as well make sure they're of good quality," Diercks says. "We have done this in the belief that it is our duty to make the collection available to anyone, to as many people as possible, in as many ways as possible."
Last year's winning entry was a "book bracelet" inspired by Rembrandt van Rijn's etchings. The meticulous work of two female artists, Rembrandt's Hands and a Lion's Paw showcases 1,400 illustrations from 303 works by the revered Dutch master that are sewn together using book-binding techniques. The bracelet came with an index page detailing the artwork on each page.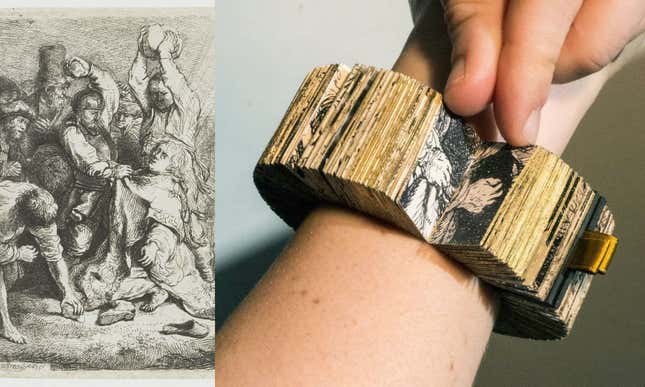 A makeup line cleverly called Rijks Muse inspired by five portraits won the top prize in 2014. Designers translated the autumnal hues from the 1833 painting Portrait of Alida Christina Assink to eyeshadow powder and a sketch by Leendert van der Cooghen resulted in pencil eyeliners.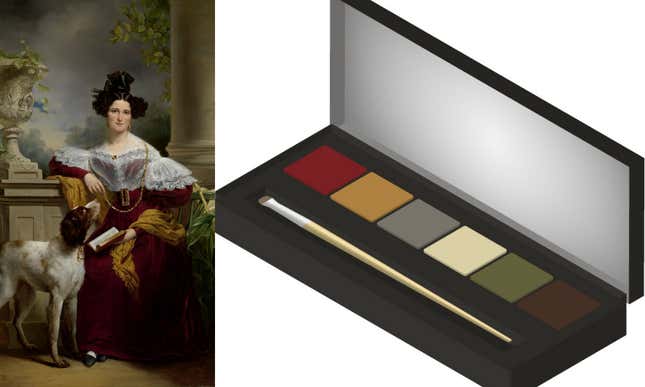 And of course, many could not help but riff on Johannes Vermeer's Hollywood-famous canvases or those neck ruffs found in Dutch and (and Western European) portraiture.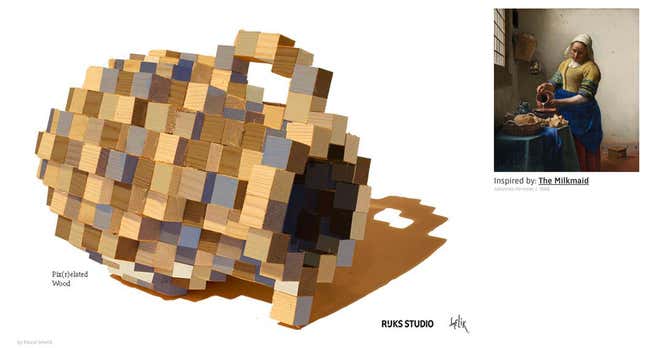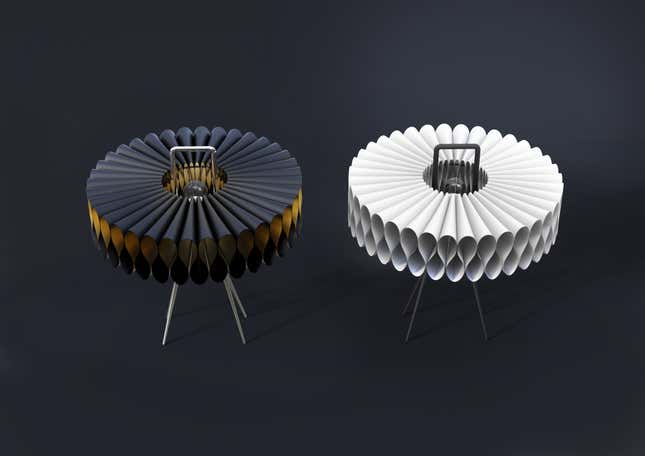 The deadline for this year's competition is Jan. 15, 2017. To spark broader thinking, Diercks noted that they're not just looking for novel product designs, but a diversity of interpretations—dance, poetry, food, fragrance, films—anything to re-present the Dutch masterpieces in a new light. Winners will be showcased at the Rijksmuseum alongside the original masterpieces.