The destruction of the cherry orchard in the eponymous 1904 play written by Anton Chekhov was a melancholic symbol of the radical political change hitting Tsarist Russia at the time that culminated in the 1917 revolution. A century later, the winner of a US government-sponsored competition to re-imagine national memorials shows the same cherry trees slowly vanishing under our own era's coming upheaval: rising sea levels provoked by climate change.
"Climate Chronograph" is a proposal to plant a copse of cherry trees on East Potomac Park, a man-made island on the Potomac River in Washington, DC. The island was originally built from reclaimed land as a flood control for the capital's famous mall but, in a devastating irony, it is expected to slowly disappear under the waters it was made to combat as global sea levels rise in the coming decades.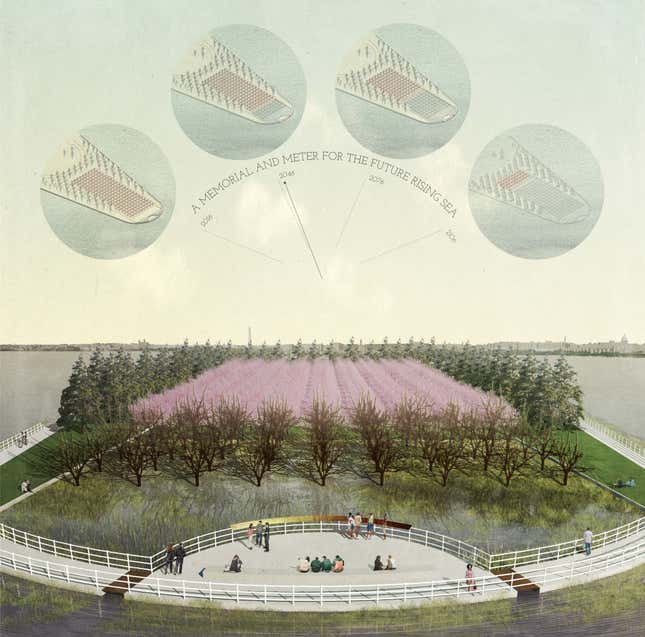 The trees will be a "public park and public witness" to encroaching water levels, write the project's creators, landscape architects Eric Jensen and Rebecca Sunter. Climate Chronograph would both memorialize our current moment of instability and measure the devastation to come.
"Nature's slow pace has a long unfolding, and simultaneously, the past, present, and future are forever embedded together," they write. "By ceding control of the tip of an island that serves as a keystone of flood control and is maintained by a steward expressly committed to non-intervention, the memorial sacrifices itself to what will be. Its entropy makes legible in the scale of inches and feet the global effects of rising seas."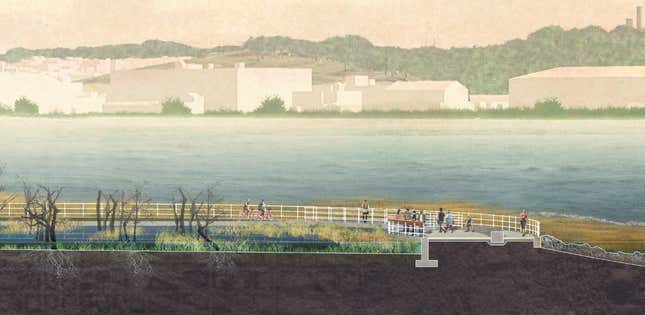 Despite its grim premise, the project isn't entirely pessimistic. Its overall message is that the onus is on us to combat climate change, and the state of the cherry trees would be an honest testament to whatever we manage to achieve.
"This landscape chronograph marks both our vulnerability and our response. The memorial is a record of a struggle we now begin," the proposal's epilogue reads.
The project won the Memories for the Future competition, co-sponsored by the National Park Service, the National Capital Planning Commission, and the Van Allen Institute in New York. A spokesman for the National Capital Planning Commission said there were no current plans to bring the project to life, as the competition was mainly a way to explore ideas about memorialization. If enacted, the proposal would cost a projected $2.5 million.