Not everyone was psyched about Jason Collins's coming out yesterday. There was Chris Broussard's tirade on ESPN, later praised by Christian pundit Pat Robertson. And, of course, some exuberantly homophobic comment trolls.
But here are two somewhat surprising cohorts taking a positive view of Collins' landmark announcement: China's state-owned television and Chinese users of Sina Weibo. Yesterday, China Central Television, better known as CCTV, ran a news spot tagged "An Example of Courage: Collins Openly Admits That He's Gay," noting that Collins had earned the support of US president Barack Obama, NBA president David Stern and Lakers superstar Kobe Bryant.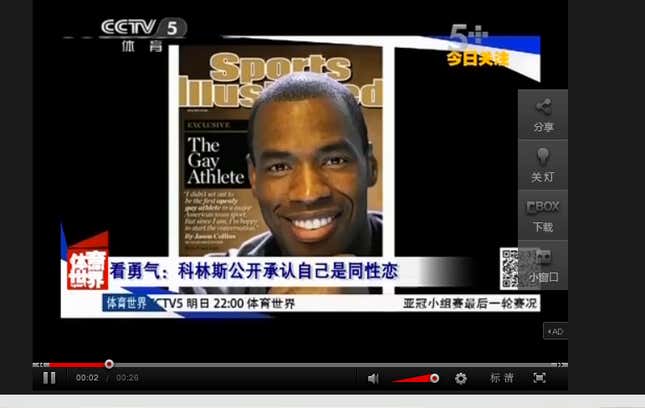 On Sina Weibo, the official NBA Weibo site's announcement was forwarded 3,885 times and set off a lengthy stream of comments. NBA star Dwyane Wade's message in support of Collins was reposted 106 times and also received responses like this:

Some bloggers wished Wade's ailing right knee a swift recovery, but a good deal more cheered Collins' bravery alongside Wade. Still more Weibo users posted the news about Collins' coming out on their own. While there were a couple of negative posts, the vast majority praised Collins for his courage.
The NBA has a massive following in China—a typical game streamed on Sina has around 1.16 million viewers. So it's not altogether surprising that Collins' coming out has piqued conversation. But more than that, the enthusiastic Collins chatter—like that about CNN anchor Anderson Cooper last year—highlights a few things about how gayness is perceived in Chinese culture, and how China perceives American culture.
Homosexuality in China might be taboo, but it's not seen as immoral. As the discussion about Collins highlights, homosexuality doesn't tend to inspire anywhere near the vitriol it can in Western cultures, for a host of reasons.
China loves underdogs. Many Weibo posts likened Collins to Jackie Robinson, the first black major league baseball player. Though that was perhaps a result of Collins' own mention of Robinson, that Weibo users even know who Robinson is highlights the underdog fascination. Jeremy Lin, another NBA star, is a favorite in China not only because of his Chinese-American heritage but also because his underdog story. Just six-foot-three-inches tall, he warmed the New York Knicks' bench for months before getting noticed. China's enthusiasm for Obama is a similar story.
Famous people coming out is a fairly popular topic on Weibo. Many Weibo users compared Collins to CNN's Cooper, who sparked tens of thousands of Weibo remarks when he came out last year. His revelation even inspired calls for China's closeted gays to come out en masse on December 12 (this, evidently, didn't take). Cooper was perhaps one of the most prominent people in the Chinese public eye ever to come out. The closest thing to a gay icon in China is probably Leslie Cheung, a Hong Kong actor and singer who committed suicide in 2003. Though he never publicly acknowledged his sexual orientation, Cheung's homosexuality is now widely noted in China now.