Redecorating can be so tiresome. There are walls to rearrange, paint colors to choose, floors to be laid, furniture to buy, artwork to be commissioned. Fortunately, the British royals have had centuries of experience at it.
On Oct. 11 one of the most celebrated architectural treasures in the UK reopens with new paintwork, new floors, new art, new upholstery, and a new look at its history. The 400-year-old Queen's House in Greenwich, designed by Inigo Jones, the Frank Lloyd Wright of his day, is completing a 14-month, £3 million ($3.71 million) restoration.
Anne of Denmark, wife of King James I, commissioned the house in 1616–exactly 400 years ago–after she angered her husband by accidentally shooting his favorite hunting dog. As an apology for cursing at her afterward, James gave Anne a plot of land on the south side of the Thames river not far from what was then the royal palace in Greenwich. He told her she could build her own retreat (thus getting her out of the house and avoiding another canine catastrophe). Anne was a lover of art and the avant garde. Eschewing the usual ornate red-brick Tudor designs still seen today at Hampton Court in Richmond, she hired Jones, who is considered Britain's first native-born architect.
He designed a perfect little white cube, classical in design. At the time it was as revolutionary as Wright's Falling Water, built in 1935 for the Kaufman department store family in Mill Run, Pennsylvania. "It would have been like an alien spaceship landing in a Tudor park," says Christine Riding, head curator of Queen's House. Its unique palladian style was subsequently eagerly demanded by wealthy and royal Britons throughout the land.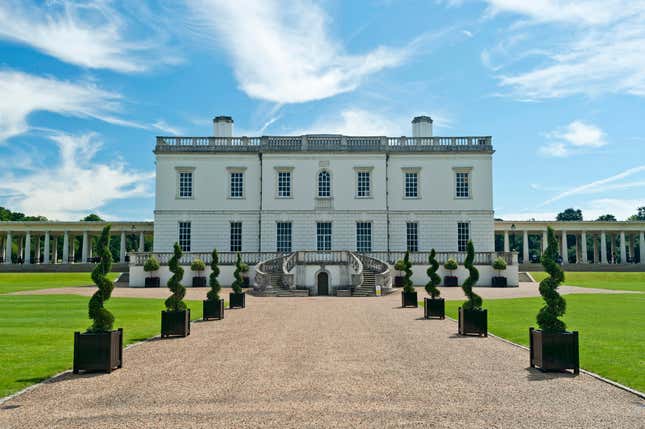 Unfortunately, Anne never lived to see her gift completed. She fell ill and died in 1619. Incomplete and thatched over on the first floor, the house, like all royal property, passed to the next inhabitant of the throne. The structure was finally fully built and furnished in 1639 by the French Queen Henrietta Maria, wife of King Charles I, James's son. Henrietta, too, considered herself to be on the cutting edge of home decor. As her decorator, she hired Italian Orazio Gentileschi from Tuscany to paint a sequence of allegorical and mythical scenes based on classical literature. Stories of love, seduction and heroism were popular themes.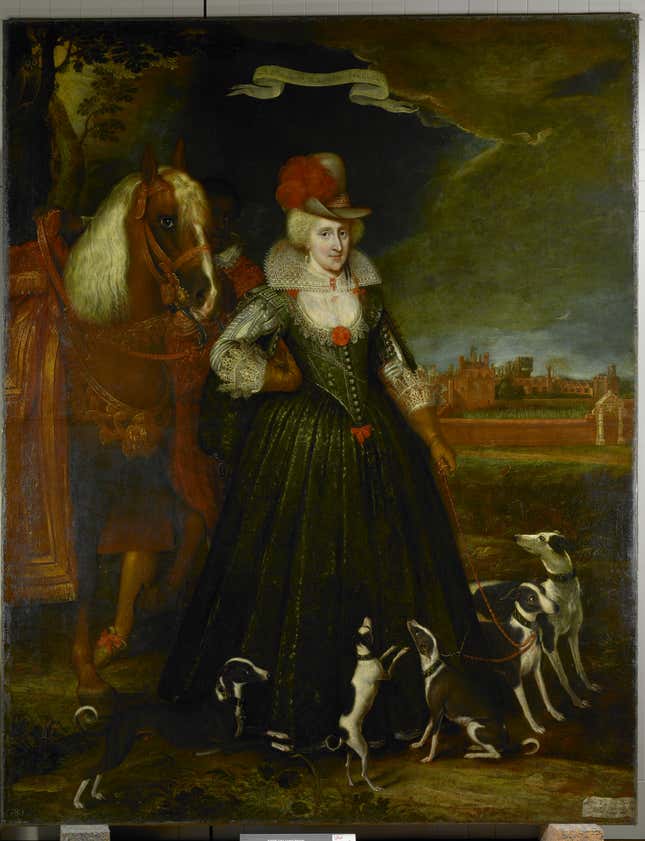 Henrietta was able to enjoy the villa, originally conceived by Anne as a hunting lodge, for less than four years. The English Civil War in 1642 forced the royal family to flee Greenwich for Oxford and they took many of their furnishings with them. Henrietta went into exile in France, Charles was beheaded in 1649, and the Commonwealth regime seized much of his property. Not until 1660 did the family return when Charles II, Henrietta's son, was restored to throne. Charles II refitted Queen's House for his mother to live in before completely redeveloping it later in the 17th century.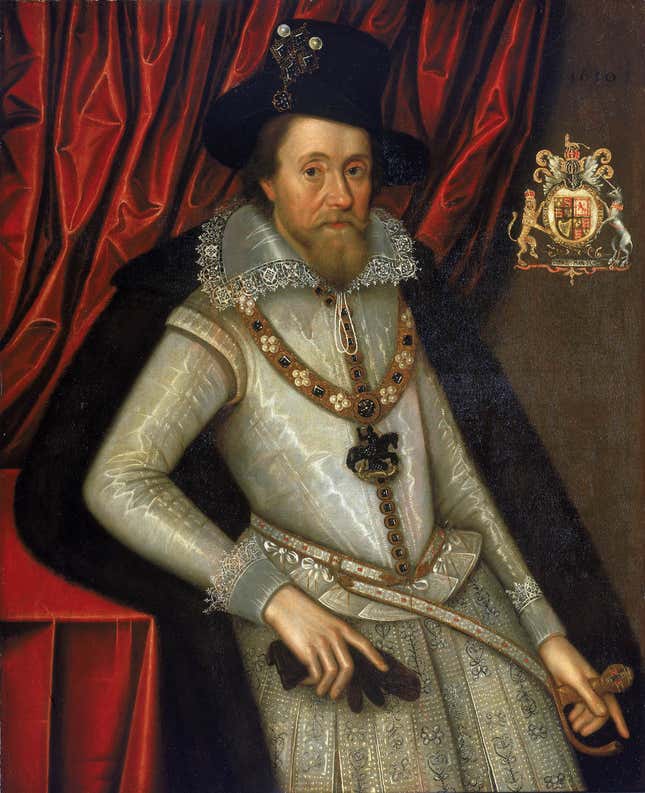 After Henrietta died, Queen's House was never again used for its intended purpose. It variously served as an artist's studio—allocated to Dutch marine artists by Charles II in 1673 in an effort to establish an English school of marine painting—as well as the residence of various governors of the Royal Naval Asylum, a charity created to educate and care for orphaned children of seamen. The National Maritime Museum took it over in 1934.
Many of Jones's original structures and designs survive. The "tulip stairs" used for descending into the Great Hall, were inspired by buildings in Venice and were the first self-supporting spiral stairs built in the UK. There's no central support; instead, weight is transferred to the outside of the staircase. The ironwork railing, decorated with fleur de lis, was probably added by Henrietta and painted a bright blue called smalt blue. It would have had a sueded effect achieved by wafting crushed cobalt onto the paint with a feather. The current blue color, created by the Little Greene paint company, is reminiscent of the original.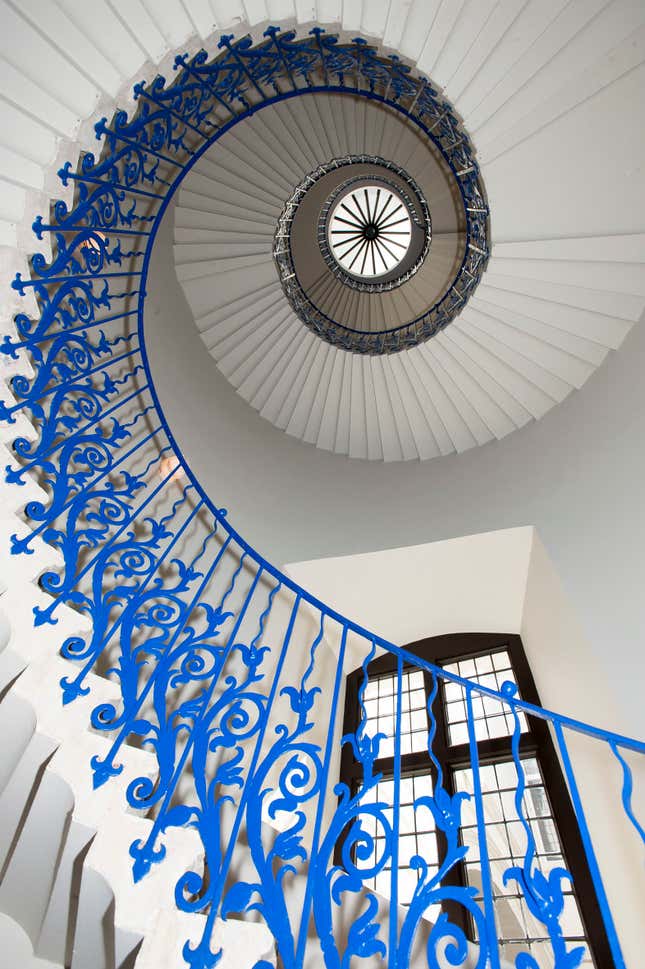 Jones's other feature, the Great Hall, a soaring entryway with a floor of white Italian and black Belgian marble laid in 1636 by Nicholas Stone, the master mason of Charles I, has been redecorated with a new work by Richard Wright, a contemporary artist born in 1965 and a winner of the Turner prize.
Wright is considered a modern fresco painter, but his work here, called "no title," is underwhelming. He covered the white ceiling and half the walls of the Great Hall with what look like gold squiggles in the shape of birds flying, made of gold leaf. The work is so subtle you'd be forgiven if you missed it. "It's entirely up to you whether you like it or not," says Riding, the curator. It took a team of assistants nine weeks to install.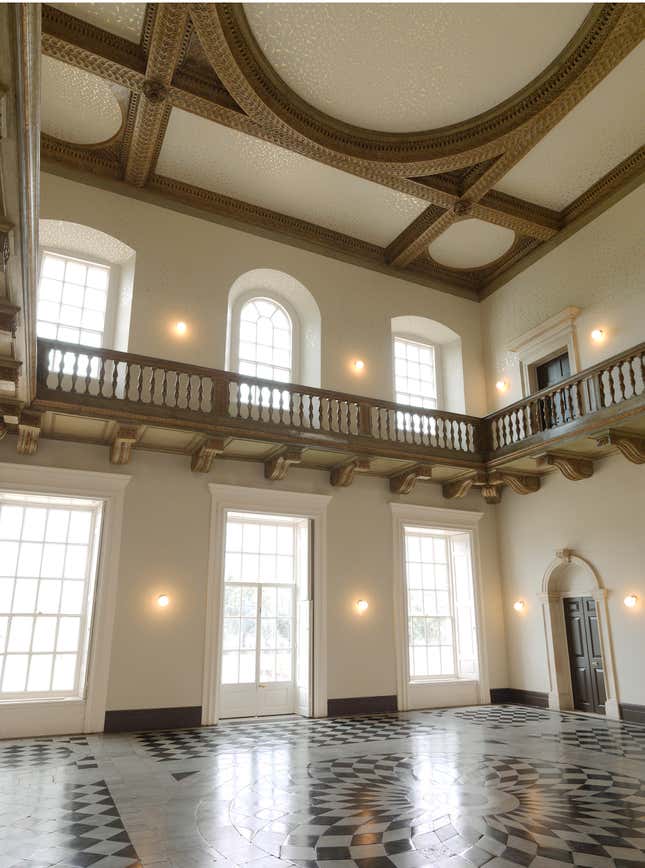 Henrietta had covered the Great Hall's ceiling with nine paintings from Gentileschi, but Queen Anne—not James I's wife, who was "Queen consort," but the Anne who ruled Britain herself from 1702 to 1714—gave them to her best friend, Sarah Churchill, the Duchess of Marlborough. Sarah cut them down and installed them in her own palace in St James's, London, where they are today. Gentileschi's style can still be seen upstairs from the Great Hall in the Queen's Presence room.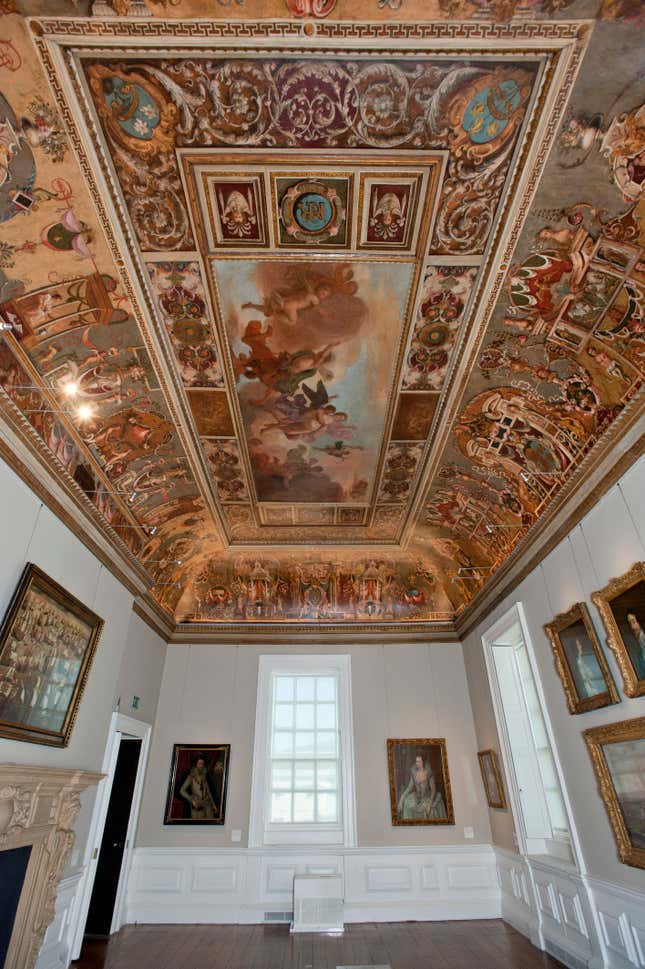 In restoring Queen's House, the Royal Museums of Greenwich turned it into an art gallery, securing loans of over 50 major works from other museums and displaying 300 from its own maritime collection. It raised £10.3 million to secure the Armada Portrait of Elizabeth I, once owned by Sir Frances Drake. Commemorating the failed invasion of England by the Spanish Armada in 1588, it is in the public domain for the first time.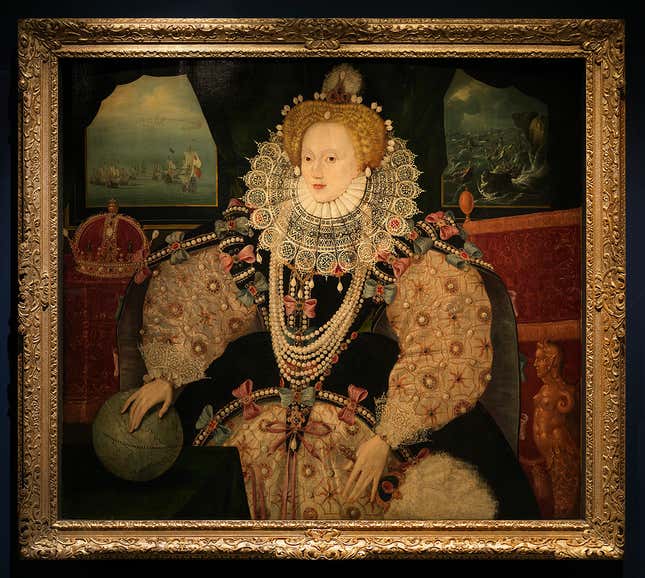 As interesting is a series of paintings and objects illustrating the UK's seafaring history. Some document Captain Cook's Pacific voyages to Hawaii, Tahiti and New Zealand. Hanging on one wall is the coat of arms of the South Sea Company, a British trading firm that sold slaves to South America under the reign of Queen Anne.
Queen's House reopens Oct. 11. Hours are 10am to 5pm every day. Admission is free.