For researchers, readers, architecture gawkers or those seeking a quiet spot with free Wi-fi, New York City's most famous reading room officially reopens to the public this morning (Oct 5).
The New York Public Library's Rose Main Reading Room has been closed for two years for a $12 million restoration after a plaster rosette mysteriously fell from its 52-ft high gilded ceiling in May 2014. While no one was hurt in the incident, which happened while the library was closed, it sounded alarm bells for engineers and stewards of the the 105-year old building.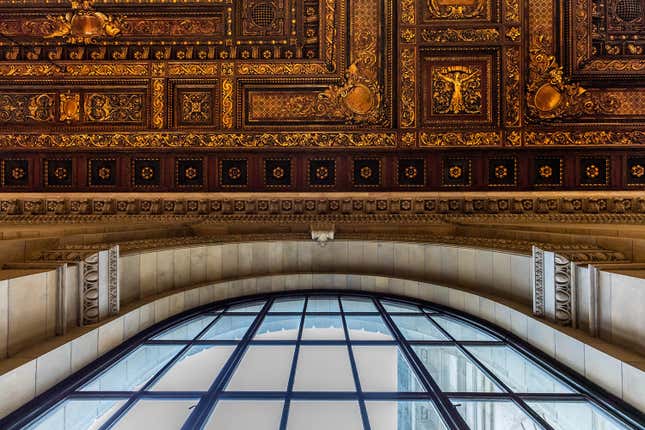 "When that happened, we thought to ourselves, what about the rest of the room?" says Gerry Olivia the library's senior construction manager, who gave Quartz a preview of the newly reinforced and buffed space.
Over the course of more than two years, Olivia and an army of architects, structural engineers, antique restorers, mural painters, and craftsmen carefully worked on the vast space, about the size of two city blocks, with 42 oak tables for 636 readers and 40,000 reference books lining its walls.
The iconic reading room—perhaps the last of Manhattan's truly quiet spaces for reading and working—has been featured in several Hollywood films and inspired writers such as E.B. White, Norman Mailer, and Henry Miller. Yes, the room offers free wifi (like all spaces throughout the library).
Olivia explained that while they found the ceiling to be structurally sound, the library took the opportunity to give the entire space a thorough cleaning. "The room needed a spa date," he said. "There was a hundred years of dust on top of the ceiling."