Jasper was a troubled youth, constantly running away from home.
He was even locked up briefly. But eventually he found his way, landing a job with US Customs and Border Protection (CBP) at New York's John F. Kennedy International Airport. This week, he's retiring.
For more than five years, Jasper has been sniffing passengers' luggage for illegal food imports. He was a natural, as he is only about a foot tall and, like any hunting dog worthy of the description, has a keen sense of smell.
The tawny-eared beagle has helped to defend his country from pests or diseases that could be found in fresh produce or animal products brought from other countries. Not even fresh food from the airplane is free to enter. Jasper has sniffed out fruits, vegetables, whale meat, a goat's head, and even rhinoceros skin stowed in passengers' luggage.
The US government specifically trains beagles for the job because the breed is food-driven and gentle, two qualities needed to deal with jet-lagged travelers who may have forgotten about that jamón serrano stuffed into their suitcases. At the National Detector Dog Training Center, outside of Atlanta, the dogs are taught to recognize five main odors: apples, oranges, mango, beef, and pork.
In all, Jasper's olfactory prowess have led to 17,167 (and counting) seizures of food brought into the US illegally. If he smells something interesting while he's weaving between passengers and their bags, he'll sit. If he finds something, he'll get a treat, though he sometimes sits just because he loves treats.
The CBP makes about 2 million seizures of food a year. A log of what customs agents have confiscated from arriving passengers includes the following entries: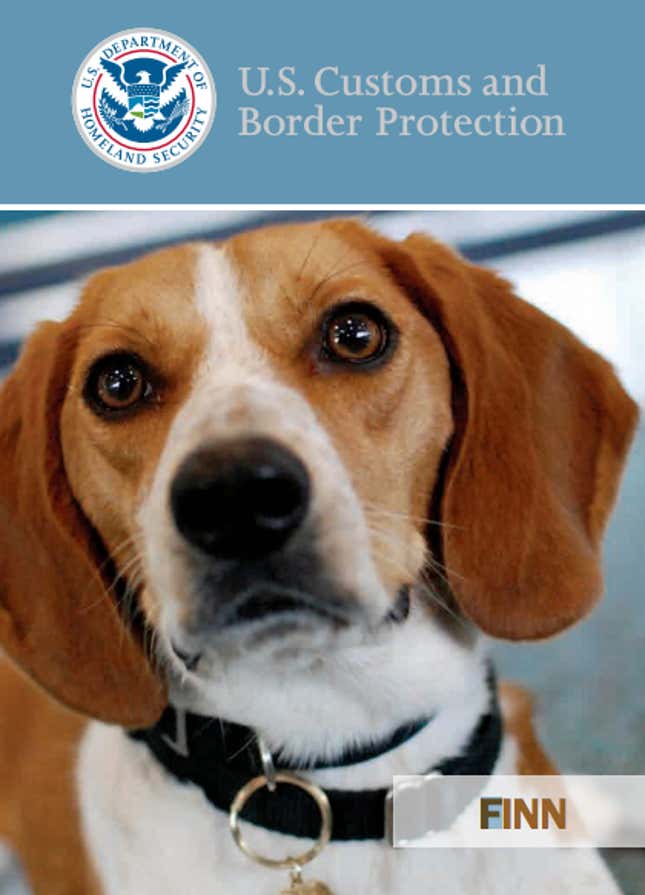 mutton
apples
raw turkey
dry cow skin
wood with bark
mombins
unknown meat products, suspected chicken
dried tree twigs
unknown animal soup mixes
live snails
bird blood samples
frozen mozzarrella
yogurt from the plane
Seized produce is chopped up in an industrial garbage disposal in the terminal, while meat is incinerated offsite.
There are more than 100 food-focused canines working in US airports, seaports, and border crossings, but JFK is a special place. Some 30 million international passengers passed through the airport last year, more than in any other US airport, according to Airports Council International.
It's "not a workplace for every dog," says Nancy Bobbitt, president of the Columbia County Humane Society in Georgia. She rescued Jasper from a local pound and volunteered him for the US beagle-brigade training facility near Atlanta. She flew up to New York for Jasper's retirement ceremony.
Finn, another Columbia County rescue dog-turned-customs-agent, joined the force in 2011. He works at Newark Liberty International Airport instead of JFK because he is "afraid of shiny surfaces" and Newark is carpeted, Bobbitt said.
Jasper is still spritely, but the government sets the mandatory retirement age at eight because the dogs get fatigued more easily after that age.
JFK airport officials presented Jasper with a certificate of appreciation and a letter wishing him a "long and healthy retirement." Jasper's human partner, customs official Amanda Tripple, says she's adopting him and will see that he lives out his days napping and chasing squirrels on Long Island.
But with travelers still arriving to the US in droves, she'll be getting a new four-legged partner in just a few weeks.