In the past two weeks, eight taco trucks in Houston have added a hot new item to their menus—voter registration forms.
The effort is being led by Mi Familia Vota, a Latino voter outreach group with programs in several states, including Texas. The organization, which is used to reaching out to voters in unusual places, teamed up with Thomas Hull of Houston-based creative agency Rigsby Hull, who created a branding for the campaign and designed voter "menus" with information on where and how to vote.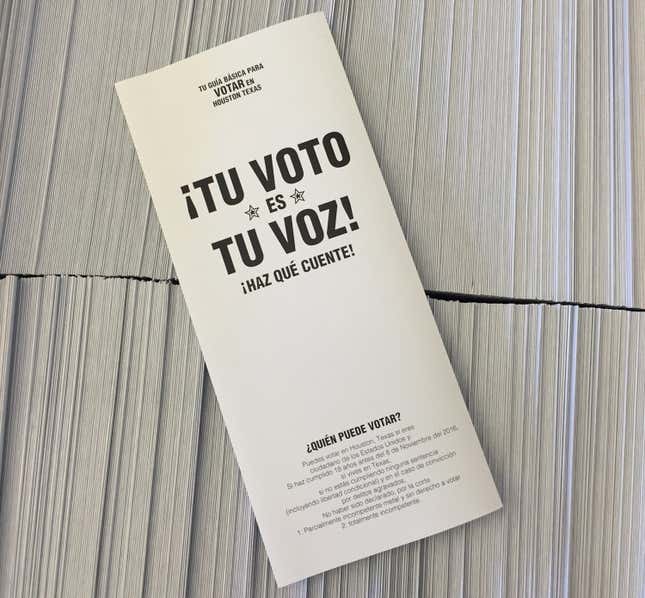 Carlos Duarte, the who directs Mi Familia Vota in Texas, told Quartz that the organization "did an analysis of taco trucks and their location, and chose the most popular in areas of Latino predominance."
The trucks are stationary, and can be located on a Google map.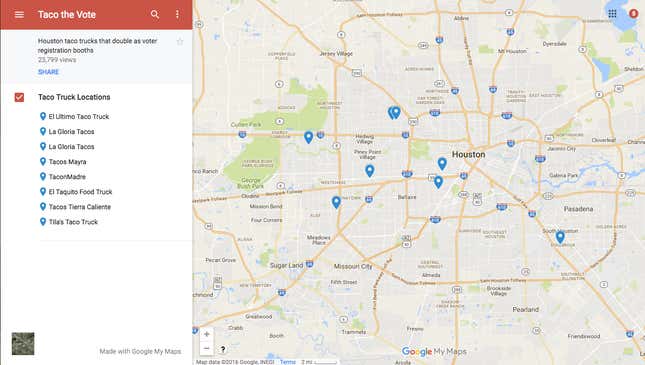 The trucks, Duarte said, don't collect the forms but only hand them out—then, consistently with Texas law, people fill and mail the forms, registering themselves.
The taco truck campaign, which will continue until voter registration closes on Oct. 11, is one of several to have cropped up since Marco Gutierrez, the Mexican-born founder of a group called Latinos for Trump, went on MSNBC in September, criticized his culture for "causing problems," and advocated for curtailing Mexican immigration, warning, "If you don't do something about it, you are going to have taco trucks [on] every corner."
The comment inspired responses like Guac the Vote, a campaign aiming to distribute voter registration forms at taco trucks around the country. It was joined by trucks in states including Florida, Colorado, Arizona. It's unclear how effective any of those efforts have been, but Latino voters have been registering in higher numbers in the past few months,
Texas has the country's second-lowest voter turnout rate. The taco truck campaign led by Mi Familiar Vota isn't meant to benefit only Latinos, Duarte said. "Houston—I think it's been named the most diverse city in the United States," he said. "All types of people go to a taco truck."