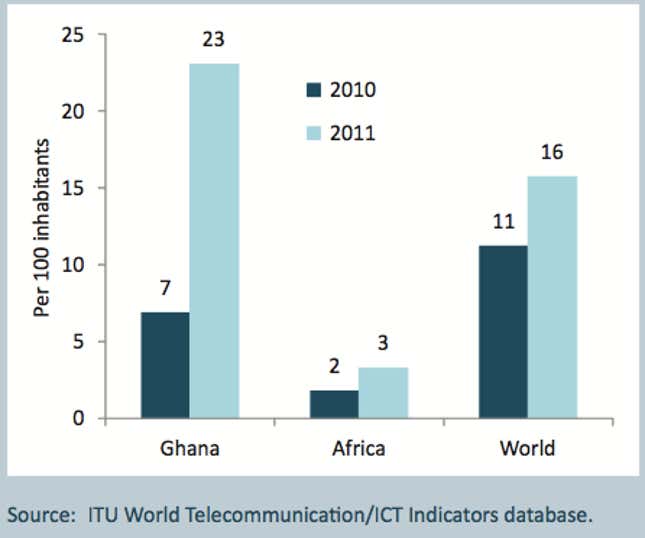 Ghana boasts Africa's highest penetration of mobile broadband, at 23% of the population in 2011, the latest year for which figures are available. That compares with just 7% in 2010. By contrast, fixed-broadband penetration stood at a negligible 0.3% in 2011, and that's killing Ghana's internet service providers (ISPs).
For a time, running an ISP was a trendy thing. Some 150 companies presently have a license, and about 20 are operational. But many of them are finding it hard to stay afloat. Even cyber cafés, many of which are run by ISPs, are beginning to shut down. Ghana's biggest, which had 100 connections and its own satellite connection, closed in February.
ISPs are now in talks to consolidate. At least two mergers are expected by the end of the year, Eric Osiakwan, who heads Ghana's ISP association, told Business and Financial Times, a Ghanaian business newspaper. The ones that fail to strike deals will probably fail altogether, he added.
The dynamics of Ghana's internet market are complicated. ISPs complain about anti-competitive practices and an inability to raise capital for new investments. Mobile operators, on the other hand, invested heavily in 2009 and 2010, resulting in investment-to-revenue ratios of 65% in Ghana, the highest in the world for the telecom industry.
In November, mobile penetration surpassed 100%, and there is still plenty of room to grow. Estimates put the number of people with cellphones at around 16 million, well short of Ghana's 25 million citizens. (Plus, it is common in Ghana, as in many countries, for some people to have more than one SIM.)
The number of mobile broadband users will increase as some of Africa's biggest operators, including MTN, Vodafone, and Airtel, fight it out for market share. Already, mobile broadband prices are among the lowest in Africa. Ghanian respondents to a Google survey cited lower cost as the main driver of increased usage.
It is a similar picture across the developing world. "Between 2010 and 2011, [mobile broadband] growth continued at a high rate of 40% globally, 23% in the developed world, and 76% in developing countries," according to a report (pdf) from the International Telecommunications Union, a UN body. Fixed broadband is growing at a global average of 10%. That is a steady clip. But it is not enough to sustain 20 providers in a country of 25 million people.